This post may contain affiliate links which may give us a commission at no additional cost to you. As an Amazon Associate we earn from qualifying purchases.
Wow, folks. Here we are in Week 4 of the #SITS31DBBB 31 Days to Build a Better Blog Challenge. We've covered assessing your blog, looking under the hood, and building community thus far.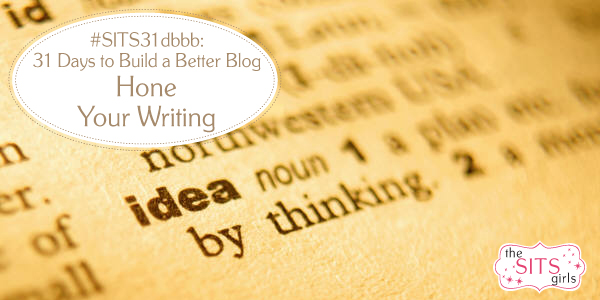 Now we're moving onto the cornerstone of every blogger's craft:
Writing
This week's tasks and challenges are all designed to help equip you with the tools you need to create compelling and fabulous content that makes your readers come back again and again.
Whether it's discovering a new source for generating blog post ideas or branching out to try new types of posts, we have you covered.
Here are the specific topics we'll be diving into this week:
Monday: Write An Elevator Pitch
Tuesday: Write a List Post
Wednesday: Come Up with 10 Post Ideas
Thursday: Develop an Editorial Calendar
Friday: Breathe Life into an Old Post
Join Us!
If you haven't jumped in to the #SITS31DBBB challenge yet, this is a great week to hop aboard. There's no technical knowledge required – you just need a desire to improve the quality of your content.  You should start by reading this post on how to choose a group that matches your blogging skill level.  Then, head over to our forums, join a blogging group, and dive on in…the water's warm and the folks are friendly!
Where We've Been
You also might want to check out what you've missed.  Here is what we've covered so far:
Blog Challenge Introduction
Blog Challenge FAQs and Group Lead Introductions
Week 1: Assess Your Blog
Week 2: Look Under the Hood
Week 3: Build Community
Hope to see you soon!