This post may contain affiliate links which may give us a commission at no additional cost to you. As an Amazon Associate we earn from qualifying purchases.
New to SITS? Welcome!! Go read this to get started.
Hello and welcome to the weekend!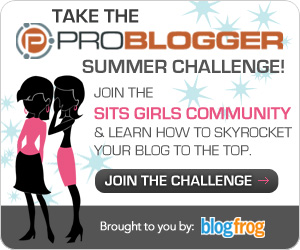 As we near the half-way point of our 31 Days to Build a Better Blog Challenge, we thought we would take today to quickly summarize the events that happened in the SITS Girls Community on BlogFrog over the past week.  If you are playing along, or even just checking in from time to time, the below posts are a great resource to learn more about blogging and connect with your fellow SITStahs.
Day 6: We relaxed a bit with a long reading list of articles.  All were chosen to help us improve our content.
Day 7: We were challenged to write a link post as a way to grow our blog.  Angela from Always B Designs offered readers some of her favorite resources for working at home, while the Crayon Wrangler got creative (and stinkin' hilarious) with links to her favorite blogs.
Day 8: We discovered the importance of inter-linking posts within our blog.  Bad Mom Confessions not only inter-links her posts with expertise, but she gives out advice in a weekly feature that allows us to confess our failures as moms and understand that we are not alone.
Day 9: We joined a forum (like BlogFrog!) in order to figure out where the potential readers in our niche are gathering on-line.
Day 10: We learned how and why to set up alerts to monitor what is happening in our niche.  As a fashion blogger, Day 10's tip is important to someone like Charmed Valerie who, without staying in the know, wouldn't be able to keep us updated on how to be fashionable this fall without spending a ton of money.
Day 11: We worked hard to come up with 10 post ideas using a process called mind mapping.
Day 12: We developed an editorial calendar so that we can avoid the pitfalls of writer's block going forward.  Adrienne from No Points for Style showed us that even when we stare at the computer for far too long, wondering what to write about, we can turn to the truth and share the raw emotions we feel as parents.
Which brings us to Day 13!  Today is field trip day in the BlogFrog when we take a break from the computer and head to the local mall.  Shopping is a good thing.  Check it out!
* * * * * * * * * * * * * * * * * * * * * * * * *
If you are participating in Saturday Sharefest, leave a comment below.  In the spirit of SITS, link to the best post that you read all week…be it something from your favorite SITStah or maybe even one of your own.  We'd love to check it out!
* * * * * * * * * * * * * * * * * * * * * * * * *
Tickets for Austin and St. George, Utah, our final Bloggy Boot Camp stops for the year, are on sale now! Don't wait to buy yours. We'd love to meet you in person!
And, as always, when you see this:
Leave a comment!