This post may contain affiliate links which may give us a commission at no additional cost to you. As an Amazon Associate we earn from qualifying purchases.
It's that time of year again! We're making a jump back into the ProBlogger 31 Days to Build a Better Blog Challenge with Shelley from I'm Still Standing. If you're interested in improving your blog, then you've come to the right place. Read on to learn more about what we've got up our sleeve this summer…
Hello from Shelley!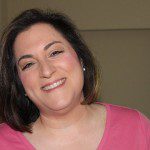 Good morning to all of our SITStahs and welcome! I am so excited to be kicking off our next 31 Days to Build a Better Blog program.
I started blogging in 2009 at I'm Still Standing and jumped onto the bandwagon with the help of Darren Rowse, who is the Zen Master behind the 31 Days program. I didn't have a clue what I was doing, but going through the program gave me a good push. (Like a shot of espresso!)
During the winter of 2010, I reviewed my site and thought it was time to "look back" and see where I could improve. I know everyone can improve on something, so I pulled out Darren's book and lead the Winter session of the ProBlogger challenge in the SITS Forum. We had a great group of bloggers who worked with me for the month to improve their sites. It was a real pleasure to read everyone's posts and understand how the program helped them.
Darren's program works, which is exactly why you should join us for the month of June for our summer ProBlogger Challenge!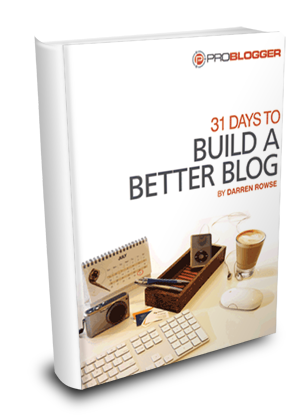 This time around, we'll be approaching Darren's program a bit differently. We've SITStah-fied his challenge, giving participants two ways to participate.
Starting in June, you can choose between two options:
Option 1:
Work through each of Darren's assigned tasks Monday through Friday in The SITS Girls discussion forum.  Because we will not be working on weekends, you'll be done with the program about mid-July.
This option is for those of you who really want to work through everything the ProBlogger program has to offer. Starting June 1 under the 31DBBB June group, we'll publish key points to discuss, a task to work on and questions to answer daily. Rest assured that your blog will improve. And Shelley will be with you every step of the way to answer any questions you might have and even keep you going with a giveaway or two.
Option 2:
Focus on only a handful of the 31 activities.  Our plan is to slow down the program more than ever. On Mondays and Thursdays, we will publish a post in the Education channel here on SITS, bringing you some of our favorite ProBlogger tasks.  While we won't be working through all 31 activities, we'll be focusing on a handful of activities in detail and ensuring that everyone has a chance to complete them.  What's more, because we plan to run the 31 Day Challenge several times a year, you can join us again and again as we work through different sections of Problogger's book.
The choice is yours!  Summer is a busy time for all of us.  Our goal is to work through the Problogger program in a way that works best for everyone.
Here is a bit more about what you can expect during the month of June…
On Mondays and Thursdays in the Education channel on SITS, we will publish an overview of the activity we'll be focusing on, a quick and easy "homework assignment", and a handout.
For those interested, we will be assigning participants into small groups.  Our goal is to provide a great networking opportunity and a way for you to receive feedback on your blog. Check out the Sign-Up section below to learn more.
At the end of each week, we'll send out an e-mail to the group with highlights and a recap.

Why you should participate:
When the ProBlogger challenge is over, you will have:
Written a variety of different types and styles of posts
Learned techniques for coming up with new post ideas
Promoted your blog in a variety of ways
Built relationships with readers
Reached out to and developed working relationships with other bloggers
Developed an editorial calendar for your blog going forward
Discovered ways to be more connected to your niche/topic
Designed a plan for the next month of your blogging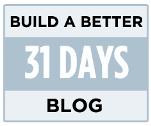 How to Get Involved
We hope you will join us! You can come dressed as you are; pj's, slippers, curlers, sweats… bring coffee, tea or a mimosa, if that's your early morning routine…
To get started, here is what you need to do:

Sign Up!
Sign ups for the small groups are now closed.  Final group assignments will be e-mailed to participants on Thursday morning.
If you missed the opportunity to sign up for a small group, never fear!  You can still find bloggers to work through the challenge with.  Simply send out a tweet using the hashtag, #SITS31DBBB, and ask if anyone is interested in connecting.  Another option is to check out the active groups in the forum and request to join one.
Please note that participating in a small group is completely optional. You are welcome to simply read and follow along at own pace too.
FAQs
Since this is the third time we've run Darren's program, we thought it might be helpful to answer some of our most commonly asked questions up front…
Do I absolutely have to buy the ProBlogger book?
No, but we strongly encourage it. You can follow along with the class without the book. However, you will increase your experience during this program by about 1000% by having the book by your side. Plus, Darren is offering 33% off of the normal price using the code, SITS33, through the end of June!
Am I required to sign up for a group?
Nope. We are offering group assignments only to those interested. If you do not have the time to dedicate to working in a group, no problem! Simply follow along by reading the posts in the Education channel on SITS and keeping up with the posts in The SITS Girls discussion forum.
Will you e-mail me daily to remind me to participate?
In order not to overwhelm anyone in e-mail, we're opting to send out weekly summaries of what's happening during the June Challenge. To receive these e-mails, you'll need to submit your info in the Google form in this post. If you would like to receive daily e-mails from us, try subscribing!
Oh no! I can't participate during June. Will you offer this program again?
Absolutely! We are now running the ProBlogger challenge once a quarter on SITS. To read more about when the next challenge will happen, go here.
I signed up for a group, but none of my group members are participating in the forum. What should I do?
Don't worry about a thing! Simply find another group and get back on track. To connect with another tribe, check out which groups seem to be active and ask to join. Another option is to send out a request using the #SITS31DBBB hashtag on Twitter. It is a great way to connect with other bloggers. You'll be amazed how fast others respond.
I am having such a difficult time with the forum. My profile picture isn't showing up, I can't update my user profile, HELP!
Everything you need to know about the forum can be found on our FAQs page for #SITS31DBBB in the forum. Head over here to learn more.
Looking forward to another great month of learning and improving our blogs with ProBlogger!

The
31 Days to Build a Better Blog Summer Challenge
is a program that Darren Rowse, aka Problogger, designed so that bloggers can improve their sites in about a month. Follow along
in our Forum
, with the
#SITS31DBBB hashtag on Twitter
, and on
Facebook
. It's never too late to jump in!
Here are the topics we've covered to date: