This post may contain affiliate links which may give us a commission at no additional cost to you. As an Amazon Associate we earn from qualifying purchases.
Summer is a funny time for blogging. Everyone is busy with kids, vacations, and spending time outside.
But as we look at turning the page on the calendar again, it's high time we all got back to blogging and started connecting again. That's right. Dust off your keyboard, find your mouse, and let's do what we do best…learn and have some fun!
Here is what we have planned in the coming weeks:
Problogger's Guide to Your First Week of Blogging
We're ready to jump into another book from Problogger. This time around, we're changing up our programming and focusing on something new. Rather than working through Problogger's 31 Days to Build a Better Blog, we're diving into his First Week of Blogging book. It is a great resource that covers the fundamentals of blogging that we all need. So whether you just started your blog last week or last year, this is definitely something you'll want to be a part of!
You can sign up here! Please note that we have changed the start date for this event from August 29 to September 6 (the day after Labor Day).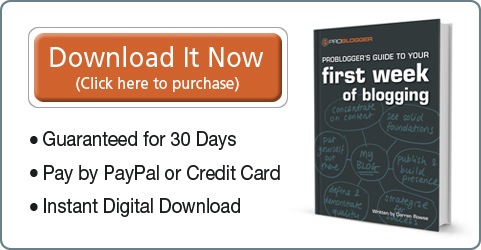 Blog Critique Week
We've teamed up with Melissa from MomComm to publish blog critiques. To date, we've given our feedback on The Raven's Spell and In These Small Moments. Now, in true SITS Girls fashion, we're ready to kick things up a notch and will be bringing you a week long festival of blog critiques.
During the week of September 19, we'll be publishing two blog critiques per day, which means there are going to be literally TONS of tips, suggestions, and insights on how everyone can take their blog to the next level. We're doing this in order to get through the many, many bloggers still on the waiting list for blog critiques, but, more importantly, to celebrate the release of Melissa's Blog Critique eBook.
DIY Blog Critique eBook
The point of a blog critique is for all of us to learn and grow. One suggestion on a particular blog might also be something that another blogger can incorporate or keep in mind for a future blog design.
Now, thanks to Melissa's hard work, you can learn how to critically analyze your blog with one easy-to-use resource. With 43 points to work through and over 105 links to resources, articles and tools, you definitely won't be short on learning.
The eBook is divided into four main categories:
Prepwork: This first part of the critique includes two tasks, getting you prepped for the rest of critique by creating a clear picture of your blog.
Design: This section covers everything from fonts and colors to branding and taglines. You'll run through 17 points to make your blog design professional, consistent and a reflection of you.
Functionality & Navigation: This section focuses on ten ways to make your blog more user-friendly, both to your readers and to search engines.
Content: Regardless of what you write about, there are some universal truths to great content. This section covers 14 ways to improve your writing, increase engagement and extend your content to the next level.
If you are ready to learn what we know about how to critique a blog and improve everything about it, then head over to MomComm asap.  Melissa is offering the book at a special $14 introductory rate!