This post may contain affiliate links which may give us a commission at no additional cost to you. As an Amazon Associate we earn from qualifying purchases.
New to SITS? Welcome!! Go read this to get started.
We aren't too far out from winning Best Blog Design or Best Blogging Host.  We could get a bunch of new SITS Girls (commenter)  Let's go for it!!!!  I think we would need like 70 or 80 votes… that easy for us! Just click these and VOTE!!:
Monogram Chick
has some of THE CUTEST stuff we've ever seen!  Everything from unique and trendy travel mugs (we are both going to purchase these as holiday gifts for our kids' teachers) to adorable backpacks.  ALL OF IT MONOGRAMMED!
This week's prize is AWESOME… especially with the holiday's approaching.  How would you like to stamp your Holiday cards with this:
OR This:
Yep, it's a personalized address stamp.  We know.  You are freaking out with excitement!  
To enter, go visit
Monogram Chick's Shop. 
Then, go to her
blog
and leave her a comment, telling which of her items is your favorite.  And, for an extra entry, post about the contest on YOUR blog and link back to SITS.  Winner will be announce next Saturday.  If you can't wait  'til Saturday, or want to buy from her shop, she is offering a 10 % discount beginning Tues. 9.2. Just use "SITS" as the discount code!
In honor of Labor Day, Tiffany and I are taking the day off. Be back here bright and early tomorrow for Tuesday's featured blogger!!
And, as always, when you see this: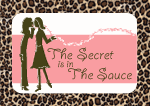 LEAVE A COMMENT.