This post may contain affiliate links which may give us a commission at no additional cost to you. As an Amazon Associate we earn from qualifying purchases.
We have exciting things happening behind the scenes here at The SITS Girls.
For many years, bloggers have asked us who we recommend for hosting and design, and if we will ever offer designs or themes of our own.
Today, we are officially answering those questions by rolling out The Marketplace powered by The SITS Girls.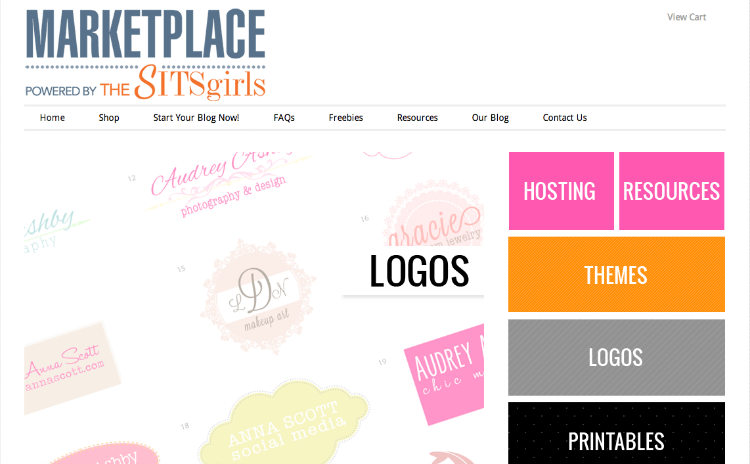 The Marketplace
Here's a sneak peek at some of the things you will find in The Marketplace.
Hosting Recommendations
All hosting companies are not created equal. We've compiled our top recommendations for web hosts who offer great services at a great price.
Design
When it comes to first impressions of your blog, nothing comes remotely close to your design. And we now have WordPress themes that will make your words shine.
Don't worry if the thought of installing a theme makes you want to sit in a corner and cry, we also have WordPress options that include installation from a professional designer.
Logos
Maybe you don't need a whole new design, but you are simply looking for a logo? We have you covered there, too. With over 40 customizable logos, you are sure to find one that is perfect for you and your blog.
Printables
We love printables. They help us organize our blogging life, plan ahead, and sometimes help to make life more fun.
We've even gone seasonal and are offering holiday themed printables perfect for making your time with family and friends merry and bright.
Resources and More
Classes we've loved, ebooks we've read, and websites we're ready to shout out from the rooftops, this list includes all of our top resources for bloggers. It is full of all the great products and services we love, and actually use ourselves.
You can also find some great freebies and a beginner's guide to setting up a blog.
Whew. So much good stuff. We are super excited, and hope you will be, too!
Let us know below if there is something you would like to see in The Marketplace. We will be adding new items regularly.