This post may contain affiliate links which may give us a commission at no additional cost to you. As an Amazon Associate we earn from qualifying purchases.
New to SITS? Welcome!! Go read this to get started.
Hello and Happy Saturday to you all!
See that cute widget over there?
The one with the links and the cute "chick"?
The one that says "Visit Our Peeps"
Today we are giving away a 6 month subscription to Chic Chick Media Widget!
This widget is so cool.
Did you know that Google AdWords charges $.50/click?
What does it cost to be part of the widget? $5.95 a month- no limit to the number of clicks.
So, if you'd like a chance to win a 6 month listing, click through a link on the widget and look around- if it's a blog, leave them a comment.
Then, leave a comment here telling us you want to win!
FYI- The "non mommy" blogger section will be up- Heather and I have a crazy few weeks ahead of us and then life returns to normal- thank you for your patience.
Next Saturday, we will have a new feature we think you'll really enjoy!
Yes, the mister linky will be up tonight at 10 PM (MST) for Sunday Shout Outs.
Three tickets left for SITScation!
And, as always, when you see this: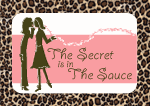 LEAVE A COMMENT.