This post may contain affiliate links which may give us a commission at no additional cost to you. As an Amazon Associate we earn from qualifying purchases.
Heather and Tiffany are SO excited to welcome you to The Secret is in the Sauce.  What is this blog all about?  Well, it's all about you. About us.  About girl power in it's best form.  Supporting one another as we journey through the blogosphere.
Monday through Friday, we will be featuring a new Blogger every day.  We will tell you a bit about why the blogger ROCKS and provide links to their "Best" posts.  Once featured, the blog is added to our "Saucy Blogs".  Only 20 at a time will be listed.
Your job is to follow the link and COMMENT.  Comment often.  Not sure how to start?  Try "Hey! Came on over through SITS, great post."  Then give her some props and read another post.
Now that you have some info, we have a
contest
!  
That's right ladies,
A Blogger's Survival Kit
.
Kit includes:
* One blog makeover by

 (already have an adorable blog?  Use it on your own site for a contest to increase your traffic) This is the entire package! ($90 value)
*A Fuji Fine Pix Digital Camera Kit
.
 A blogger must have photos to share, this great, 8.3 mega-pixel, digital camera! ($150 value)
*Sony Digital Voice Recorder.
 Small enough to fit in your purse, you can quickly record your next post idea anywhere!  ($45 value)
*$15 gift card to itunes
.  Update your blog with some new music!  Or, use for your own listening pleasure.
*Custom SITS "Comment Junkie" tee shirt.
(Priceless)
*
Gel Mouse Pad with wrist support.
 We want to avoid Carpal Tunnel, if possible. ($12 value)
*Chocolate
.  All kinds of tasty treats from
. ($15 value).
How do I enter?  Glad you asked.  
1.  Go over to the left and copy the widget code for the
adorable
SITS button.  (Be sure to scroll down and get ALL of the code.)
2.  LEAVE A COMMENT HERE with your blog address and three words that best describe your blog.  (Your comment is your entry)
3.  Put the the button on your sidebar.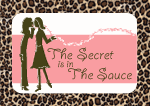 4.  Post about this contest and link back.  This will get you an extra TWO entries. 
(Let us know you have done this by commenting again here.)
Rules:
This SITS button must be on your sidebar to win.  
(Yes, we will check).
Any posts we deem offensive will be deleted and disqualified.
Contest ends Friday, June 6th.
Winner will be chosen at random.
Have you sent us your 3 links yet so that YOU can be featured?  Well, what are you waiting for?
Email Us
The Secret IS in the Sauce.  Totally.
CONTEST OVER.  WINNER TBA ON SATURDAY!