This post may contain affiliate links which may give us a commission at no additional cost to you. As an Amazon Associate we earn from qualifying purchases.
Good Monday morning to you all! I hope you are all settling into your autumn routines and ready to get back into the blogging groove with a week full of great prompts brought to you by two of our community leads—Roxanne and Tamara. We had a lot of fun coming up with writing prompts and ways to inspire you as you get Back to Blogging.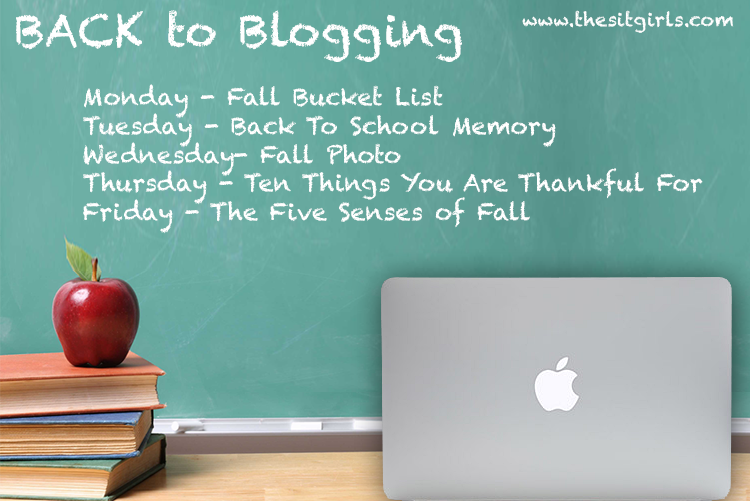 Day 1 Writing Prompts
Today's prompt is celebrating the unique activities we love during autumn. Here in Reno, Nevada, this time of year gets kicked off with the Great Reno Balloon Race—which I love to attend every year to enjoy the amazing sight as dozens of hot air balloons launch in the early morning as the sun rises. Besides back to school and the new chill in the air, it is how I know that fall has arrived.
What are some of the activities you love to do in the fall?

What are some of the traditions you have for the three months before winter hits?
Share with us some of your autumn traditions, or create a Fall Bucket List of what you want to do before the weather gets too cold and we get busy with the winter holiday season.
Link Up Your Post
Link up your post below, and be sure to visit and leave some comment love for other participants. You might even find some fun autumn traditions you'd like to start!
We are excited to read what you have written!
Day 2 Sneak Peek
Tomorrow we are going to ask you about your favorite back to school memory!
To be sure you are on our email distribution list for Back to Blogging and other exciting community challenges, fill out our sign-up form here.