This post may contain affiliate links which may give us a commission at no additional cost to you. As an Amazon Associate we earn from qualifying purchases.
Your back to school memories and stories were a lot of fun yesterday. Do you feel your blogging groove coming back with each day? Great! Today our writing prompts will take inspiration from fall photos.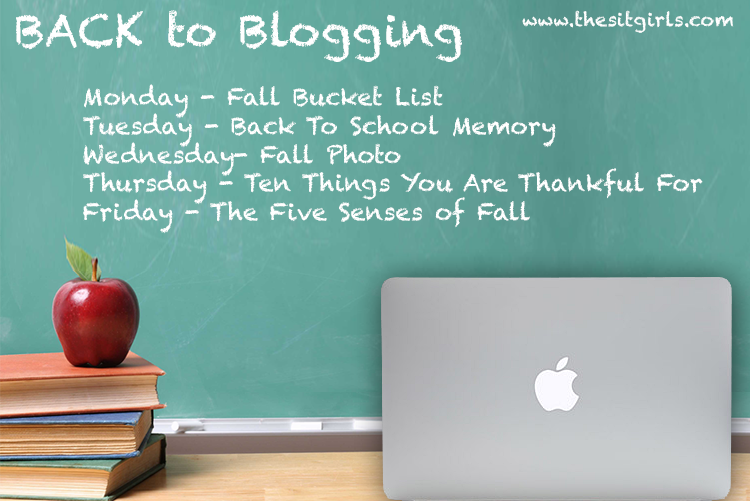 Day 3 Writing Prompts
As a photographer, fall is one of my favorite times of year to take photos.
It's the golden, orange and red hues of the foliage. It's the rainbow-colored leaves against crisp blue skies. It's green grass that is still lush before winter. It's pumpkins, hayrides, and other fun events. Mainly, it's friends and family together.
For today's prompt, we are going to take a look at our fall photos.
Share a current photo or a photo from the past that takes place in the fall, and tell a story about it.
The photo can take place indoors or outdoors, and be of people, places or things. The sky is the limit! Will you share a photo of deep colors saturating the atmosphere, or will it be a photo of back-to-school, family holidays or pumpkins? Will it be a photo of you, or of a loved one?
Link Up Your Post
We can't wait to see your fall photos and to hear your stories about them! Link up your post below, and see what other bloggers are sharing! Once you have done that, visit two blogs linked in front of you, and leave them a comment.
Day 4 Sneak Peek
Tomorrow we are going to embrace thankfulness, so start thinking of ten things you are thankful for.
To see what we've been doing this week, check out our Fall Bucket List Writing Prompts on Day 1 and our Back To School Writing Prompts on Day 2.