This post may contain affiliate links which may give us a commission at no additional cost to you. As an Amazon Associate we earn from qualifying purchases.
Welcome to Blog Critique Week!
All this week, Fran, Kat and I (Mel from Momcomm) will be critiquing the blogs of 10 lucky SITS Girls readers. Translation: We'll be publishing TWO blog critiques a day here in the Education channel all week. The ten bloggers we are featuring this week were next up on a sign-up sheet we posted quite a while back. What we are doing is dissecting a blog from top to bottom in three areas: design, navigation/functionality and content. The reason? To help the featured blogger meet her blog goals and become even MORE awesome.
If you are interested in receiving a blog critique of your own, then check out the latest on my DIY Blog Critique eBook! Details are listed at the end of this post.
The goal of a blog critique is to help all of us learn and grow. One suggestion for a particular blog may very well apply to multiple members of our community and get us all thinking about how we can improve what we do.
Let's get started!
Erin from A Book for My Daughter describes her blog as follows:
When my daughter was eight, she asked me to write a book with the "advice" that I routinely gave her. She told me that she wanted to be able to read it when she got older (a proud parenting moment). It took me a few years, but I have finally started to write it down—in the form of a blog. Each entry focuses on either advice I have already given her, things I have learned from my own life that I want her to know when she is older, or advice for other parents as to how to relate to their children (something that I don't presume to be an expert on).
Erin has two purposes for her blog. First, she wants to capture all of her "words of wisdom" for her daughter for when she is older—this includes her practical approach to life and parenting, as well as stories like how Erin met her daughter's father, etc. Her larger purpose is to reach out to other women, parents, kids, teens, etc. with stories/lessons for her daughter in a way that is relatable and may be helpful to others.
Erin said she wonders if the categories she's chosen are clear, understandable, and engaging. She also said she struggles with the idea of branding, adding widgets to her blog (are they even needed?), keywords, and wonders about her header and tagline.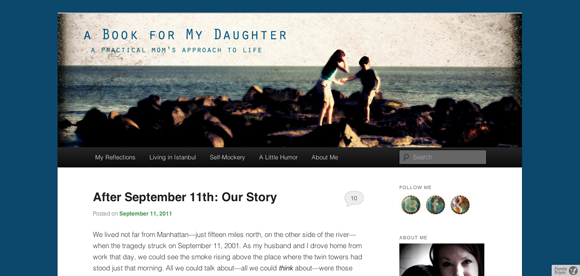 Design (Mel)
Header & Menu
First of all, I just love the name of your blog and the idea behind it!
Your header really makes a statement when you land on the page. It's a beautiful image and your header overall has a beautiful simplicity to it.
One suggestion I have is that the overall look of your blog is a little dark and lends itself to a more serious tone. I think it could stand to be brightened up just a bit, perhaps by lightening the color of your background or your menu bar (though you'll have to play with which one would work best).
I think the book idea is intriguing to people and you could have a tab in your menu called something like "About the Book" or "On Writing the Book." It could be a page giving readers more insight into what you're hoping to accomplish with your blog. This can also be added to your About Me page– just a summary though, with a link to the full page on writing the book.
Your menu has an About Me page which is great, but don't forget the Contact Page. It's an important page as you never know who's reading and you want to make it easy for people to contact you.
I'm not sure that your tagline really supports your blog name as well as it could. Above you said you want to capture your "words of wisdom." I think that should be in your tagline somewhere. Maybe something like "Words of wisdom for the practical approach to life."
Sidebars
I just adore the picture of you and your daughter in your sidebar. It cleverly looks like a book cover and really reinforces your "brand." I really think you could capture that even more throughout your sidebar. Think about words we associate with books and how they could apply to your blog. Ex. chapters, pages, epilogue, prologue, dog-eared (how you could title your most popular posts).
The Places You Visit section of your sidebar takes up a lot of valuable space. I'd suggest shrinking those buttons so that you can put two per row. Check out tip #2 on Lynda's post about 5 Image Tips. To answer your question about widgets, they are extremely valuable when you don't use too many AND when they are relevant to your blog. A good example is the Facebook widget. All a person has to do is click "like" to become a fan. I have my Facebook widget show my latest Facebook posts so readers can see the conversations going on there.
Instead of Archives, I'd use a drop-down for your Categories or list your main categories. It makes certain topics much easier to find for your readers.
Your social media icons are in a great spot but they are a bit small given how dark they are. I think they match your design well though so just bump up the size a bit.
Main Column
Your main font for your blog posts is clean and easy to read. Score!
I think your overall main column is nicely done. If you want to add some POW to it, you could use the font from your header for your blog posts titles…color and all. It's a bit of coding but I wrote a post on Momcomm about using custom fonts. As a simpler solution, even changing the header color to the blue in your header would add some extra oomph.
Since your posts are longer than average, be sure to check over your posts in preview mode and then break up long paragraphs. Another great way to break up long posts is to use sub-headings or to consider breaking up the text into a series.
I see that you use green for your comments link, tags, etc. Could you try to pull a color from your header and use that instead? I don't see any green in your header and a matching color would help improve your blog's branding.
It's great that you use pictures in your posts and the distressing mask you put on them ties them in nicely to your header. Images are a must for telling a story.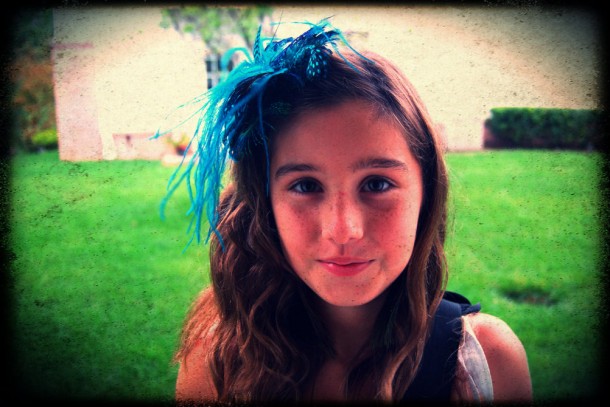 Navigation (Fran)
It is great that your social media buttons are at the top of your sidebar.  (It is exactly where they should be!)  Consider enlarging them and brightening them up a bit so that they are more eye-catching.
Along these same lines, consider adding a RSS button, so that people can easily subscribe to your posts.
I am a big fan of including a search bar on all blogs.  Great job!  Because yours is a dark color against a dark header, I almost missed it.  Try changing the color of your nav bar so that is it more readily identifiable.  Mel also mentioning brightening your header altogether, which lends itself nicely with this suggestion.
You mentioned wanting to understand more about your keywords and categories.  From what I am seeing, you are off to a great start.  However, by utilizing the Google Keyword tool, you could be driving more organic web traffic to your site.  Example: One of the categories in your nav bar is Living in Istanbul.  When I search this term using the Google Keyword tool, I see that there are 2,900 global monthly searches.  However, by simply changing the wording to Life in Istanbul, the number of global monthly searches jumps to 22,200.  Istanbul Life does even better at 27,100 global monthly searches per month.  With just a few small tweaks in the terminology you're using for your key words, you could see a change in your traffic.
Think about adding a Home button to your nav bar.  As I clicked around your site, I felt like I got "stuck."  In order to find my way back to your posts, I had to click on the header.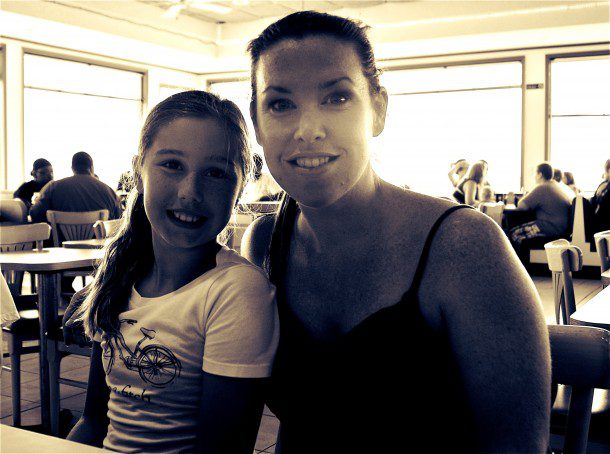 Content (Kat)
This idea of creating an entire blog inspired by advice and life lessons for your daughter is beautiful!
Have you considered opening dialogue with your readers by encouraging them to write posts for their children and perhaps linking up with you on occasion?
Inviting guest posters to write a post about what they would put in a book to their daughter might be a neat idea!
As a new reader to your blog I'll be honest and say it crossed my mind that perhaps your son would feel left out when he finds a blog dedicated to his sister. I know you incorporate him quite a bit when you talk about parenting, but what about entire posts focused on your relationship with him and what it's like to raise a little boy in today's world? I think it might be a sweet addition.
You clearly have some experience writing…your posts are clear, concise, and well written so I won't bother telling you how to do that. Maybe you can be my editor! 😉
So, did you learn anything from this blog critique? Let us know in the comments below and check back later today for our second critique of the day!
And be sure to head over to visit Erin at A Book For My Daughter and leave her some comment love. Check out her site, see if you agree with our assessments, and maybe even leave one of your own!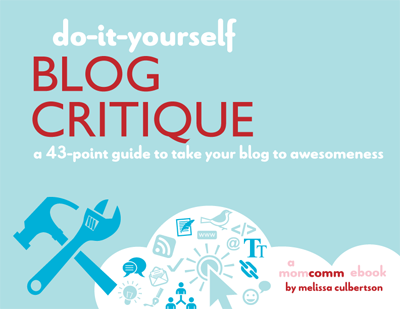 Blog critiques are a fantastic way to critically analyze your site and propel yourself forward. If you are interested in working through this very effective learning process, grab a copy of the DIY Blog Critique eBook! Read through the 43 points that Melissa evaluates as she goes through a critique. Each point has its own page chock-full of detail on what to look at on your own blog.  Buy your copy NOW for only $11.00 using the code, SITS11, upon check-out!
Want to Read More Blog Critiques?
Accept no substitutes! Blog critiques from Momcomm & The SITS Girls are the best you'll find on the web. Here is what we have done to date: