This post may contain affiliate links which may give us a commission at no additional cost to you. As an Amazon Associate we earn from qualifying purchases.
We're back with another Blog Critique from Momcomm and The SITS Girls!
Fran, Gigi and I are dissecting a blog from top to bottom in three areas: design, navigation/functionality and content. The reason? To help the featured blogger meet her blog goals and become even MORE awesome.
The goal of a blog critique is to help all of us learn and grow. One suggestion for a particular blog may very well apply to multiple members of our community and get us all thinking about how we can improve what we do.
Remember to click through all of the blog critiques listed at the bottom of this post and see which tips you can apply to your own site.
Joanna from Baked by Joanna describes her blog as follows:
My blog is primarily a food blog with an emphasis in baking. I also include entertaining tips, reviews and things about my life. I want people to come to my blog to learn about baking and try my recipes. Hopefully it can one day be their go-to website for all things baking.
Joanna said that she struggles with traffic to her site, reader participation (commenting) and her blog layout. She's also like to earn an income from her blog but doesn't know how to go about offering advertising. She's done some sponsored posts but doesn't want to overwhelm readers with disclosures. Her goal is for her blog to be like a huge cookbook that also includes entertaining tips and baking trends and to generate an income from it.

Design (Mel)
Header & Menu
First of all, your header is so fun and whimsical! You use lots of colors but they're used in a way that isn't overwhelming. I really think it's beautiful and ties in perfectly to what you blog about.
The one thing I'd say about your header design is that everything's equally weighted so there's no true focal point. Your design is very symmetrical with an obvious left (cabinets), center (your name and tagline) and right (shelf and food). While designers will normally say to use the rule of thirds (where elements cross over those imaginary divisions of three), I think making your blog name larger would be enough of a change to draw that in as a focal point. You don't want that center space to get crowded but I think you could get away with a slightly larger blog name.
Regarding your tagline, it's perfect! Short, simple and describes what your blog is about.
You mention wanting to offer advertising but there's nothing on your menu bar about it (although maybe that's just because you didn't know how to approach it). Regardless, definitely add a page as to why you're a good place to advertise and end with a call to action for the advertiser to request rates. As for the HOW, I use four tools for advertising: 1. a media kit, 2. a spreadsheet for tracking advertisers/payment/timeframe, 3. Paypal for invoicing, 4. the WP plugin WP-125 for running the ads (it tracks click-thru but you can just place ads with plain ole HTML). Also, Jennifer from Mom Bloggers Club wrote a post a while back about what to charge advertisers that I still refer people to.
Since you want to earn some income from your blog, a great way to do this is through affiliate marketing. I wrote a post that describes ways to use affiliate links but a cool thing you could do is create a page in your menu bar about your kitchen equipment and gadgets and make all those products affiliate links (just properly disclose). Readers who love your recipes will love you giving them the inside scoop about what you use to bake.
Your menu bar colors tie into your design nicely. However, I'd love to see them more customized such as using the tagline font.
While not a part of your menu or header, it'd be great to have a favicon that matches your site (the favicon is that little icon beside the URL in the browser window). It shows up in RSS readers too so it adds one additional detail to reinforce  your branding.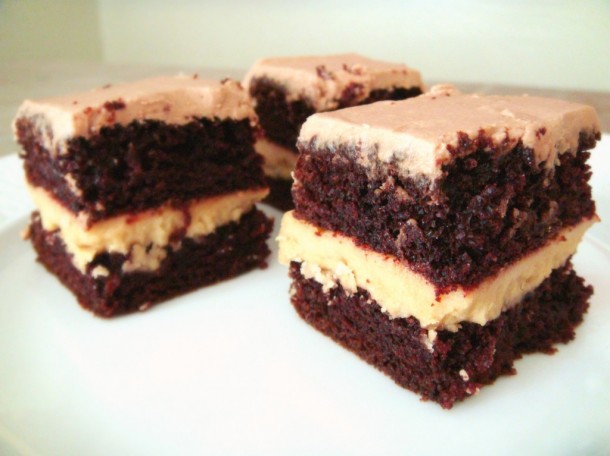 Sidebars
It's great that you have your social media buttons at the top of your sidebar. That's the first place people look. If you're able to design custom ones to match your header, that'd make them stand out even more and extend your visual branding into the sidebar.
The space between your sidebar and main column could be a bit wider. In some cases, the words from the column almost seem to touch the sidebar content.
Overall, there's not much in your sidebar but it's prime real estate to encourage readers to explore your blog. I have a couple of ideas of how you can embellish your sidebar without it being cluttered.
First regarding the design, your header is so unique and colorful that it'd be great to extend that to the rest of your blog. The easiest way to do this is for your sub-headings like "Latest Tweets" and "Categories." Consider using one of the fonts and a color from your header for the sub-headings.
Another great thing to do is make your categories more eye-catching. You have lots of cool gadgets in your header that you could work into images for some of your top categories. For example, for Recipes you could use the spatula and the whisk and then say Recipes beside it. A good example of what I'm describing is the navigation menu on Money Saving Mom's site.
Also, with more a magazine style layout, it's easy for readers to forget there's a person behind the site. I'd love to see your picture and a quick 2-3 sentences about you and your blog. The picture on your About page is too adorable not to put on your sidebar.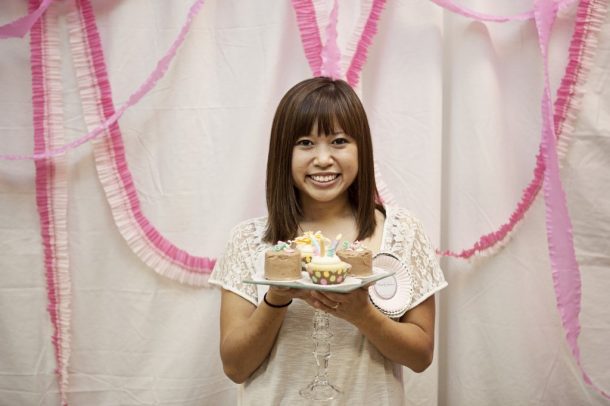 Main Column
Since your blog doesn't have one main column, I'll talk about the main columns of your homepage, blog page and an individual post.
Homepage: You chose more of a magazine-style layout for your website, which makes sense since your blog is on a separate page. Given the type of site you have, this style definitely works in showing people your latest posts. The gallery also looks nice: the design is clean and the pictures are good quality.
Blog page: Here you remove the gallery and keep the partial posts. I'd change the partial posts to full posts instead so you aren't making readers click yet again to get to a post. While it increases pageviews, it hinders ease-of-use.
Individual post: You may want to bump up the size of your post titles and main font a bit so it's easier to read. Your LinkWithin thumbnails really stand out because your pictures really rock (and make me hungry). Overall, your design is simple, which keeps the focus on the mouth-watering food.
Navigation (Fran)
I do believe that I am coming a bit too late to this party.  Mel and Gigi have done such an outstanding job that I do not have much to cover this time around.  I'll be brief!
We noticed your gallery starts scrolling really fast and toggling back and forth at times.  It is somewhat intermitten, but it seems to be a combination of going from another browser tab to your site and then moving the cursor down towards your gallery.  Doing so makes the gallery go nutty!  Might be worth having a programmer check it out, if possible.
You mentioned struggling with engagement.  Consider installing the CommentLuv plug-in as a way to give back to your readers.
You have several broken links that lead your readers to 404 errors.  You can spot these easily as a broken links will often look something like this:

broken link

.  If you move pages around, be sure to update your corresponding links such as those in your "Menu" options!
I was thrilled to know that you have a shop and you ship nationally.  However, I really had to dig to find this information.  Anything that you have for sale should always be highlighted in the sidebar so that you can immediately grab your readers' attention and entice them to want to learn more.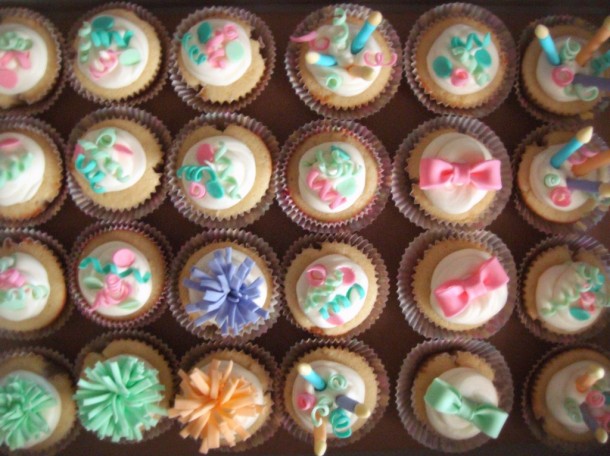 Content (Gigi)
Hurray! Your writing style suits your blog, its theme and its design, perfectly. The site is elegant and quiet and pristine…and your writing reflects that. You do a good job of telling a story around a recipe…photos are excellent and lush. They enhance and reflect your writing.
Your writing is simple, sincere and clear. No fuss or extraneous "stuff" – which is exactly how your blog look and feels. Good job!
I love that you're using a related posts plug-in to push related content to your readers. Excellent. This always works well with food blogs.
You are handling sponsored posts with elegance and subtlety. Your sponsored post for Peach Barbecue Glazed Spareribs is perfectly done. Bravo!
Be mindful of what you write in your first paragraph or two of your post. Your site is set up so that the first part of each of your posts appears in your photo slider. The photos are mouth-watering, but that opening sentence or two of writing needs to be equally mouth-watering. Make sure that you choose words that really POP and draw the reader.  In your recent post, What Kind of Apples Are Good for Baking, consider using descriptor words that are as lush as the photo: "Juicy, tart, crisp apples at the pick of ripeness are perfect for fall baking…"
One of the major concerns you identified with your blog was generating more traffic. I have a few tips in this regard.
Add more recipe posts. I know this sounds obvious, but it's so easy to fix! Your photo slideshow is so enticing – and there are such lovely recipes on your site (hello? Double Chocolate Espresso Brownies?) – but as I searched deeper and deeper, I found less and less recipes. Your site is lovely enough that if you start doing more of your own recipes, you will generate traffic. Put more effort against original content.
Cut down on the number of "curated" posts. Curated posts are where you collect really cool stuff from other blogs you read and you highlight them for your readers in a newly-formatted way. Curated posts are very valuable for readers, especially in a food genre. But if the ratio of curated content to original content is off kilter, you are not going to encourage a loyal readership. Remember, readers want to know you: what you think and what you cook. Give more of that to them!
Beef up those curated posts and make them feel more YOU. For example, you do a Cake of the Week feature that presents gorgeously-designed cakes. In your recent "Apple Cake" post, you *hint* at a little bit of original content. You talk about how tree branches on cakes need to look real and that the apples should be colored so as not to look fake. Take this one step further by telling your readers HOW you would do it, what materials you would use. Ask your readers if they've ever attempted a cake like this or something similar. Asking a simple question at the end of a post can generate commentary and engagement.
Get on Pinterest. I didn't find you on Pinterest, but if you aren't already there, go. Now. Move some of the stuff you are curating in posts into Pinterest boards. People LOVE pinning food and entertaining ideas on Pinterest. If you create beautiful Pinterest boards, chances are that people will find their way to your blog for even deeper, richer content. It's a great way to generate traffic (and don't forget to pin your own recipes!)
Guest Post. Consider taking some of your recipes and seeking out guest post opportunities. Your 5-Minute Brownie recipe is a perfect example of something quick and easy you could submit as a guest post that readers will LOVE – because anyone can make that!
Join StumbleUpon. Ask your friends to stumble your original recipe posts. I'm not a food blogger, but I do post recipes from time to time and they are consistently my #1 traffic source. If you want traffic, this is a good option for you to consider.
Finally, you have got what it takes to be a kick-booty food blogger. You just need give us more of what makes your blog so special – YOU! 🙂
So, did you learn anything from this blog critique? Let us know in the comments below.
And be sure to head over to visit Joanna from Baked by Joanna and leave her some comment love. Check out her site, see if you agree with our assessments, and maybe even leave one of your own!
Want to Read More Blog Critiques?
Accept no substitutes! Blog critiques from Momcomm & The SITS Girls are the best you'll find on the web. Here is what we have done to date: