This post may contain affiliate links which may give us a commission at no additional cost to you. As an Amazon Associate we earn from qualifying purchases.
It's the last Blog Critique from Momcomm and The SITS Girls!
All last week, Fran, Kat and I (Mel from Momcomm) critiqued the blogs of TEN lucky SITS Girls readers. We dissected a blog from top to bottom in three areas: design, navigation/functionality and content. The reason? To help the featured blogger meet her blog goals and become even MORE awesome.
The goal of a blog critique is to help all of us learn and grow. One suggestion for a particular blog may very well apply to multiple members of our community and get us all thinking about how we can improve what we do.
Remember to click through all of the blog critiques listed at the bottom of this post and see which tips you can apply to your own site.
Vivian from Confessions of a Vi3tbabe describes her blog as follows:
My blog has no niche and it's basically my haven to write freely and my outlet to say what's on my mind. Sometimes I'll write about important things in my life and family or whatever is on my mind that I have to get out, but since I'm so busy with work, school, and two kids (one of them being a newborn) the only constant thing on my blog lately is my photo diary where I chronicle the weekly life of my new baby. When I started the blog in Dec. 2009, it was to begin chronicling my period of TTC since we were having trouble conceiving a 2nd child, but I wasn't dedicated enough to keep up with it. Almost a year later, my love for blogging reemerged and I redirected the blog to more of a personal blog/family lifestyle blog and began engaging in the blogging community. I try to write as much as I can so my real writing style can show through, but that is a work in progress. I also do product reviews/giveaways, book reviews, and participate in weekly memes whenever I can.
Vivian's goals are to create meaningful relationships in the blogging community. While she enjoys the perks like product reviews, she mostly wants her voice to be heard. None of her IRL (In Real Life) friends are bloggers and while she's "met" bloggers online, she's hoping to make more of a connection with them. Sometimes she feels like her voice isn't being heard and worries that she's not funny or interesting enough. (We've all felt like this at some point, right?). Vivian said that she struggles with finding unique and interesting content where readers feel like they want to stick around, read what she has to say and comment on it. She wants to get her name out there more, but struggles with getting readers to engage.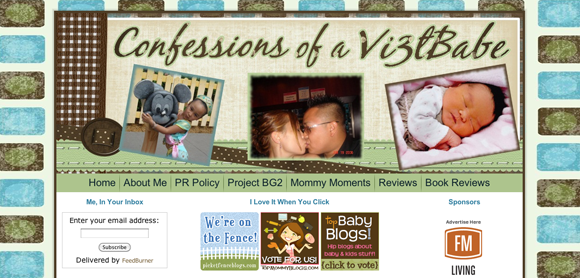 Design (Mel)
Header & Menu
I really like that you show your entire family in your header. Pictures definitely help readers make a connection with you. However, the top of your blog (header and background on either side) is pretty busy. Consider simplifying this area by making your background more "in the background" so to speak- hehe. That will really help draw people to the center of your blog where your content is. Also, you may consider fewer pictures or lining them up in a strip-type payout to simplify the look a bit.
When filling out your information for the critique, you mentioned to me that Vi3tbabe meant "Vietbabe" as in your Vietnamese. Back in the old chat room days, 3=E, which some will know, but many people will miss entirely. Since your audience isn't primarily made up of people who will understand your blog name, here are a couple of suggestions: Add a tagline that has the phrase "Vietnamese babe" in it. It will help readers connect the dots much more easily. Or, in the sidebar section below, I suggest adding a picture of you with a short description of who you are and what you blog about. Try adding a sentence here that describes where Vi3tbabe comes from. (Just keep it short.) Again, embrace your identity because it IS different, but remember your audience may need a little hint. I do think they'll love the cleverness of it. Also, if you're interested in branding yourself as an Asian mom in technology (something you should consider!), then this would really go well with it.
One final note about your blog title font. It's not a bad font by any means, BUT it makes that 3 look like a cursive Z, which could be adding to the confusion over the blog name. Consider a simpler font where it's obvious it's a 3.
Your menu is very straight-forward and easy to read. For PR Policy, I'd consider rewording it to something a little more friendly and enticing to PR folks. The word Policy just immediately puts up mental barriers. Although you may talk about policy on that page (it's smart to do!), don't lead with it.
Also, you definitely need a Contact page. Some people (readers and PR people) go straight to that, especially if they've already researched your blog and are ready to make a connection. Fadra from Social Dialect has a great post about this called Can I Contact You?
Sidebars
As I mentioned above, your Vi3tbabe is original and intriguing, so add a little blurb about you in the sidebar with an explanation of your name. Keep it towards the top of one of your sidebars.
Sidebars should highlight you and things that are important to you, while providing value to your readers. One thing I notice about your sidebars is that they're very overloaded. I'll break my advice down into sections on your blog…
Let's start at the top third of your sidebars, your main content really gets lost. There are voting buttons above your golden content, ads to the right and boxes of subscriptions to the left. What's most important for your readers? It should be the content! I'd strip the voting buttons from the top, move your social media buttons to the very top of one sidebar and then have the About You picture and blurb at the very top of the other sidebar. This will clean up the sidebars and keep the reader focused on the content.
On the left side, you have all those Blog Stat buttons like Blog Grader, Alexa rank, etc. My opinion is to ditch them all! They don't really add much value to your sidebars and PR people will look for a place to contact you for a media kit, and not pull the info from your sidebars.
I like that your Labels are listed, which give your readers a quick glance of what you write about. However, consider paring the list down to 10-15 keywords and try to categorize your posts into those 10-15 categories. Too many doesn't help the reader get a good sense of what you write most about.
The Badge Love scrolling widget is distracting. While it's great that you want to show off those you support, consider moving them to a Blogroll page instead. Again, the key is having things in your sidebar that add value to your readers. It's hard to focus on reading when there is a moving element in your sidebar. You also do not want a ton of buttons on your sidebar; a text blogroll is easier to focus on.
Main Column
As I mentioned before, move those voting buttons elsewhere so people can focus on your content. You don't want to be directing people away from your site right when they land on your blog.
Your main blog title is a good size, so way to go!
One thing that would help the flow of your main column is to watch the length of your paragraphs. People skim on the Internet, so keep paragraphs short and use sub-headings when it fits with your blog topic.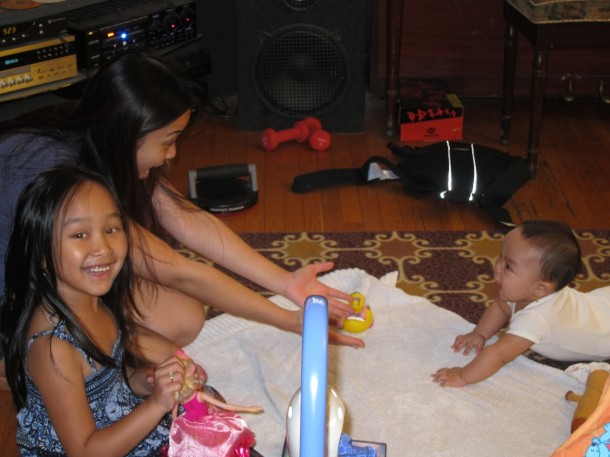 Navigation (Fran)
As with many of the blogs we looked at last week, I feel like you have all the elements for a really great blog, you just need to figure out how to get those elements to work together!
You have some really great content that you highlight in your nav bar, in particular, Mommy Moments and Project BG2. Those are the posts that are going to grab your reader's attention and keep them going back for more. Consider highlighting this content more in both your nav bar and in your sidebar.  A sneak peak into a blogger's life is what allows us to form connections and keeps us reading.
I would also suggest that you downplay your emphasis on reviews and PR.  Consider creating one tab in your nav bar entitled, PR and Reviews.  From that option, you can create several drop-down tabs that refer to Reviews, Book Reviews, etc.  If product reviews are not the primary emphasis of your blog, then do not emphasize them in your nav.
Always remember to prioritize who you are and what you do over any ads in your sidebar.  In your case, move your social media buttons to the top of your right-hand sidebar.  Also remove the dynamic, scrolling pictures of your family in your left sidebar, and make them static instead.  People would love to get to know you!  If you can link these images to a post describing a story about each family member or maybe a longer description, that would be even better.
Consider adding a Popular or Favorite Posts widget to your sidebar.  It is a great way for people to introduce themselves to your blog…all under your expert guidance.
Mel mentions embracing your identity, which I completely agree with.  Have you ever considered writing about Vietnamese food or traditions on your blog?  In your most recent post, you mentioned that your daughter is eating her favorite Wonton Noodle Soup from your mom.  I'd love to get my hands on that recipe!  What's more, posting about a topic like that is GREAT for SEO.
If you do decide to take my advice, remember to emphasize the new direction as much as possible within your navigation.  Give your readers an easy button when it comes to navigating around your site and you'll quickly see the results in terms of engagement and page views!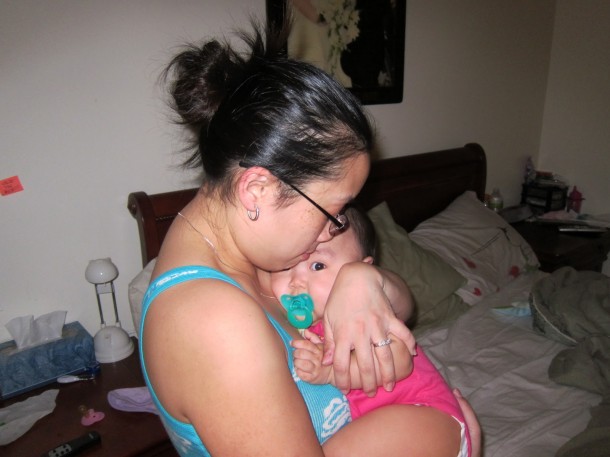 Content (Kat)
Could you kids be any cuter!?! Oh my goodness. I just want to squeeze those chunk little baby cheeks!!
I read this post of yours and it seems you've reached a bit of a crossroads with your blog. Feeling unsure whether you're heading in the right direction with your blog is a very common growing pain amongst bloggers. And by bloggers, I mean 'me"…and now you…so I assume this is something people do. I think it's good to take a step back and think about how to achieve the goals you listed above.
When I scroll through your blog, I feel like I'm reading mainly a review blog with some side personal stories and photos…but your blog title leads me to believe I'm going to be finding confessions. Have you considered creating a tag line that will help readers understand what your blog is about on first impression?
I'm curious about your book reviews…did you start those because you love reading and it's just a natural fit for you? I feel like your book reviews get the least amount of reader engagement. Is there a way you can do them and somehow involve your readers more? Maybe ask them questions? Get their feedback on a book they'd like you to review?
I think you would really benefit from a blog conference like Bloggy Boot Camp…is there a stop local to you in 2012? Blog conferences have a great way inspiring bloggers by helping them consider all of the things they really can do with their blog. There's also that element of networking that allows you talk to people one on one who are creating similar content as you and establish long-lasting relationships.
I might also suggest a bloggy break. I took a two week break last year and clearing my head allowed me to think creatively about where I wanted to take my blog next. It was an invaluable choice for me!
So, did you learn anything from this blog critique? Let us know in the comments below.
And be sure to head over to visit Vivian from Confessions of a Vi3tbabe and leave her some comment love. Check out her site, see if you agree with our assessments, and maybe even leave one of your own!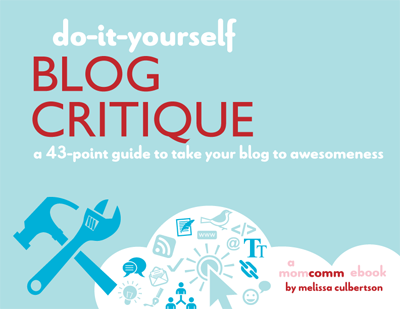 Blog critiques are a fantastic way to critically analyze your site and propel yourself forward. If you are interested in working through this very effective learning process, grab a copy of the DIY Blog Critique eBook! Read through the 43 points that Melissa evaluates as she goes through a critique. Each point has its own page chock-full of detail on what to look at on your own blog. Buy your copy NOW for only $11.00 using the code, SITS11, upon check-out!
Want to Read More Blog Critiques?
Accept no substitutes! Blog critiques from Momcomm & The SITS Girls are the best you'll find on the web. Here is what we have done to date:
Interested in Signing Up For a Blog Critique?
Starting TODAY, Melissa from Momcomm will be opening up 26 blog critique slots…that's 6 month's worth!
Be sure to swing by her site at 10:00 am EST. The first 13 spots will be filled on a first-come, first-serve basis. She'll fill the remaining 13 spots by selecting 13 names from a random drawing. Don't miss your chance to get a blog critique of your very own!