This post may contain affiliate links which may give us a commission at no additional cost to you. As an Amazon Associate we earn from qualifying purchases.
Blog Critique Week continues with Momcomm and The SITS Girls!
All this week, Fran, Kat and I (Mel from Momcomm) will be critiquing the blogs of TEN lucky SITS Girls readers. We'll dissect a blog from top to bottom in three areas: design, navigation/functionality and content. The reason? To help the featured blogger meet her blog goals and become even MORE awesome.
The goal of a blog critique is to help all of us learn and grow. One suggestion for a particular blog may very well apply to multiple members of our community and get us all thinking about how we can improve what we do.
Here we go!
Jenn from Frugal Front Porch describes her blog as follows:
My tag line is "Minnesota/North Dakota mom blogger shares her secrets to a free life. Discover tips to living a self-sustaining financially responsible life with helpful how-to's, effective parenting strategies, smart shopping tips and so much more from this SAHM trucker's wife," which is a fancy way of saying it's a mom blog where I talk about everything from parenting to how we manage our money to sharing easy delicious recipes and even the occasional phenomenal deal I come across.

I am NOT a deal or coupon blogger. There are plenty of those gals (and fellas) out there who do an incredible job… but I wanted to go beyond deal blogging to share lasting core strategies and tips to help people who need them. I didn't have a handbook when I got out into the great big world and found myself in lots of debt with no understanding of how to live within my means. They didn't teach this in high school & my parents did talk finances at the dinner table. (It was considered bad manners at the time.) So I learned the hard way, and now want to share what I've learned with others.
Jenn's blog started as a hobby to address the great things she was learning about living within her means. However, the blog has transformed into a professional venture. It's on the brink of being financially self-sustaining, so she wants to bring more of a "community" vibe to the blog instead of it strictly being a resource blog. While she loves comments from posts like Wordless Wednesday, she'd love more reader engagement on her core content. She's also struggling with ensuring that Yahoo and Bing find her blog.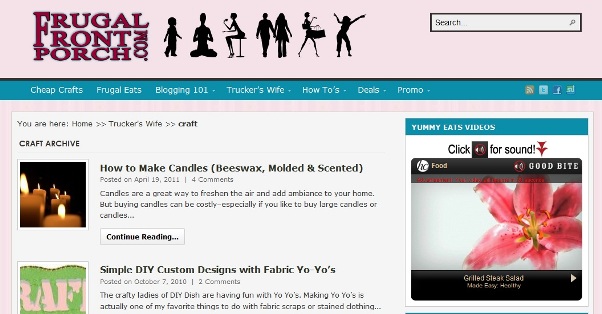 Design (Mel)
Header & Menu
One thing that really strikes me is that in your description above, your story behind your blog is so personal, but I don't see you capitalizing on that "human" element on your homepage. Two things will help this. One is a tagline. You mention it in your blog description, but I don't see it on your homepage. I'd try to tighten it up though. For example, while it's wonderful that you're a trucker's wife, I'm not sure it's relevant to being financial responsible. It doesn't mean you have to hide it or strike it from your blog, just try to keep your tagline as concise as possible. The second way to humanize your site is having a small picture of yourself in your sidebar and a short description about you. You mentioned you "found myself in lots of debt with no understanding of how to live within my means." This is a wonderful point to emphasize since many people can relate to this and immediately make that connection to you.
I don't think you need .com in your blog name unless you have a good reason for it. As for your logo, I think it could be larger and with less shadowing as it seems to blur the name just a bit. While I don't think the silhouettes seem to fit with your blog name, having a tagline that reinforces well-being (I see that yoga chick in there), parenting, etc. can help those silhouettes better support what your blog is about.
I notice that you have the Lifetime advertising strip at the top of your page. While that's A-OK, your top navigation looks like part of the ad and I think many readers and companies will completely miss it. Just changing the color and making it larger may be enough to make it pop out.
Since your site has so much content, it's great that you have drop-downs for your menu topics. This saves the reader an extra click.
Sidebars
Your social media (SM) buttons are in your menu, but they are teeny tiny and easy to miss. SM buttons are so important because they lead to other platforms where you maintain and build your community. Also, I DO see you have more links to SM buttons within (what at first looked like just) a Facebook widget. I think those SM buttons should be moved out and to the top of your sidebar (above your video ad). I'd also recommend that the small SM buttons in your header be moved. It looks like you collectively have over 2,500 followers/subscribers, so I'd move that box ABOVE your SM buttons, at the top of your sidebar.
In your footer at the bottom of the page, you also have a field to sign up to get your posts via email. Consider moving that element up with your SM buttons so all the ways to connect with you are in one place.
I love Facebook widgets because it's so easy to like a page. Definitely keep it!
You have a "work with FFP" box on your sidebar that mentions ways companies can work with you. While it's great that you have so many options, it's not really reader-friendly, since you're using up a lot of space that could benefit your readers. Instead, I'd condense it down to a button or sentence and link to your static page on PR. Keep the sidebars focused on things that will bring your readers value. Also, try to write out Frugal Front Porch when there's space to reinforce your brand. Acronyms can catch readers off guard, especially when it's not a commonly used one.
Main Column
When I land on your homepage, your overall site is designed with a magazine-style feel to it and less like a blog (where the blog posts stream down your homepage). While that suits many blogs, it's easy for a reader to be overwhelmed by it all and not know where to go first. You may want to consider simplifying your home page and only including one post from each section/topic. Something like an image on the left and title/text on the right. If you give readers too many choices, they may never click on anything.
Once you click on an article and get inside to your blog posts, I think your posts are simple and easy to read. You may want to remove one of the sets of social media sharing buttons though. Again, too many choices many times leads to your reader not taking any action whatsoever.
It's easy to distinguish between your posts, which is important because sometimes it's hard to tell where one post ends and another begins.
To add a little more color to your posts, you may consider making the Related Posts thumbnails instead of text. This may also encourage click-throughs, which will give you a lower bounce rate.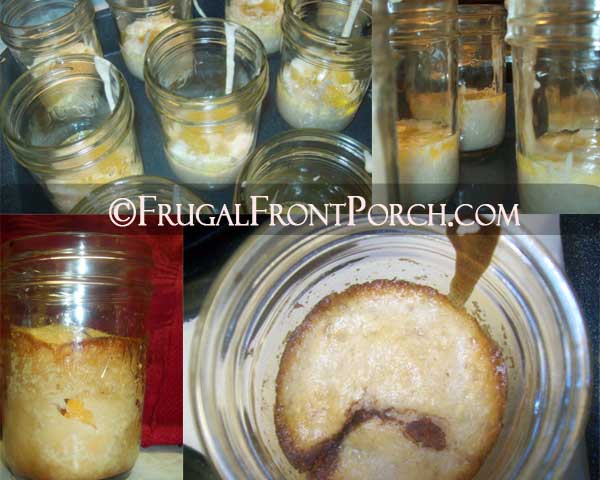 Navigation (Fran)
First off, congrats!  Anytime a blogger is able to make enough money so that their site is self-sustaining is a HUGE accomplishment.  You should feel great about this!
First impressions pay a huge role when it comes to the success of a blog.  In the first few seconds as a reader, I am either drawn in or perhaps left a little confused.  In your case, it is a bit of the latter.  Like Kat says, while it is impressive that you are able to cover so many topics, you would be better served, especially in terms of navigation and SEO, if you focused on a few core topics for your site, rather than trying to highlight everything that you post about.
Consider sitting down and brainstorming not only about what you enjoy writing about, but also which posts seem to bring you the most amount of traffic and/or reader engagement.  You can do this by evaluating the comments or by referring to your Google Analytics.  (For five great ways on how to monitor your stats, check out this post.)
Once you have completed this step, see if you can't define your core topics using only 10-12 keywords.  These are the terms that you should use to populate your navigation bar, your tags, your categories, and even your blog post titles (when appropriate).
In order for specific search engines to find your your blog, consider fine tuning your settings.  For Yahoo, go here, and for Bing, go here.
If you want to be found by search engines, you need to provide a sitemap. If your site doesn't already have a sitemap, you should create one. A sitemap is used by search engines to identify content on your site, and can also be used to tell Google and other search engines other important details such as how often your site is updated and should be visited by their spiders.  For more info on this process, check out this post here.  Kelby Carr's Mom Blog SEO book also has a fantastic tutorial.

Content (Kat)
So you want to build a community!?! I think The SITS Girls is a great model for community building. Not only is blogger engagement important on Twitter and Facebook, but staying tuned into your readers and their blogs is a great way to reciprocate the love you get on your site. Spend time responding and commenting on their sites and consider ending some posts with engaging questions.
If you're ready to take it to the next level, think about getting started with your own BlogFrog Community. It's a great space you can utilize to continue conversation with your readers and also monetize. Just remember, community building takes a ton of time and is something you need to be willing to put a lot of work into before you really reap the rewards.
I think you might be more successful if you honed in on one or two topics you are an expert at and craft a majority of your blog posts on those topics. I think it's great you have so much information that includes everything from Frugal Eats to Blogging 101, but as a reader I'm just not sure where to go first. We focused on this concept in great detail when we discussed pillar content and how to create a mind map in our most recent #SITSClass from Problogger.
I love that you have featured articles in the top section of your blog…it's the first thing I see and makes it clear what your last blog posts were about. As a regular reader, I would look at that section first to catch up on anything I missed.
You specialize in North Dakota/Minnesota Web Design and yet, other than the small web design button in your sidebar, I don't see a huge North Dakota/Minnesota web design presence on your blog. Have you considered making this a more prominent aspect of your site or is this something you might be phasing out?
I charge $1,000 for my portion of these blog critiques via PayPal. Thank you. 😉
So, did you learn anything from this blog critique? Let us know in the comments below and remember to check back all week for two blog critiques per day!
And be sure to head over to visit Jenn from Frugal Front Porch and leave her some comment love. Check out her site, see if you agree with our assessments, and maybe even leave one of your own!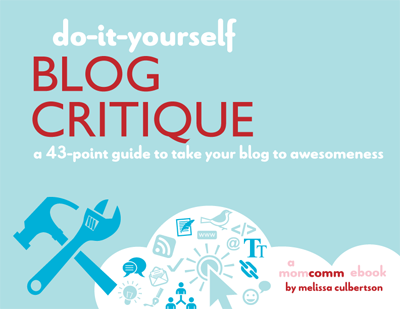 Blog critiques are a fantastic way to critically analyze your site and propel yourself forward. If you are interested in working through this very effective learning process, grab a copy of the DIY Blog Critique eBook! Read through the 43 points that Melissa evaluates as she goes through a critique. Each point has its own page chock-full of detail on what to look at on your own blog. Buy your copy NOW for only $11.00 using the code, SITS11, upon check-out!
Want to Read More Blog Critiques?
Accept no substitutes! Blog critiques from Momcomm & The SITS Girls are the best you'll find on the web. Here is what we have done to date: