This post may contain affiliate links which may give us a commission at no additional cost to you. As an Amazon Associate we earn from qualifying purchases.
You see it on forums a lot…bloggers asking people to review this blog and give honest feedback. And then the post is full of "I like your blog!" or "you're doing a great job!"  Unfortunately, the feedback being provided doesn't help bloggers objectively critique their site and make changes.
I've been putting my marketing, writing, and design experience to use on my own site, Mom Comm, from some time now.  Each week, I dissect a blog from top to bottom in three areas: design, navigation/functionality and content.  The reason?  To help the featured blogger meet her blog goals and become even MORE awesome.
The point of a critique is for all of us to learn and grow.  One suggestion on a particular blog might also be something that another blogger can incorporate or keep in mind for a future blog design.
Quite some time ago, we very quietly opened up a wait list for blog critiques here on SITS.  Without a single tweet or post, we were amazed by the number of blogs that were submitted.  Because the wait list grew so long so quickly, we are no longer accepting submissions.  However, we will be profiling those lucky bloggers and posting their critiques here in the Education channel in the coming weeks.
To kick off this series, The SITS Girls and I are featuring Nichole from In These Small Moments.  She is using WordPress.
Nichole began blogging in April 2010 and sums up her blog like this:
Each and every day, I strive to appreciate the wonder, beauty, and whimsy in the small moments, the moments that, when strung together, form a lifetime.
She strives to grow and wants to make sure her site is not only inviting to new readers, but that they'll also be able to easily see what her site is about.
One of Nichole's primary goals is to build a business out of her blog.  To do this, she'd like to increase her web traffic so that she may earn more through her ad network.  In addition, Nicole currently does freelance work for Babble.com.  She'd like to expand this role and take on more writing jobs to supplement her income.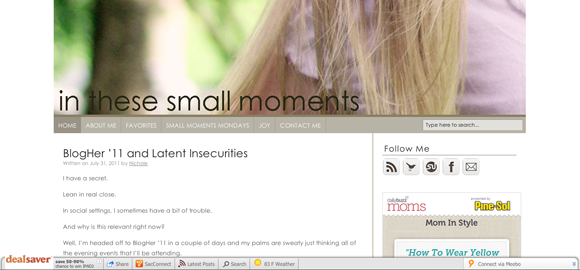 Design (Mel)
Header & Menu
The colors of your blog are really subtle and calming, which fits well with what you blog about.
Your header is simple and clean, again which fits well with your blog. I'm a little torn with your image. I understand the connection to your blog name but I can't help but want to scroll up and see the rest of the picture! I wonder if another image would make me or others resist that urge. Heh.
Your overall header doesn't seem as crisp as it could be. It's most noticeable in your blog title. See how the curves in the letters like S and E aren't smooth? Could be an issue with resolution or uploading it. Can't tell if you're using Thesis or not (kinda looks like it) but I noticed my header had to be the EXACT dimensions or it would make my image fuzzy.
The blog title is a bit hard to read with the picture behind it, especially the word "these" as it gets lots in the tree. One solution would be to either play around with another color or to add a ghosted white box around it. By box, I mean something elegant (not "boxy") with rounded corners to soften it.
Your menu is very clean and I like how you integrated the search box into the menu. All the titles are descriptive except one: Joy. Is it your joy? My joy? Both? May want to be more descriptive by saying something like "Finding Joy" or "How I Find Joy." It also won't get lost within the menu as it does now since it's so short.
Sidebars
Your sidebars are relatively clean and uncluttered, even with your ads. However, it could use a little color (which I cover in a couple of other bullets.)
It's great that your social media buttons are front and center on your sidebar. It'd be nice to pull out a color from your banner graphic into the buttons (like a green or purple).
While there are clear sub-headings on some parts (About Nichole, Subscribe by Email), others aren't as obvious ("Come see what I'm talking about on Babble"). The "non-obvious" ones are simply regular text and don't make those great accomplishments of yours stand out! I'd have them match the others. As a whole, I'd make the headings bolder or use color to liven up the sidebar (again that green or purple could really add some pop)!
As for your About blurb, it's great that you have it (and a picture). Helps the reader to connect with you. However, as I mentioned, if you moved your tagline into your header, you could use this place to explain a wee bit about you and what the reader gets from your blog (inspiration? warm fuzzies?). Think "What's In It For Me?" (me being your reader).
Instead of an archive drop-down, try a drop-down on categories. Few people are going to wonder what you wrote about in July 2010 but they ARE going to wonder what you wrote about in a category such as Gratitude.
Towards the bottom of your sidebar, you show some blog buttons. Some are groups you work with (Clever Girls) and others are event-based (BlogHer). Instead of lumping them all into one place, provide a little explanation to your readers through sub-headings. For example, you could use the sub-heading "I'm Going" for BlogHer and "Proud to Be a Member" for Clever Girls. This helps them make a little more sense to your readers (who may or may not have heard of them).
Since your sidebar is pretty light on content, I'd make some graphical links to your Small Moment Mondays or other popular categories. I did this on Momcomm to draw attention to some of my most popular content.
Main Column
Overall, your main columns are pretty clean except at the end of each post. Your "leave a comment," labels and tags all sort of run together. Maybe remove tags from being visible and see if that gives a little more space there. You don't want the "leave a comment" link to be cramped (although you seem to get plenty of comments- hehe).
I think your headings could stand to be bigger and in a different color, especially since they are the same font as your main content. If you changed the headers to a different font, it may provide enough of a change to make your headings stand out more.
Elsewhere
How has the Meebo footer bar benefitted you? Can you tell if people click on any of the buttons? The reason I ask is that you may want to remove it if it isn't bringing value to your readers. The ads on the left aren't intrusive but maybe just a bit distracting when you're reading through your content. If you like the bar, perhaps configure it to something more relevant to your readers (i.e. not weather, but maybe Twitter instead).
I see you have a favicon (the little image beside the URL) that's a headshot of you. It's a good way to add a little branding. If you had a non-photo, I'd suggest using that since headshots can be difficult to see.  I do like that it's the same picture someone sees when they land on your blog.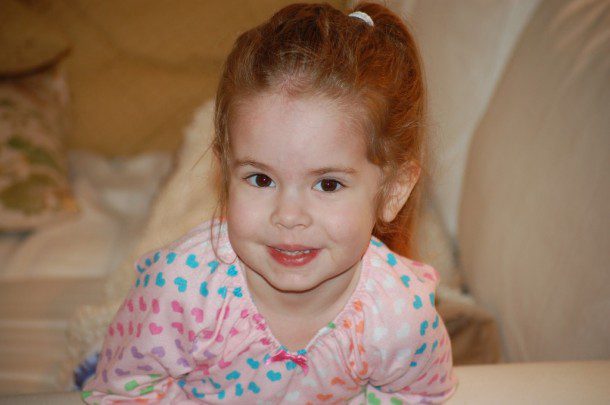 Navigation (Kat)
I love it when social buttons, search engines, and contact info is above the fold. Bam, you've got'em all. Well done, friend.
I like to subscribe to blogs via email. I like that you have a box for that. You make my life easier. Thank you.
I have a love/hate relationship with share buttons at the bottom of posts. I like that it gives readers an easy way to share, but I think too many can make a blog look cluttered. My advice is to use only the most popular ones and get rid of the rest. Studies show that they'll do nothing. See how right I am?
Your favicon is pretty, but I agree with Mel.  Ultimately, it might be too small to make much of an impact.
I'm a fan of the link within widget at the bottom of your posts. It's such an easy way to add deep links to your blog.
I like everything.
I'm incapable of giving negative feedback.
I think you're pretty.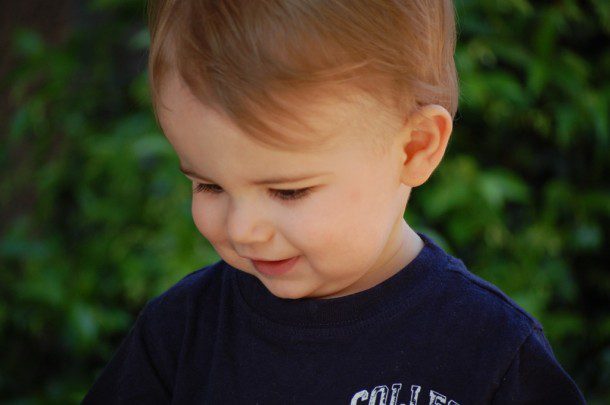 Content (Fran)
You possess a real talent for writing.  When reading your posts, I can definitely hear your "voice".  It is very much like talking to a friend.
It is wonderful that your post topics tie in so well with your overall blog theme and title.  For example, your birthday letter to your beautiful daughter was incredibly moving. There is something about seeing your tiny little baby grow into a toddler that is lovely and humbling at the same time.  Life's moments are so fleeting.  You capture this beautifully both with your words and your photos in this post.
I am wondering how much you are taking SEO into consideration when choosing your post titles.  Let's use the post, Already Lovely, as an example.  When I input this title into the Google Keywords tool, I get zero results.  However, when I type in, should girls wear makeup, I get 1,900 results.  Consider trying to achieve more of a balance between your post titles and SEO.  In this case, Already Lovely: Should Girls Wear Makeup, might do just the trick and help you achieve your goal of driving more traffic to your site.
Continuing with the above bullet point, making your post titles more specific would help people get more of a sense of what you are writing about.  Titles such as, Always, But You Are, and The Space Between, do not help me to understand what I will be reading.  Conversely, Why I Write, does.  And, as an added bonus, it's a post title that immediately gets my attention.
Final Closing Thoughts on SEO:
Every piece of optimized content is a new doorway for people to enter your site. Right now, your readers are primarily finding your site via direct links, e.g., Twitter, your RSS feed, etc. It can be hard to think of writing for a search engine, but I do believe that you can achieve a balance between creativity and SEO. Just as you wouldn't do a long headline on a front page newspaper story, blogs are another medium with their own guidelines. Blog titles should get to the point and be on topic as much as possible.
So, did you learn anything from this blog critique? Was this helpful? Let us know in the comments below!
And be sure to head over to visit Nichole and leave her some comment love. Check out her site, see if you agree with our assessments, and maybe even leave one of your own!
Blog critiques are a fantastic way to critically analyze your site and propel yourself forward. If you are interested in working through this very effective learning process, get ready for the upcoming Blog Critique eBook! Coming in August, you'll be able to read through the 43 points I evaluate as I go through a critique. Each point will have its own page chock-full of detail on what to look at on your own blog. To learn more about the book and to receive the launch discount, simply check out this post on MomComm.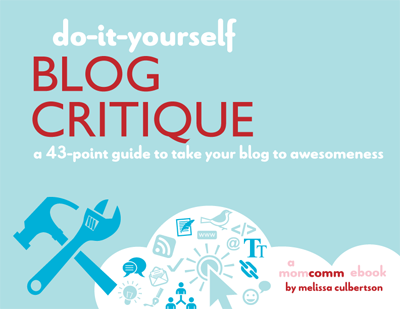 Want to Read More Blog Critiques?
Accept no substitutes! Blog critiques from Momcomm & The SITS Girls are the best you'll find on the web. Here is what we have done to date: