This post may contain affiliate links which may give us a commission at no additional cost to you. As an Amazon Associate we earn from qualifying purchases.
Welcome to our second blog critique here at SITS! Twice a month, Fran, Kat and I (Mel from Momcomm) dissect a blog from top to bottom in three areas: design, navigation/functionality and content. The reason? To help the featured blogger meet her blog goals and become even MORE awesome.
The goal of a blog critique is to help all of us learn and grow.  One suggestion for a particular blog may very well apply to multiple members of our community and get us all thinking about how we can improve what we do.
Here we go!
Jacki from The Raven's Spell describes her blog as follows:
The Raven's Spell chronicles the ever changing adventures of a stubborn, book-obsessed woman as she redefines her life, family, and self. While raising a spirited young man, blending two families, returning to school after a 10 year hiatus, and pushing her own boundaries, this life will just never be the same.
She uses WordPress and is learning how to customize her blog more and more since moving from Blogger. She'd really love to increase her engagement and following. Jacki wants to express her definitive personal beliefs more but is afraid of losing followers because of it. She'd also like to expand her blog to include sponsorships and other streams of income, but without sacrificing the personal nature of her site.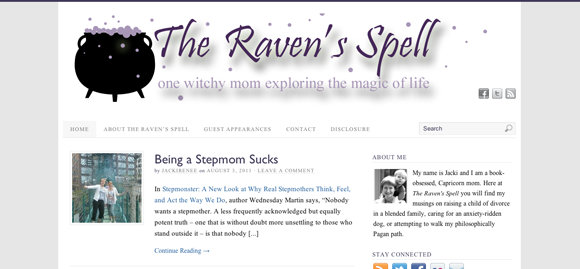 Design (Fran)
Header & Menu
I like that you "own" your niche with your blog.  As I spent time really digging into your content and getting a sense of who you are, I learned that you are on a journey, one that involves figuring out who you want to be in this space.  You're answering questions like, should I discuss religion on my blog and how much do I want to reveal about who I am outside the computer? Even though you are working through this process, your blog design immediately announces who you are.  People are not always comfortable doing so, and I like that you are upfront with your audience.
Your blog title references a raven, which makes me envision a bird, rather than a brewing pot.  Perhaps consider incorporating both into your design?  Here are a few ideas I found on iStock that might be fun to consider…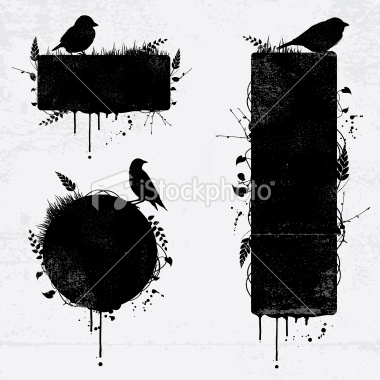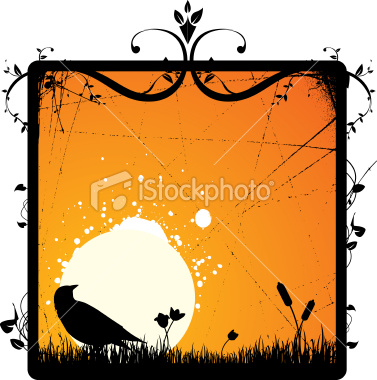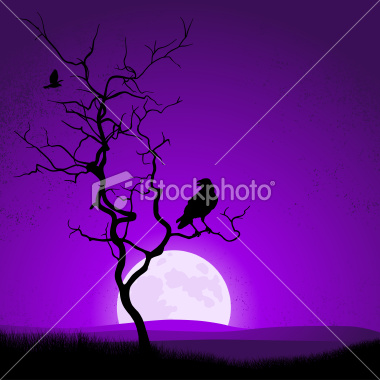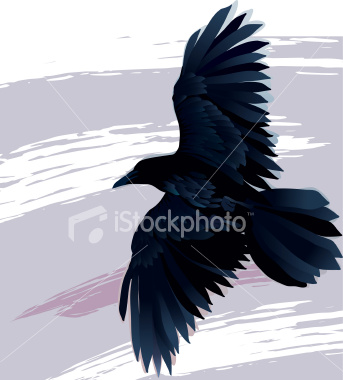 Purple is a great color choice for your blog!  However, the shade of purple you are using seems pastel and faded.  Have you considered using something bolder and more eye-catching?  You might even add a third color to your palette and use it as an accent.
The shadowing effect you are using in your header unfortunately washes out the text.  In your case, making your header more bold may do just the trick.  Help to make things "pop" by adding color to the background, as opposed to simply white.
I love your tagline, but think a different font would do it more justice.  Try using a more unique font, as opposed to Times New Roman (or just Times).  Also, since the font is part of your header image, you don't need to be concerned with it being a web-safe font.  (Read more about fonts and header design in our three-part Blog Design series here.)
Sidebars
Mel covers both your social media buttons and your category titles in her section, which I agree with entirely.
I LOVE that your About Me section is the first element that I notice about your sidebar.  On some blogs, you have to hunt for this information.  For me, one of the best parts about reading a blog is getting to "know" the writer.  A short bio and headshot accomplishes this beautifully.
Your sidebar is (arguably) your most prized real estate on a blog.  The order that you arrange widgets, ads, drop-down menus, etc., should reflect this.  One of the best pieces of blogging advice that I ever received is to value yourself above all else.  In your case, this would entail rearranging your sidebar.  Consider moving your blog button above your Proud Member buttons.
If you do decide to follow our advice re making a few blog design changes, then your blog button would also need to evolve.  It would be great if you could morph it into something more eye-catching and colorful.  Your tagline is also fantastic, but lost on the black and white background.
Main Column
In your list of goals, you mentioned wanting to obtain sponsorships and more paid opportunities.  Unfortunately, you do not mention this anywhere on your site.  We would suggest adding a PR/Advertising page to your menu!  Check out our post on 7 tips on how to work with brands.  We worked with an actual PR rep to put it together.
Your popular posts feature is a great way to draw readers into your site using content that has been successful for you.  I would suggest moving this feature out of your footer and into your sidebar.  Melissa does this with Mom Comm, which I like.
Call me a traditionalist, but unless you build a landing page on your site, similar to what we have done with SITS, I like to see more than just a few lines of your latest post.  Don't get more wrong, the post snippet is a great way to drive page views, but you might consider changing this.  Always think about your reader's experience using your blog when implementing different features on your site.
Navigation (Mel)
I like that your primary social media buttons are above the fold. People look for these buttons at the top of a blog and yours are easy to find. However, I see you have them in your header too (but fewer of them). Since they are so close in proximity, it may confuse readers. I'd drop them from your header and perhaps add them in your footer so someone who wants to follow you doesn't have to scroll all the way back up.
Your search box is easy to find. Yay!
You have a good amount of categories- you definitely don't want too many! I'd suggest using sub-categories a little more to help your readers. For example, if I were interested in reading what you've written about books, I see that you have 3 categories: Books in Review, Books, and Reading from My Shelves Project. Since the last one is further down because of alphabetical order, I may never see it! Also, try to be consistent with the capitalization of all your categories.
I see that you have an RSS feed link but that your feed isn't burned. This makes it harder for people to subscribe to your RSS feed. For info on how to burn a feed and why it's important read these two posts: How to Burn a Feed Through Feedburner and Kludgy Mom's article How to Use Feedburner on Your Blog.
Posting on your blog is really easy! You could add a Comment Luv plug-in to give your commenters a little link love. People always dig that.
Content (Kat)
I love that you are so honest in your posts. Many bloggers are afraid to say what's on their mind for fear of offending readers. You manage to say what you're thinking without being offensive.
Your post titles do a great job of prepping your readers for exactly what they're going to read about.
You write about things that I think people are truly interested in like working outside the home and religion, but you do a good job of lightening things up with weekly memes (ahem) and book reviews.
I think your anxiety ridden dog could use a starring role on your blog. All of the "big Bloggers" have dogs. You could really use him to elevate you to the next level. Think about it!
I'm a big fan of pictures in posts…whether they're pictures you take, istock photos, pictures you draw…I don't care. I love'em. What if you considered using more pictures?
You don't have to I'm just trying to think of something constructive to add here.
I'm incapable of giving negative feedback.
I think you're pretty.
So, did you learn anything from this blog critique? Was this helpful? Let us know in the comments below!
And be sure to head over to visit Jacki and leave her some comment love. Check out her site, see if you agree with our assessments, and maybe even leave one of your own!
Blog critiques are a fantastic way to critically analyze your site and propel yourself forward. If you are interested in working through this very effective learning process, get ready for the upcoming Blog Critique eBook! Coming in August, you'll be able to read through the 43 points I evaluate as I go through a critique. Each point will have its own page chock-full of detail on what to look at on your own blog. To learn more about the book and to receive the launch discount, simply check out this post on MomComm.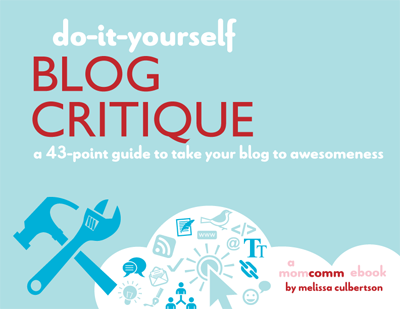 Want to Read More Blog Critiques?
Accept no substitutes! Blog critiques from Momcomm & The SITS Girls are the best you'll find on the web. Here is what we have done to date: