This post may contain affiliate links which may give us a commission at no additional cost to you. As an Amazon Associate we earn from qualifying purchases.
Blog Critique Week continues with Momcomm and The SITS Girls!
All this week, Fran, Kat and I (Mel from Momcomm) will be critiquing the blogs of TEN lucky SITS Girls readers. We'll dissect a blog from top to bottom in three areas: design, navigation/functionality and content. The reason? To help the featured blogger meet her blog goals and become even MORE awesome.
The goal of a blog critique is to help all of us learn and grow. One suggestion for a particular blog may very well apply to multiple members of our community and get us all thinking about how we can improve what we do.
Let's get it started!
Latoya from The Scott's Crib describes her blog as follows:
My blog is about sharing my love of my family and home decor progress. The Scott's Crib is also here to

inspire those who are just as un-savvy, but otherwise passionate about DIY as we are.
Latoya would blog for free forever, but she would love to grow in three main areas: readership, content, design. Her goal is not to put the same spin on everything, but to do things from her point of view and to totally embrace the fact that she's not John and Sherry from Young House Love or Sarah from Thrifty Decor Chick. She also wants to show her readers that if they are unsavvy at doing it themselves, then so be it! She is too and is proud of it.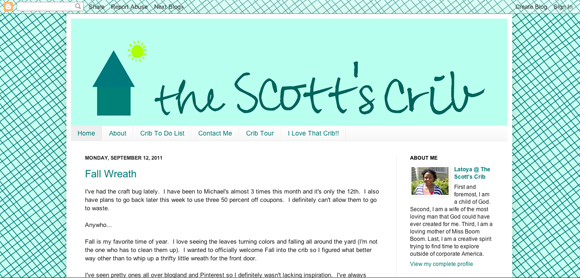 Design (Mel)
Header & Menu
I like the font that you chose for your blog name. It's casual with a hand-written look, which fits well with the DIY aspect of your blog. As for the image, having a house is a good choice given your blog topic, but I think you could do one of two things to make the house more prominent. One option is to find a more detailed illustration. The second option is to make the house larger and then have the base of the house connect to the menu bar. It's a good design principle not to leave things floating, so I think doing the second option could make the header more visually appealing.
Also regarding your header illustration, the sun kind of gets washed out with that bright blue background and that sun color isn't used elsewhere in your blog design. Consider changing the color of either the background or the sun.
A tagline would really help new readers figure out what your blog is about. I love how you talk about embracing being unsavvy at crafting and home decor, but loving it anyway. I think incorporating that message would be a great tagline. In order not to cramp your header, you'd probably need to shrink your blog name to make the tagline fit.
Your menu is pretty self-explanatory and does a nice job tying into the things you write about. One suggestion is to move the Contact Me option to the far right, so that all the "crib" tabs are all together. Other than that, nice job on your menu!
Sidebars
It's great that your sidebar starts off with a bit about you and a picture. For a personal blog, I feel it's an important thing to have. I'd love to see that picture bigger though so people can see you! One thing I see missing from your description is any mention of home decor and crafting. I think having a sentence about what your site offers readers will help tie it to your blog name and (new) tagline.
Your sidebar is pretty straight-forward. It isn't too cluttered, which is great. One thing you could add is a picture of your house, especially since it's a main focus of your blog. Another tip to add some branding to your sidebar is to use some social media icons that link to your RSS feed, Twitter profile, Facebook page and email address (if you share that).
Also, are you on Pinterest? Seems like a good fit for your blog. If you aren't, definitely check out this post and then consider asking for an invite. There are Pinterest widgets you could use in the sidebar.
Another way to tie in branding is to rename your sidebar's subheading so that they play into words like crib, house, craft. For example, instead of Followers you could say "Keep up with the crib." Fun, right? Do the same for the RSS button heading (no need to mention it's an icon), Blogs We Like, etc.
Main Column
Your main column is nice and clean! Just a couple of suggestions would be to make the fonts for the blog post titles and the content a little larger. That's it!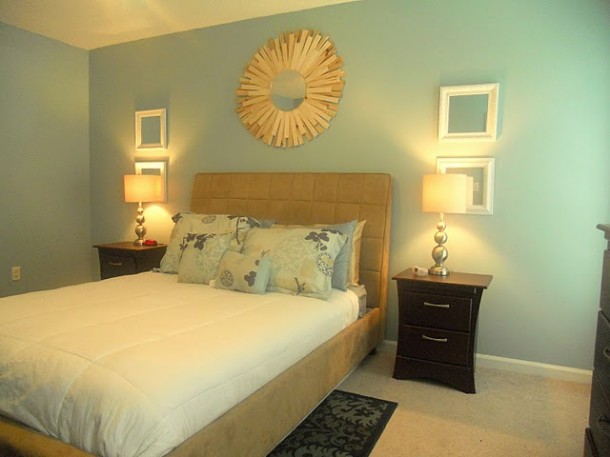 Navigation (Fran)
One thing you do very well on your blog is that you prioritize yourself.  This is a common problem for bloggers.  Often times people will host ads or archives towards the top of their sidebar, which is prime real estate when it comes to a blog!
For the purpose of this critique, I am going to give you the run down and order for what I feel you need in your sidebar.  All of this is organized according to priority:
(1) Social Media Buttons: Make these front and center, lady!  Your job as a blogger is to make your information as accessible to your readers as possible.  Buttons may include, but are not limited to: Twitter, Facebook, Email, RSS, and Pinterest.
(2) About Me: Yes, this is the all about you section.  You'll want to be sure to incorporate info about your DIY interests and what people can expect on your blog, like Mel suggested.  Also, let's make that profile pic bigger.
(3) Popular Posts: This is the bread and butter of a blog.  As a reader, if I am looking for a flavor of what your site is about, I'll head straight to your popular posts.  This is also a fantastic way to drive engagement and clicks, especially on a DIY blog.  Chances are that some of your tutorials are a part of a series, so make those links available in a place where users can find them easily.
(4) Blog Buttons: I think your weekly I Love That Crib feature is a great idea and love that you have created buttons for those that participate.  In addition to these buttons, it would be great if you linked to a static page where you describe how new readers can get involved.  I do see the link in your nav bar, but it is always good to give your readers multiple opportunities to discover what you are doing.
(5) Ad: A girl has got to get paid, right?
(6) Labels: The label feature is a good one, especially for a DIY blog where people are likely to utilize this widget.  However, like Mama Kat said, be sure to check your terms against the Google Keyword tool.  You have a gold mine in terms of SEO.  Use it to your advantage.
The remaining elements, including Blogs We Like, Archives, where you have been featured, and the social media widgets, are probably either redundant to some of our earlier suggestions, or lower in priority when it comes to your sidebar.  Organize them at will!
Our final suggestion has to do with Pinterest.  Since you have such a focus on DIY and crafts, we suggest that you incorporate a "repin" button.  This is another fantastic way to drive page views and engagement to your blog.  Check out this Pinterest repin tutorial for more info.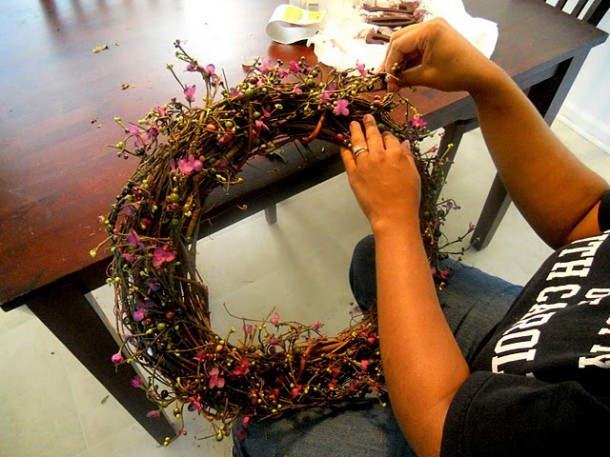 Content (Kat)
I have no idea how you're able to create DIYs, raise a baby, AND work full time! You are one busy lady. I love all of the pictures you share of your crafts. It's a great way to break up the content! Have you considered using a free photo editing service like picnik.com? I think just a slight adjustment to exposure, contrast, and color could really give your great photos a little punch.
Did you know your post entitled, "Fall Wreath", is searched by 8,100 Google users each month? Not bad! But the phrase "how to make a wreath" is searched by 41,000 people each month! Consider utilizing Google Adwords to help find keywords that will strengthen your post and allow you to rank higher on Google.
Replying to your readers either via comments or via email is an excellent way to interact with your readers. I see that you do this. Way to go!
You can grow your Facebook and Twitter following by engaging your audience a bit more. For Facebook, spend some time asking your fans questions…perhaps poll them on a DIY they'd like to see next? Provide behind the scenes photos? I'm thinking something more than posting typical links may be a great way to grab readers' attention.
Same goes with Twitter. Interact often and consistently in order to increase your following and attract more people to your blog.
Mel mentioned a Pinterest account.  I agree that it's a must have for you.  This would be a really great tool for someone like you and definitely another way to build your community through shared interests with other Pinterest junkies. 🙂
Congratulations! You saved $50,000 on this blog critique. I'm in high demand around here and have had to raise my prices over the last few hours. However, you still owe me $50,000.  Will that be cash or check?
So, did you learn anything from this blog critique? Let us know in the comments below and check back later tomorrow for two more blog critiques!
And be sure to head over to visit Latoya from The Scott's Crib and leave her some comment love. Check out her site, see if you agree with our assessments, and maybe even leave one of your own!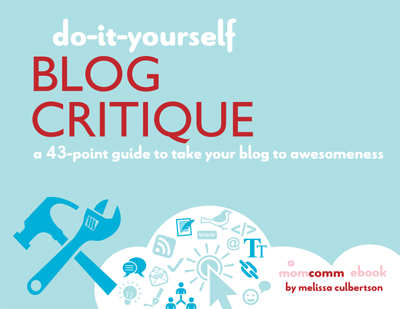 Blog critiques are a fantastic way to critically analyze your site and propel yourself forward. If you are interested in working through this very effective learning process, grab a copy of the DIY Blog Critique eBook! Read through the 43 points that Melissa evaluates as she goes through a critique. Each point has its own page chock-full of detail on what to look at on your own blog. Buy your copy NOW for only $11.00 using the code, SITS11, upon check-out!
Want to Read More Blog Critiques?
Accept no substitutes! Blog critiques from Momcomm & The SITS Girls are the best you'll find on the web. Here is what we have done to date: