This post may contain affiliate links which may give us a commission at no additional cost to you. As an Amazon Associate we earn from qualifying purchases.
Blog Critique Week continues with Momcomm and The SITS Girls!
All this week, Fran, Kat and I (Mel from Momcomm) will be critiquing the blogs of TEN lucky SITS Girls readers. We'll dissect a blog from top to bottom in three areas: design, navigation/functionality and content. The reason? To help the featured blogger meet her blog goals and become even MORE awesome.
The goal of a blog critique is to help all of us learn and grow. One suggestion for a particular blog may very well apply to multiple members of our community and get us all thinking about how we can improve what we do.
Let's dive in!
Lauren from Two Washingtons describes her blog as follows:
We relocated from Washington, DC to Seattle, Washington last summer and the blog began as a transition piece from one side of the country to the other. A year later we have a baby and are still trying to balance life in one Washington with our friends and family on the other side of the country (mostly in the Other Washington.)
Lauren is looking to increase her readership and make her writing more approachable and interesting "to people other than her mom."  Her blog didn't start out as a "mom blog" and she has nothing against the genre, but she does want to blog about more than her simply her child and recounting their daily activities. While she enjoys blogging, she'd love to transition into something more professional and work with companies. Mostly though, she wants to find people within the blogging community who are dealing with the same sort of things she is and who don't mind sharing it all with the world.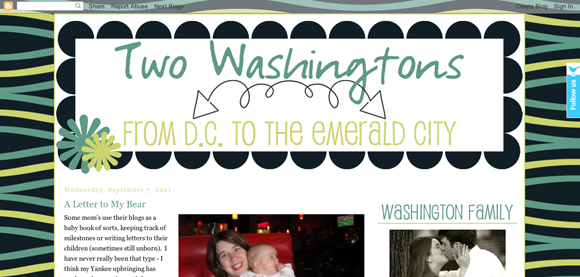 Design (Mel)
Header & Menu
I really like your blog name. It's catchy and different. Since you still have family in DC, it'll be easy to continue with that "theme" since I'm sure you'll find and can have blog topics that still mention DC.
One suggestion with your tagline is that it's almost as large as your blog name. Consider reducing its size. It'll leave room for my next suggestion!
I see there's a Washington head as your favicon (the image beside the URL field in the browser). I'd love to see something in your header that reinforces the Washingtons. Either a fun Washington head or some cool silhouettes of the two city skylines.
The colors of your blog are bold and really pop. In a sea of blogs, the colors really stand out. And the green reinforces Emerald City as well.
One big thing missing from your blog is a top navigation menu bar. In today's web word, it's almost expected to have this, so you may throw people off by its absence. At a minimum, I suggest a nav bar that links to an About page, Contact page and PR/Advertising page since you want to work with brands (my eBook lays out exactly what should go in these pages if you need some help). Also, I think it'd be great to have a page about your move cross-country.
Sidebars
I like that you have pictures of your family in your sidebar. It helps readers put faces to the "characters" you talk about in your blog posts.
I don't see anywhere to subscribe to your blog via RSS. Blogger lets you add this feature fairly easily, so give users this option.
Also, your Twitter button is on the side of the site.  Even though the color stands out, it's still important to have a Twitter button in your sidebar.
Blogger has a cool Popular Posts feature you can use. Adding this to your sidebar will give new readers a chance to get hooked by seeing your best posts!
Your blog button is cute, but you may want to resize it to 125 x 125. That's the unofficial standard and, since many people display buttons side by side, you don't want yours to throw anything off.  (People might be less likely to use it!)
Main Column
Your main column is pretty clean and it's great that the colors from your header and background are pulled into this section.
Consider making your blog titles larger and perhaps utilize a different font to add some more flair to the main column.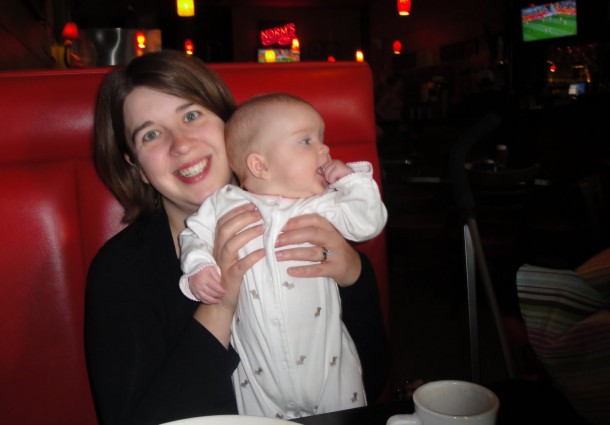 Navigation (Fran)
Hold that thought.  I'm busy watching the Twilight Breaking Dawn movie trailer.  I'll be back in a minute.
OK.  That's better.  Love me some vampires!
Now, let's discuss your navigation.  You're making this incredibly easy on me.  You need to get some.
A good place to start are the recommendations that Mel mentioned in her section.  In addition, I would consider creating static pages that aggregate your content.  In your case, you can add drop down options to your nav bar that describe both Washington State and Washington DC.  On each of these sub-pages, you can then write a short introduction and create a list of all the posts you've written that correspond to these topics.  It is a great way not only to draw people into reading your older blog content, but also capitalize on organic traffic from search engines.  There are tons of people out in the world looking for info on these very topics!  You just need to figure out how to utilize keywords effectively.
Consider either moving your Archives to the very bottom of your sidebar or getting rid of it entirely.  The likelihood that someone will click through your old posts via your Archive is remote.   The room you save by deleting this widget can then be used to insert your social media buttons at the top of your nav bar.
A final option I'll give you to mull over is to own your domain name.  (You can read more about the process here.)  Owning your own domain not only helps you to lay the foundation for branding your blog, but it also means that if you ever decide that it is time to move beyond Blogger, you can advance to a platform like WordPress or TypePad, and still take your URL with you.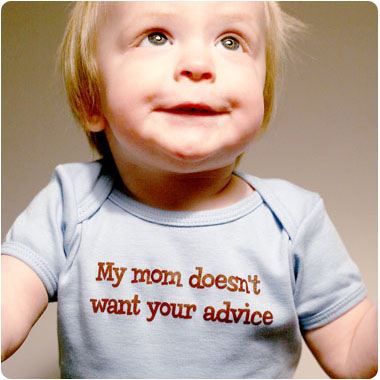 Content (Kat)
I love that you are using your site to document the transition from one Washington to the other (prettier) Washington. I think a button in your future navigation bar would be a great way for readers to access all of the posts you've put together that highlight your time in Washington State.
You mentioned you wanted your writing to interest people other than your mom. First of all, I think it's important to write about something our mothers would want to read, because they keep us honest. However, I might consider occasionally crafting some posts in a way that tackles a topic on your mind (similar to this one) rather than a summary of the days events.
Many of your readers may not be local to your area and might not know how to comment on a post about Washington…consider ending your post with a question about where they are from or whether or not they have similar destinations/events where they live.
Growing your blog so that you're in a position to work with brands and make money can be a long road for some of us. It's not easy growing a readership, but consistency is a great start! Think about posting to your blog at least once a week. When your readers know what to expect from you, they'll return more often!
I'm currently offering my services as a blog consultant.  For today only, you can hire me for the bargain price of $10,000 per hour. 😉
So, did you learn anything from this blog critique? Let us know in the comments below and check back later today for our second critique of the day!
And be sure to head over to visit Lauren from Two Washingtons and leave her some comment love. Check out her site, see if you agree with our assessments, and maybe even leave one of your own!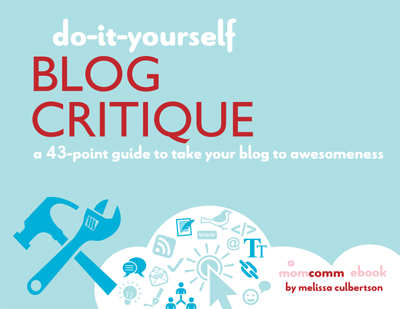 Blog critiques are a fantastic way to critically analyze your site and propel yourself forward. If you are interested in working through this very effective learning process, grab a copy of the DIY Blog Critique eBook! Read through the 43 points that Melissa evaluates as she goes through a critique. Each point has its own page chock-full of detail on what to look at on your own blog. Buy your copy NOW for only $11.00 using the code, SITS11, upon check-out!
Want to Read More Blog Critiques?
Accept no substitutes! Blog critiques from Momcomm & The SITS Girls are the best you'll find on the web. Here is what we have done to date: