This post may contain affiliate links which may give us a commission at no additional cost to you. As an Amazon Associate we earn from qualifying purchases.
Blog Critique Week continues with Momcomm and The SITS Girls!
All this week, Fran, Kat and I (Mel from Momcomm) will be critiquing the blogs of TEN lucky SITS Girls readers. We'll dissect a blog from top to bottom in three areas: design, navigation/functionality and content. The reason? To help the featured blogger meet her blog goals and become even MORE awesome.
The goal of a blog critique is to help all of us learn and grow. One suggestion for a particular blog may very well apply to multiple members of our community and get us all thinking about how we can improve what we do.
We're down to our last two blog critiques. Phew! Below is our last post for the week, but be sure to check back on Monday for our big wrap up!
Kimberly from Try It, Mom! describes her blog as follows:
I am blogging about my experiences raising my two baby boys. I started the blog with the intention of just sharing opinions and tips about baby products, but have expanded to include more personal day-to-day stuff because I've found that those are the type of blogs I enjoy reading.
One of Kimberly's major goals is to increase her interaction with readers and build more of a community feel.  She'd love to make some money from her blog, but she says she's just as happy to get comments. (I can totally relate.) At the beginning of the year, she decided to post every day, but she's now posting a few days per week.  She didn't want to post just to have a new post. Overall, she wants to be a place that moms can go to for information, whether it's an opinion on a new toy, a tip to make trips to the beach easier, or an idea for an outing in NYC that they get from seeing her Week in Droid Pics.  She loves that she can show the blog to her boys someday so they can "remember" what their days were like.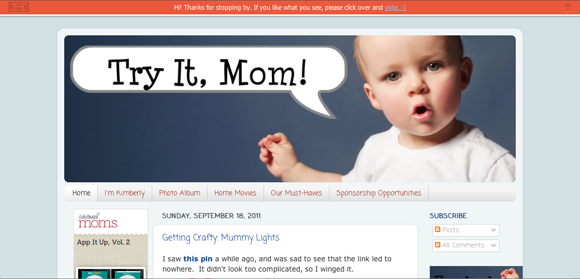 Design (Mel)
Header & Menu
I have to say that your little man in your header is one of the cutest pictures I've ever seen! ADORABLE! In regards to tying into your blog name, it really doesn't get more perfect than this. With his hand like that and his expression, it's like he's urging you to "Try It, Mom!"
I like that your header isn't too busy. The single photo element really draws your eye in. As for your blog name, I like that it's in the talking balloon. To enhance your blog header design even more, I'd do a couple of things. First, I'd make the balloon a little bigger so that the "y" isn't touching the balloon. Second, I'd switch the color of your font to the blue in your background. It will help make your design more cohesive.
Your menu bar is simple and straight-forward, which is always a plus. One thing that's missing though is a Contact page. Readers, PR firms and whomever else want a quick way to contact you…so make it one click away. My friend Fadra wrote a great post about the importance of a contact page.
Although not necessarily part of your header, I see you have a Hello Bar. While I know it's hard to sell yourself, my suggestion is to be more direct. You currently say "Hi! Thanks for stopping by. If you like what you see, please click over and vote. 🙂." While what you have to say is nice, it won't drive action that well. I'd remove the word "vote" from your message altogether. Why? Because voting can mean different things to different people. Someone may assume the voting process will be involved and require a lot of time and effort, while others may believe they have to scroll through a big site to figure out where to vote. Any number of things may deter someone from clicking. Instead, try modifying your messaging and say something like: "In under five seconds, you can prove that you like me,

you really like me!

" Or "I loved that you stopped by.

Do you think I'm wicked awesome too?

" The key is NOT to be deceptive, but pique a readers' interest enough to click over. Once they are on the site to vote, they'll see it's a simple, one-click process. You just have to get them there.
Sidebars
Your sidebars aren't bogged down with tons of blog buttons. Great job on keeping it clean!
One thing I think is missing is a little picture and blurb about you. I think it's important for a personal blog to make a connection with a reader as quickly as possible and this will accomplish that. Just a picture and a sentence or two regarding what your blog is about and who you are.
Consider moving the Popular Posts list from the bottom of your blog to the sidebar. It's a nice way for readers to gobble up your best posts. Also, the further down it is on your page, the less likely someone will see it.
Your social media buttons tie in nicely with your header, but the black on navy is hard to read. Consider using white for your text instead.
Under What I Write About, I think it'd be more beneficial to your readers if you had a list of categories/labels (or a drop-down of them) instead of a tag cloud. While tag clouds aren't necessarily a bad thing, I think your labels may not be that helpful in readers finding the content they want. For example, "droid" is a label in your cloud but seeing "Week in Droid Pics" would be more descriptive and helpful.
Main Column
You do a nice job with your pictures. They have a uniform look and the rounded corners are a nice touch. Eve from Beautiful Spit Up wrote a great post on Momcomm the other week about three things to do before uploading your pictures… sprucing them up was one of them, which you do!
The main column is a wee bit narrow. Consider shrinking the sidebar just a bit or move the sidebars to one side to give the appearance of a wider column. Part of the reason it looks narrower than it actually is might be because it's sandwiched between the two sidebars.
Watch the spacing between paragraphs and images. On your Mummy Lights post (which I'm TOTALLY doing by the way), there's a lot of dead space in between some of the pictures. Check your post in preview mode before publishing and fix those little things for a more polished look.
The font for your blog post title could be a bit larger. Currently, it competes a bit with your post date. Also, consider making the post date the same font as your main content (just smaller). While that font isn't a bad choice, there's a lot of it throughout your blog which gets a little busy. Use that "fancier" font for things you REALLY want to stand out.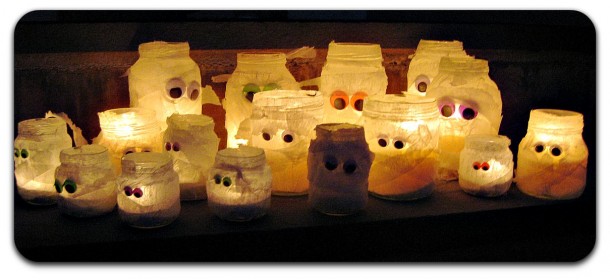 Navigation (Fran)
Your navigation bar is off to a solid start! Personally, I love that you have a "home" button. It makes things uber clear for any new users who come across your site.
One of the best things you had going for you is your New York City niche.  Have you thought about making it a bigger focus on your blog?  Not only could you create a static page for this topic in your nav bar, but you could also create SEO rich posts, tags, and categories such as New York Parents, NY Parents, and possibly New York City Calendar.  Check out our most recent #SITSClass to learn more about how to create pillar content and brainstorm post topics effectively.
In examining your blog post titles and category names, I noticed that they are frequently clever, but not phrases people search on Google.  Case in point: the mummy lights post is entitled, Getting Crafty: Mummy Lights, and the URL is: http://www.tryitmom.com/2011/09/i-saw-this-pin-while-ago-and-was-sad-to.html. Holy SEO, girl!
Think of SEO this way: Every new piece of optimized content is a doorway for people to enter your site. Right now, they are primarily entering the front door via referrals. As a writer, it can be difficult to envision writing for a search engine, but it can be done! Just as you wouldn't write a long headline on a front page newspaper story, or you perhaps WOULD get clever and not necessarily to the point with a book title, blogs are another medium with their own guidelines. Titles should get to the point and be on topic as much as possible.
Some Key Steps to a Search Engine Optimized Post and/or Page:
The basics of optimization are quite simple. You should choose your keyword phrase, typically two to four words long, and use it as naturally as possible in the following ways:
Be sure the phrase is in the browser title/headline.
Be sure the phrase is in the URL with each word separated by hyphens.
Use the phrase in your first sentence.
Use the phrase as the file name and alt description for all images on the page with a hyphen separating words, as done with URLs.
Use the phrase when linking to other sites or blogs within the post.
Include headers with an H1, H2 or H3 tag when possible that include some or all of the words in your keyword phrase.
Repeat the phrase as often as you can while still writing good content.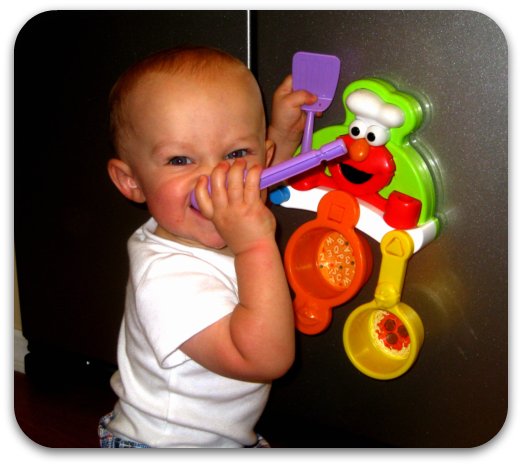 Content (Kat)
I love that you're so vigilant about snapping photos of your kids. However, as a new reader scrolling through your feed, I feel like your content gets swallowed up by the pictures.
You talk a lot about what you and the kids do on a daily basis. I would love to see more posts that dig a little deeper into who you are and how you tackle some of the challenges we face as moms.
…like this post.
Facebook and Twitter are wonderful resources for growing a readership. Many of your readers who interact on these platforms everyday don't necessarily stop by your site regularly. I think it's important to use that opportunity not only to share links to your latest blog posts, but also to highlight and talk about some of the things your readers are doing as well.
Unlike the other critiques you do not need to pay me in cash, check or credit…I'll except nuggets of gold. Because that's how much I care.
So, did you learn anything from this blog critique? Let us know in the comments below and check back later today for our second critique of the day!
And be sure to head over to visit Kimberly at Try It, Mom! and leave her some comment love. Check out her site, see if you agree with our assessments, and maybe even leave one of your own!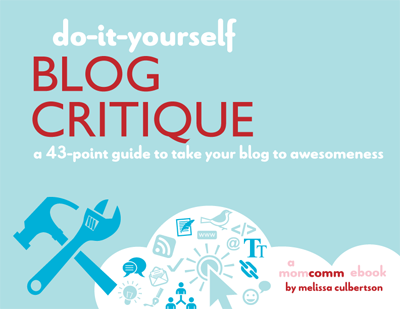 Blog critiques are a fantastic way to critically analyze your site and propel yourself forward. If you are interested in working through this very effective learning process, grab a copy of the DIY Blog Critique eBook! Read through the 43 points that Melissa evaluates as she goes through a critique. Each point has its own page chock-full of detail on what to look at on your own blog. Buy your copy NOW for only $11.00 using the code, SITS11, upon check-out!
Want to Read More Blog Critiques?
Accept no substitutes! Blog critiques from Momcomm & The SITS Girls are the best you'll find on the web. Here is what we have done to date:
Interested in Signing Up For a Blog Critique?
Starting Monday, September 26, Melissa from Momcomm will be opening up 26 blog critique slots…that's 6 month's worth!
Be sure to swing by her site at 10:00 am EST on Monday. The first 13 spots will be filled on a first-come, first-serve basis. She'll fill the remaining 13 spots by selecting 13 names from a random drawing. Don't miss your chance to get a blog critique of your very own!