This post may contain affiliate links which may give us a commission at no additional cost to you. As an Amazon Associate we earn from qualifying purchases.
Blog Critique Week continues with Momcomm and The SITS Girls!
All this week, Fran, Kat and I (Mel from Momcomm) will be critiquing the blogs of TEN lucky SITS Girls readers. We'll dissect a blog from top to bottom in three areas: design, navigation/functionality and content. The reason? To help the featured blogger meet her blog goals and become even MORE awesome.
The goal of a blog critique is to help all of us learn and grow. One suggestion for a particular blog may very well apply to multiple members of our community and get us all thinking about how we can improve what we do.
Let's do this!
Jen from When Pigs Fly describes her blog as follows:
This is a social commentary blog along with a place to showcase my writing for those who may be interested in my services as a content writer and social media strategist.
Jen would really like to draw more readers into her site and thinks she could work on engagement. Other than replying to comments, she wants suggestions from this critique on how to make her blog more entertaining. Her ultimate goal is to be published one day.

Design (Mel)
Header & Menu
I really have to say that your header is just awesome! It has a hint of retro and a whole lot of hilarious. You can tell that your blog is going to be funny just from your header.
One suggestion for the header is to make the title, When Pigs Fly, a bit larger. Right now your main "logo" and your tagline are almost the same size. If the brown curved line was moved a little further down, you'd have space or it may look nice overlapping the brown curve.  (You probably won't know for sure until you try it out.)
As for your menu, it's also nice and simple. It could possibly stand to be a tad larger.
Sidebars
I'd like to see a little blurb about you on your sidebar. Tell the reader a little about who you are and what they'll get out of your blog. It helps the reader make a connection with you faster.
While I love that the colors in your sidebar match your overall design, I think the sidebar could use some pops of color. Consider adding a Facebook widget. Not only will it add a visual element, but it will also be an easy way to gain fans. (They can click "like" without ever visiting your page).
Also, I'd get rid of the archives and instead use a drop-down of categories. At the very least, shorten it to a year's worth so that it doesn't take up so much valuable space.
Main Column
Your main columns look good!
One suggestion is to make your blog titles bigger. And if you want to brand your site just a little more, consider using the font from your tagline for your post and sidebar titles. If you'd like to do that yourself, I wrote a post about using custom fonts over at Momcomm.
I'm not super familiar with Squarespace as a blogging platform, but if it's easy enough, I'd make the elements at the bottom of your posts larger. I say this mainly because the link to leave comments is very small.  You also offer the option to print posts twice, but buttons that allows readers to tweet or Stumble a post are buried in the "Share Article" link.  In blogging, the name of the game is to make things as easy as possible for your users.
I would suggest spending some time in revamping the bottom of your posts.  The tags should be the last element anyone sees, as they really only lend themselves to SEO and have little value to your readers.  Options you should be emphasizing (both in color and size) is leaving comments, as well as your social media buttons.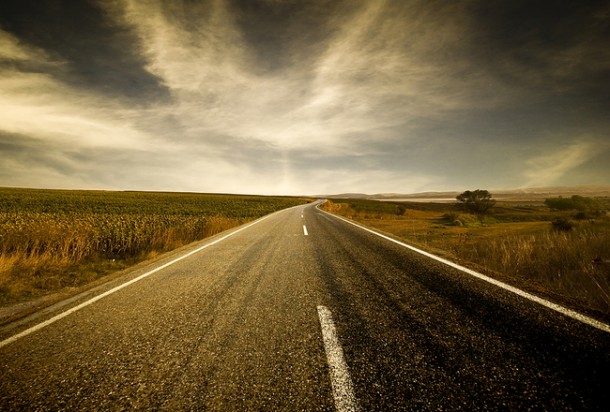 Navigation (Fran)
It's funny to be writing a critique for someone that I've met in real life.  Hi, Jen!
Before I dive into any suggestions, I think we need to take a moment and examine your goals.  From what I see, you have three: (1) get published, (2) work as a writing and social media strategist, and (3) drive more engagement on your blog.  Ultimately, you'll get the results you're looking for where you put your focus, so my biggest takeover is for you to figure out which of these three goals is most important and work towards that.
Since I'm not sure which direction you're headed, here is my advice for the three different scenarios:
(1) To Get Published: Check out Mama Kat's recommendations below.  Remember that before you sit down to write a book, you first need to sell your idea.  Start pitching and get connected with a book agent.  Ultimately, you might also want to pull back from the blog world a bit so that you dive into this effort completely.
(2) Work as a Social Media Strategist: If making money from the world of social media is where you want to be, I would consider a redesign for your site.  Currently, when I visit your blog, the primary emphasis is on your posts.  I suggest you create a landing page where the primary emphasis is the work that you do.  Make the images in your portfolio gallery, as well as the details from the "Integration is Key" page, the primary emphasis on your landing page.  Your blog should definitely be incorporated, but it would no longer be a reader's sole focus.
(3) Drive More Engagement on Your Blog: Want more engagement?  Then again, a few changes are needed.  For starters, as a reader, after I check out your first post, I'm stuck.  How do I navigate to another post?  Like Mama Kat says, even a simple "Previous/Next" button would be helpful.  You should also consider changing the number of posts that show up on your blog.  In other words, rather than showing simply a single post, perhaps consider showing one post in its entirety, and then have 4-6 post snippets.  If you are creating post titles that grab your reader's attention, they will definitely spend more time on your site reading.  Finally, you are a funny, funny girl, but a large part of success in blogland comes from managing your reader's expectations.  Your writing is entertaining, but I never know what I am going to get.  For some, this works.  However, for most, people want something they can depend on.  Consider narrowing your focus.  Are you the funny girl from Minnesota barely surviving the winters?  Are you the snarky chick who always has something to say about Gwnyeth and Goop?  Figure out who you are, write content that adheres to that theme/focus, and then build optimize your site for search engines accordingly.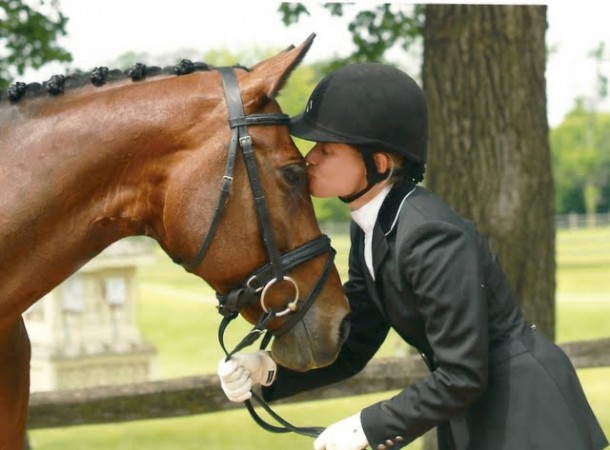 Content (Kat)
I love your humor. Keep it up!
In terms of driving more reader engagement, have you considered making the posts listed under the sidebar heading, Best of When Pigs Fly, into a series?  Your post about Gwnyeth Paltrow is hilarious.  Why not be the blogger with a running commentary on Gwnyeth and Goop?  Not only do these search terms have incredibly strong numbers when it comes to the Google Keyword tool, but no one else is doing it.  That's the key with humor blogging!  It's the ability to take the mundane, turn it inside out, and make people laugh.  A prime example of how to do this is Suri's Burn Book.  The posts aren't long or incredibly involved.  Mostly, it is a series of one liners that are light, easy-to-read, and filled with great pictures.
Typically at the bottom of posts there is a "previous" or "next post" button that makes it easy to view a blogger's past posts…I'm not seeing that on your site. I highly recommend.
I'd love to give you advice on how to get published in three easy steps, but as you know, turning your words into print is not an easy process.  DeNae Handy, who has spoken at several of our Bloggy Boot Camp blog conferences this year, gave some advice in her featured post here.  You might also find this post from Sam Harris, How to Get Your Book Published in 6 (Painful) Steps, useful.
If you do manage to strike gold, get a book agent, and ultimately get published, please remember this invaluable advice I'm giving you.  I'd love to get published too! Haha.
So, did you learn anything from this blog critique? Let us know in the comments below and check back later today for our second critique of the day!
And be sure to head over to visit Jen from When Pigs Fly and leave her some comment love. Check out her site, see if you agree with our assessments, and maybe even leave one of your own!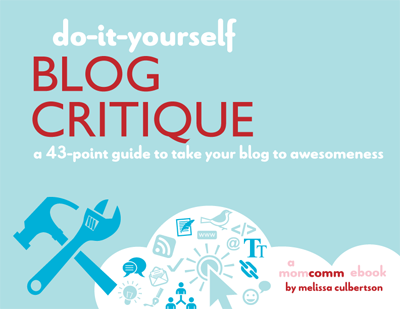 Blog critiques are a fantastic way to critically analyze your site and propel yourself forward. If you are interested in working through this very effective learning process, grab a copy of the DIY Blog Critique eBook! Read through the 43 points that Melissa evaluates as she goes through a critique. Each point has its own page chock-full of detail on what to look at on your own blog. Buy your copy NOW for only $11.00 using the code, SITS11, upon check-out!
Want to Read More Blog Critiques?
Accept no substitutes! Blog critiques from Momcomm & The SITS Girls are the best you'll find on the web. Here is what we have done to date: