This post may contain affiliate links which may give us a commission at no additional cost to you. As an Amazon Associate we earn from qualifying purchases.
One of the things I like best about reading through the posts shared by SITS-tahs is that they are so diverse. It is such fun to find new recipes, great insights, exciting announcements, and so much more while reading through them. For me it  is like visiting a wonderful buffet filled with blog posts.
This week was no exception. Here are some that caught my attention:
She's Write shared an amazing discussion she had with her son in a post called Talking About Race With My  Biracial 5 Year Old. 
The Space Shuttle and Moon Birthday Cakes shared by Creatively Blooming are amazing. They have inspired me to try to decorate my son's birthday cake in a few months.
Jo of Jo, by Gosh shared that her husband is back home on leave for two weeks in a post called I Have Been Waiting for This for 7 Months.  She is going to be on a blogging break for two weeks, but I bet she would love to have us leave a comment on her post.
Finally Bellaboo Gloss shared a post about dancing in the rainstorms in your life instead of waiting for them to pass in a post called Learn to Dance in the Rain. I love her wonderful reminder!
Now it's your turn? What do you have to share with us?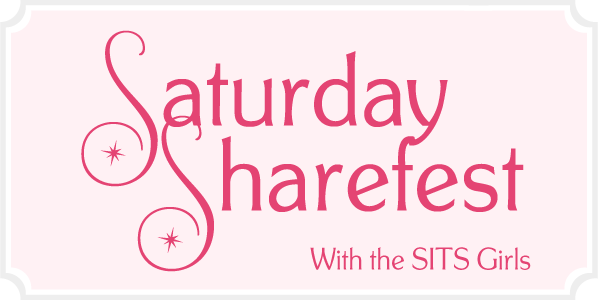 Last week several changes in the Saturday Sharefest were shared. I thought you would like a reminder of what they are.
How We Are Highlighting Your Content
When it comes to helping bloggers connect and grow their audience, you know we've got your back.
Sharefest Linky
In the past, we've had our community members just leave comments on this post to highlight their best post from the previous week. Now, we're giving you more ways to share! You can link up your post using the below Linky AND leave a comment, giving you the chance to really describe what your post is about.
It is easier than ever for people to find your content and for you to visit your fellow bloggers. Even a visit to one or two people ahead of you in the Linky can make all the difference in the world!
Sharefest is Now on Pinterest
We started a Pinterest board on The SITS Girls just for our Sharefest participants. Our community leads will be helping to pin content that really stands out, so be sure that your posts include a pinnable image!
Finally, definitely don't forget our #SITSSharefest Twitter Party happening at 10:00 AM EST / 7:00 AM PST on Saturdays. It's a great way to get one of your posts some extra love on Twitter!
You ready? Let's do this!