This post may contain affiliate links which may give us a commission at no additional cost to you. As an Amazon Associate we earn from qualifying purchases.
We enjoyed all the memories and stories you shared yesterday, and the great descriptive words you used. I've got to tell you: SITStahs, y'all rocked that writing prompt!
We have passed the halfway point in our Fall Back Into Blogging challenge, and we hope you are loving it as much as we are. Today we want you to inspire us to get crafty, and make us hungry.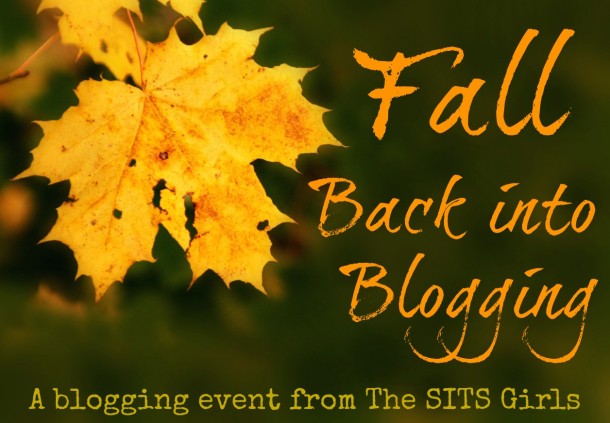 Day 4 Prompt
Share either your favorite fall craft or autumn recipe. Or share what you're eying on Pinterest.
Be sure to include a link to your Pinterest boards in your post so we can follow you!
If you aren't on Pinterest, but you want to know what it is all about, check out this great tutorial to help you set up an account and pin like a rockstar.
Link Up Your Post
Leave the link to your post below. Once you have done that, visit two blogs linked in front of you (or more), and leave them a comment.
Day 5 Sneak Peek
Link up a post you wrote on this day (September 28th) from a previous year. If you didn't publish something on the 28th, link up a post from that week.
To check out what we've been doing all week on The SITS Girls, here are the links you'll need: Writing Prompt Day 1, Photo Prompt Day 2, and Writing Prompt Day 3.
There is always still time to participate!
P.S. Don't forget! Three lucky winners will be randomly chosen from the bloggers who link up a post this week to win one of three $25 gift cards to Starbucks.