This post may contain affiliate links which may give us a commission at no additional cost to you. As an Amazon Associate we earn from qualifying purchases.
The moment you've been waiting for is here! As we mentioned last week, we're kicking off our Fall Back Into Blogging series here on The SITS Girls. We hope to challenge your creativity and help you find your blogging groove if you got off track during the summer.
Not that we'd know what that's like *cough cough.*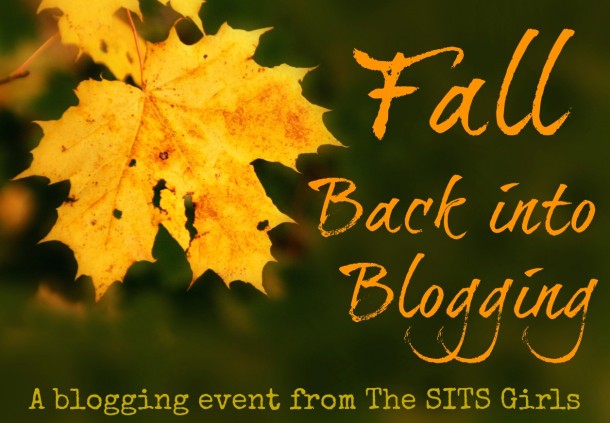 Day 1 Writing Prompt:
Whether you have kids or not, we're sure you have a great school story that you haven't shared. It might be a teacher who inspired you, a disastrously funny moment, or getting your first kiss by the lockers before 4th period Geometry class – we want to read your best school memory.
If you aren't used to writing from a prompt, don't be intimidated. Even though the topic is school, it isn't a school assignment (we leave those for the kids). Think of it as a jumping off point. Take our idea and make it your own!
We can't wait to read your words, or see your pictures (we're sure your high school hairstyle choices were much better than ours).
Link Up Your Post
Leave the link to your post below. Once you have done that, visit two blogs linked in front of you, and leave them a comment.
Day 2 Sneak Peek
Tomorrow we have a photo prompt for you. We want to see a picture of what fall looks like in your neck of the woods. Or a picture that means "fall" to you.
And be sure that you are on our email distribution list for our Back to Blogging Challenge! Our sign up form is here.
P.S. Don't forget! Three lucky winners will be randomly chosen from the bloggers who link up a post this week to win one of three $25 gift cards to Starbucks.