This post may contain affiliate links which may give us a commission at no additional cost to you. As an Amazon Associate we earn from qualifying purchases.
We know you all had a blast during the summer as evidenced by your fun-in-the-sun pictures  and vacation adventures.  Summer is a time for travel, fun and leisure but usually our blogs take a backseat as we soak up the sun and enjoy a getaway or two.  However, now that the leaves have started turning and there's a chill in the air, let's get our blogging groove back!
We are kicking off a week long event beginning the week of September 24 where you can link up your blog on The SITS girls.  But don't worry–we won't make you do all the hard work.  We're providing a week's worth of fun prompts to help you get back in the swing of blogging and meeting some new SITStahs.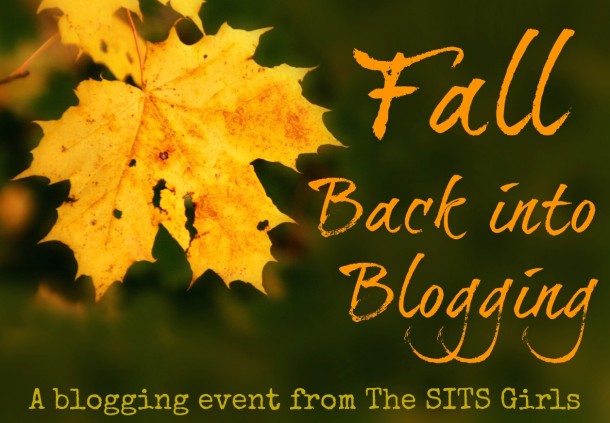 Here's an advance look at the prompts so you can get ready to link up with us next week.  Can't wait for you to join us!
Monday
Whether you have kids or not, we're sure you have a great school story that you haven't shared. It might be a teacher who inspired you, a disastrously funny moment, or getting your first kiss by the lockers before 4th period Geometry class – we want to read your best school memory.
Tuesday
Show us a picture of what fall looks like in your neck of the woods. Or show us a picture that means "fall" to you.
Wednesday
Fall is a great time to write, because it is a season filled with colors, smells, and textures (fuzzy scarves, itchy sweaters, crunchy leaves) – all ingredients for a great story. Share one of your favorite fall memories with us, or something you look forward to each fall (hello, Pumpkin Spice Latte, my old friend).
Thursday
Share your favorite fall craft or autumn recipe.
Friday
Link up a post you wrote on this day (September 28th) from a previous year. If you didn't publish something on the 28th, link up a post from that week.
P.S. Did we mention there will be prizes for participation?  Oh yes! Three lucky winners will be randomly chosen to win one of three $25 gift cards to Starbucks.  Now you can really get your Pumpkin Spice Latte fix!
Interested? Sign Up Here!
We'd love to have you sign up and play along with us next week. Just fill out this form and we'll keep you up to date on everything that is happening with our Back to Blogging event.