This post may contain affiliate links which may give us a commission at no additional cost to you. As an Amazon Associate we earn from qualifying purchases.
Here we are at Day 3 of our Problogger event.  Our focus today is not only creating pillar content, but also working on building relationships.
On Thursday, we spent a great deal of time mind mapping and coming up with some great ideas for our ideas folder. Today, we are takings things to the next level and brainstorming even more in order to expand our topic reach and break our ideas into more subtopics that might possibly lead to a post series.
Expanded Pillar Content
Let's take a look back at Problogger's poodle example and see how his first mind map was executed.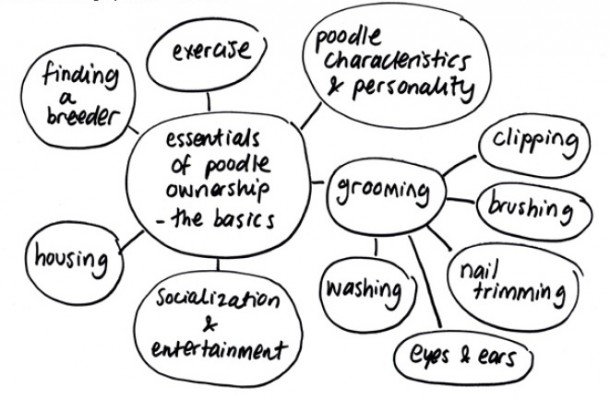 As you can see, each one of these subtopics can stand on its own and act as a single post.  As I mentioned above, you can even take things one step further and create subtopics that lend themselves to a post series.
Expanding on your mind map is also a great time to figure out different ways to present ideas. In other words, should you consider video posts? How about pdf handouts? Don't be afraid to get creative!
Building Relationships
With this round of brainstorming under your belt, it is now time to start working on building new relationships. Last week, we were challenged to join a few social media sites and perhaps look for a few niche related communities. Did you get active and say hi as a way to introduce yourself?
So much of blogging is about conversation: the writing you do via your posts and the connections you form via social media platforms, such as Twitter, Facebook, etc. After a few years of blogging, I have come to understand that everything gets back to building solid relationships.
Group Activity
Do you have a few followers on your blog? Your activity today is to take the time to check out their blogs and leave comments to start a conversation. And don't forget to stop by and thank someone who has left you a comment.
It all goes back to the basics of good manners.  And in this case, a little goes a long way!
Learn everything you need to know about today's activity in The SITS Girls forum here.
More From Our Problogger Series
Get caught up on all of our posts in this series from Problogger: