This post may contain affiliate links which may give us a commission at no additional cost to you. As an Amazon Associate we earn from qualifying purchases.
Welcome back to school with our next installment of our online Problogger class! Over the course of the next two weeks, we'll be diving into Problogger's Guide to Your First Week of Blogging eBook both here in the Education channel and in The SITS Girls discussion forum. To get caught up on anything you might have missed, read this introductory post here.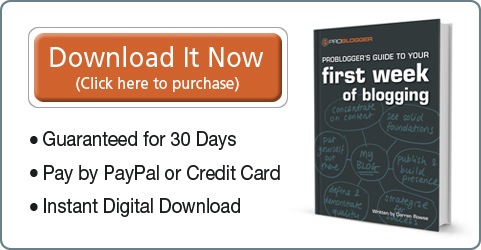 Many of our participants for the next two weeks span a range of experience levels and backgrounds. Some of you are total newbies, while others are starting a second or third blog, or a business blog. There are even some of you just like me, people interested in reviewing the art of blogging with a scholar like Problogger and perfecting your own site. To all of these many, many people, the SITS Girls and I are happy to have you with us. Our plan is to post here in the Education channel and add an optional, group activity in The SITS Girls discussion forum.
As part of our program, we are also thrilled to have Renee from Studio Bold tweeting with us this Thursday, September 8 at 6:00 pm PST / 9:00 pm EST about how to design a successful site. If you have a design question you'd like answered, be sure to leave us a note in this discussion thread here. We'd love to get you the help you're looking for.
OK with that said, did anyone bring me an apple?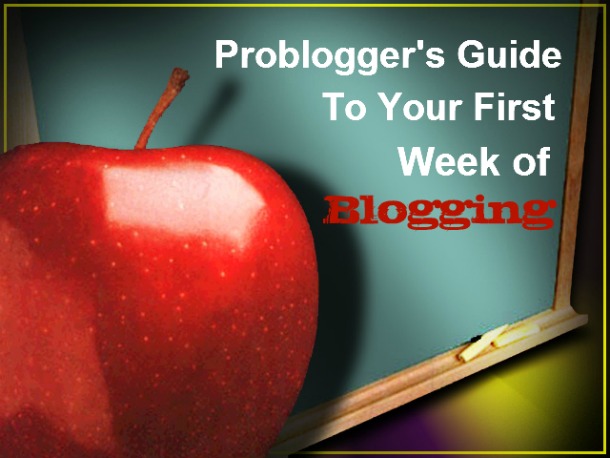 The first step for any great blog is to lay your foundation. Here are a few of the fundamentals that you'll want to be sure that you cover:
Planning, Planning and Some More Planning…
1) Set Up an Ideas Folder
This is the brain behind your blog and where you will store your info to create quality content.
You can use old standard office files and label them. I find these useful for magazine or newspaper articles that I save in order to remind me of my post ideas.  These are also great for those little pieces of paper I jot ideas on when I am doing something completely different.
Another idea is to set up files on your desktop to store your ideas.

You can do this by setting up a main idea file.  Within this, you can create secondary files or different text documents for different ideas.  {These text documents are where you run to in the middle of the night if you get that "great idea" you want to write about but are afraid you will forget about in the morning.
Each text file acts as a different idea for a blog post.
Some text files might have 2-3 key points that will help you start to write your content. Other files might be full drafts that, once reviewed, can become a full post.

2) Brainstorm Posts, i.e. Mind Mapping

This is key to coming up with great content for future use. Problogger explains this process in great detail here. Melissa from MomComm also covered this process in great detail during our How to Think Like a Marketer #SITSClass here. The most important point to remember is to sit down with an open mind. Doing this activity 5 minutes before your kids get home from school, or just before it's time to make dinner, is not an ideal time.

Regardless of the brainstorming method you use, the key is to set aside specific times to simply come up with ideas to write about. {I now do this the weekend before the beginning of a new month.}

3) Set a Posting Rhythm

After doing your mind mapping, you should have a handful of great post ideas to put into your ideas folder. Now is the time to sit down and "realistically" think about your life. Do you have a business? Children? A demanding husband? Now is the time to think about all of this and how you are going to fit writing on your blog into your schedule.

And don't fret too much. It can be done! Look at our friends here on SITS. You just have to be organized and come up with a plan. The most important steps you should follow include:

Schedule a time to write your content.
Establish a time/day to edit.
Decide what days you are going to post on a Calendar. {I do this on my Google calendar.}

4) Plan Your First Week of Content

Now that you have both a mind map and an ideas folder of great post topics, you'll need to set up time to make your blog happen and put everything into place. If you have done your mind mapping and set up the posting rhythm, you should be set to work well beyond your first week of posting.

5) Create a Launch (or Re-Launch) Post

It's show time!! Now is the time to sit down and take the first idea, the one that sparked your interest in why you wanted to write a blog, put your pencil to paper {or fingers to keys}, and type away…

Within your launch (or re-launch) post, introduce yourself and let people know why you are writing and creating your site.
Let people know how reading your site might help them.
Set up an RSS feed through Google and ask people to subscribe to it.
It is always good to have someone look at your launch post before hitting the publish button. Just PLEASE make sure all of your spelling and grammar are correct.

If you are like me, then you have a hundred ideas going through your head all the time. However utilizing these strategies will help you keep things organized from the start. It will also ensure you are armed and ready when you come up against "writers block" and need something fast.

Group Activity

If interested, head over to The SITS Girls discussion forum and get involved. We have threads where you can roll call and introduce yourself, get active with your assigned group, and post your launch (or re-launch) post. Check it out!

More From Our Problogger Series

Get caught up on all of our posts in this series from Problogger: