This post may contain affiliate links which may give us a commission at no additional cost to you. As an Amazon Associate we earn from qualifying purchases.
Our October blog challenge starts today!
Want to increase your blog following? Then, you'll want to come back each day this week and join the fun.
Blogtober is back and better than ever! This year we're making it even easier for you to increase your blog following and grow your social media presence!
Are you up for the challenge?
Starting Today: About Me Monday
We're kicking off the challenge at your place!
Today, October 21: Link up your blog's About page and let's get to know you better! It will be the ultimate mixer to scope everyone's about pages.
OPTIONAL: If interested, link up your About Me pages and visit the blog immediately ahead of you. Tell them two things you like about their About page and give them one suggestion they could implement to take their page even farther.
Keep in mind: In order for people to leave a comment on your About page, you must have comments enabled!
What does your about page say about you and your blog?
Can't wait to find out!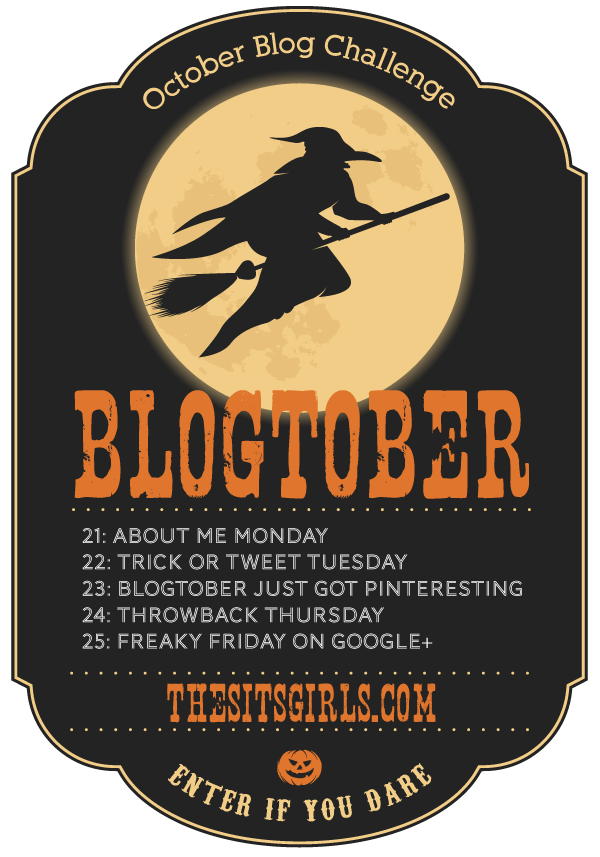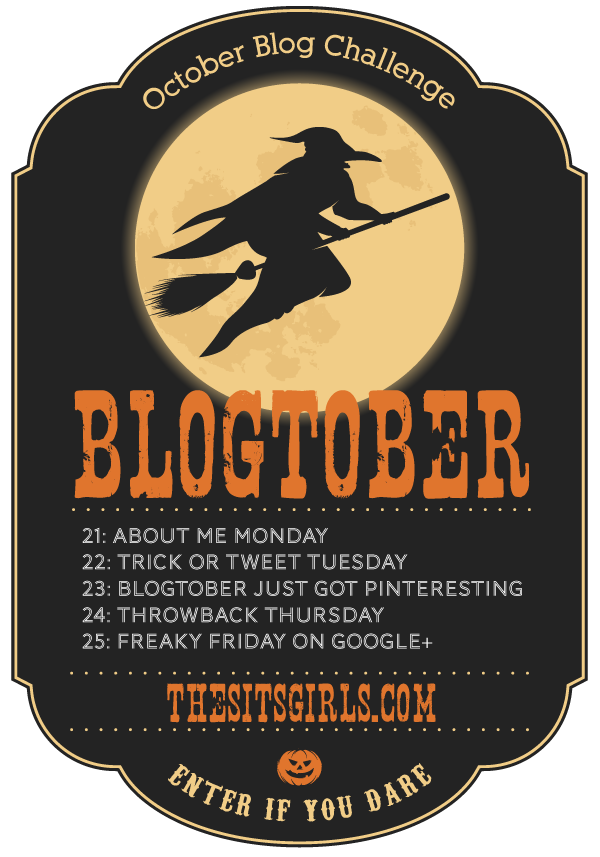 Keep Up with the Challenge All Week Long!
Join us around the web and across each of your social media accounts!
Trick-or-Tweet Tuesday
Tuesday, October 22: Link up your Twitter account, follow two people immediately in front of you in the Linky, and then send out a tweet to your new friends using the hashtag, #SITSBlogging.
If you want to follow and tweet more, you can!
Blogtober Gets Pinteresting
Wednesday, October 23: Let's talk all things Pinterest and share our favorite Halloween pins!
Link up your Pinterest board, follow two people in front of you, and re-pin an image from the boards of your new friends.
Throwback Thursday
Thursday, October 24: Share a link to a post about a memorable Halloween moment. Before Instagram we had cameras and dare I say, film! Get out those picture boxes and find those embarrassing costumes.
Link up any post about an old school Halloween memory. And be sure to include pics.
Freaky Friday on Google+
Friday, October 25: Leave a comment with a link to your Google+ account and let us know which circles you would like to be in, e.g., Craft, Food, etc.
See you around the challenge!