This post may contain affiliate links which may give us a commission at no additional cost to you. As an Amazon Associate we earn from qualifying purchases.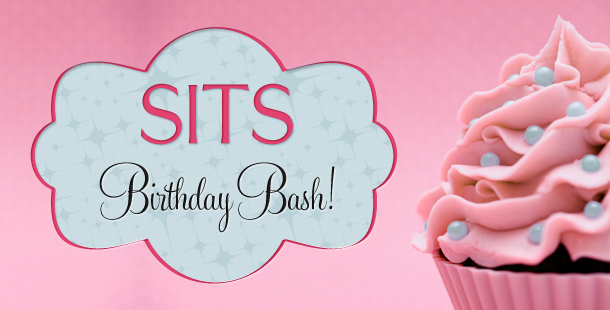 We are over-the-moon excited about our 3rd Birthday Party Bash this week.  It seems like just yesterday that the first post appeared on The SITS Girls and set the wheels in motion for the site.  Since 2008, we've changed platforms, we've changed blog designs, and we've grown and expanded in ways that we never dreamed of.
BUT, one thing has remained solidly the same since the very beginning: our focus.
The SITS Girls are here today because of you!
Our community has always been our focus…and always will.
That's why we've planned a Birthday Bash with incredible giveaways, fun feature stories, and the unveiling of all the fantastic things we have been working on for the past few months.
To kick off our celebration, we thought we'd go back to the beginning and contact some of our original Featured Bloggers to see where they are now (tune in this week for some fun "where are they now" features) and how being featured on SITS impacted their blogs.
One of our most famous original SITStahs, Jill of Scary Mommy, had this to say about her feature day:
My SITS day, way back when we both were babies, was one of the best bloggy days ever. I could barely pull myself away from the computer and all of the wonderful comments. I made some of my closest blogging friends to this day through SITS.
You might also recall Amanda of Parenting By Dummies from her blog, as a regular roll caller on SITS, or on What Not to Wear.  She said:
Happy B-Day SITS!  You deserve a special day for all of the awesomeness you spread around the blogosphere for chicks like myself to enjoy.  Your tribe-building-blog-educating-social-media-connecting-pretty little selves are pretty fan-freakin-tastic and I'm so glad I stumbled upon you before I could even say search engine optimization!
And Jen from Buried with Children.  She contributes to our Women on the Move channel as our resident health expert and has been around since day one too.  I love her thoughts on SITS:
What can I say about SITS? I just love it.

I found SITS shortly after the site began. They showed me what blogging is truly all about… making connections with people. Through those connections and blogging I have made some of the greatest friends in my life. SITS has shown me so many great blogs.  And by reading blogs, I have learned how to fine tune my writing craft.
Now it's your turn!
Leave a comment and let us know how The SITS Girls Community has affected you and your blog.  During this wild, wild ride, what have you enjoyed?  How have you changed?  What would you like to see more of in the future?
We'll be compiling your responses into a post for Friday.  In addition, we'll be tweeting out and adding your feedback to Facebook all week, so definitely let us know what you have to say!