This post may contain affiliate links which may give us a commission at no additional cost to you. As an Amazon Associate we earn from qualifying purchases.
Happy Saturday, all, and a very happy Mother's Day Weekend to all the Moms, Aunts, Grandmas, and wonderfully maternal females in our community! Let's spread some love with our world famous Sharefest, shall we?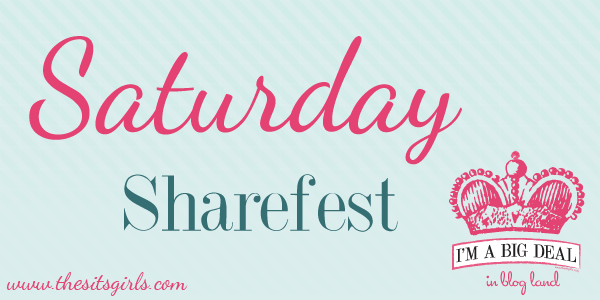 Lisa over at Notes From The Shallow End shares a hilarious post about the processed foods from our childhood which are no longer available– and for good reason!
Michelle Mossey takes a cue from Eminem and cleans out those ol' closets. Inspiring, no?
And rounding us out is a lovely post from Toddler Summer about motherhood, children's literature, and a boatload of feelings. (She had me at Charlotte's Web.)
How To Play Along with #SITSSharefest
When it comes to helping bloggers connect and grow their audience, you know we've got your back. Here's how to play along:
Sharefest Linky
Link up your post using our weekly Linky. This makes it easy for people to find your content AND for you to visit your fellow bloggers. Even a visit to one or two people ahead of you in the Linky can make all the difference in the world!
Sharefest is on Pinterest
We have a Pinterest board on The SITS Girls just for our Sharefest participants. Our community leads will be helping to pin content that really stands out, so be sure that your posts include a pinnable image!
#SITSSharefest Happens Each Week on Twitter
Finally, definitely don't forget our #SITSSharefest Twitter Party happening at 10:00 AM EST / 7:00 AM PST on Saturdays. It's a great way to get one of your posts some extra love on Twitter!
Now get out there and love on all those awesome females in our community. Next week we could be featuring you!