This post may contain affiliate links which may give us a commission at no additional cost to you. As an Amazon Associate we earn from qualifying purchases.
Happy Saturday, SITStahs! I hope y'all had wonderful Valentine's Day. Now that all that lovey-dovey stuff is finished, it is time to get back to our true loves – our blogs – and share our best posts from the week.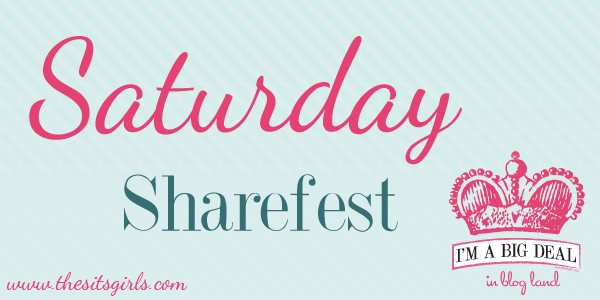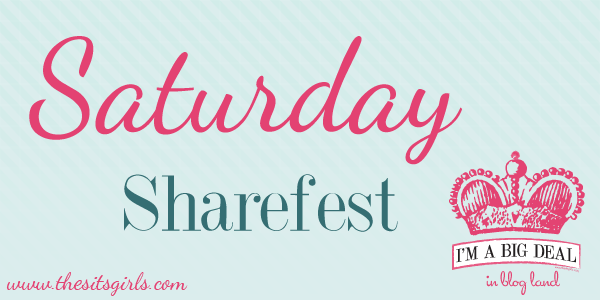 Every week after Sharefest, I feel very hungry, and have a sudden need to consume baked goods in large quantities. This is because of the amazing recipes that y'all are sharing. Last week it was Crazy Adventures In Parenting's Baked Nutella Doughnuts with Frosting that really made my mouth water. I need a dozen of these to appear at my house immediately.
Grown and Flown are Downton Abbey watchers like me. And like many of you. (Aren't we all watching it?) They shared some Parenting Lessons From Downton Abbey that are really great. I especially liked,
"We must teach our children to be careful with their trust and alliances. Some who appear to be their friends will betray them. It is hard to know if someone is an O'Brien or a Thomas."
In Laughter From A Bright Yellow Sweater, (Don't Be) Too Timid and Squeamish shares a story about the time she visited a comedy club, and got noticed by the comedian on stage.
Do you use bobby pins when you style your hair? I do not. Mostly because they never seem to work right for me. It turns out, the reason they didn't work was that I have been using bobby pins wrong all these years. Thanks to Your Daily Dance, I might actually be able to do fancy hairstyles now.
Now it is your turn to share! What was your favorite post from the past week?
Link it up below. You might even be featured in next week's post.
Try to visit as many of today's links as you can, and leave some comment love. It is the easiest way to make a fellow SITStah smile. If this is your first time participating in Sharefest, you can find all the info you need below. We are excited to meet you.
How To Play Along with #SITSSharefest
When it comes to helping bloggers connect and grow their audience, you know we've got your back. Here's how to play along:
Sharefest Linky
Link up your post using our weekly Linky. This makes it easy for people to find your content AND for you to visit your fellow bloggers. Even a visit to one or two people ahead of you in the Linky can make all the difference in the world!
Sharefest is on Pinterest
We have a Pinterest board on The SITS Girls just for our Sharefest participants. Our community leads will be helping to pin content that really stands out, so be sure that your posts include a pinnable image!
#SITSSharefest Happens Each Week on Twitter
Finally, definitely don't forget our #SITSSharefest Twitter Party happening at 10:00 AM EST / 7:00 AM PST on Saturdays. It's a great way to get one of your posts some extra love on Twitter!