This post may contain affiliate links which may give us a commission at no additional cost to you. As an Amazon Associate we earn from qualifying purchases.
Are you active in The SITS Girls discussion forum? If not, you should be! There are a few hot topics buzzing and bloggers are weighing in!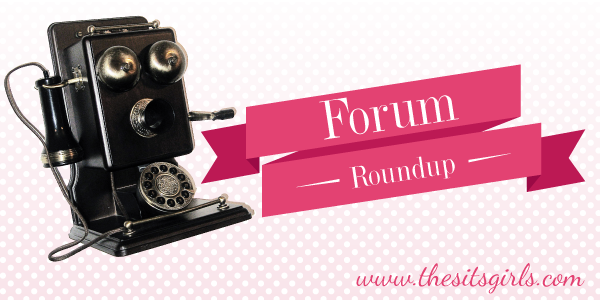 There's no better place to connect with fellow bloggers than the forum! The forum is a place where we share ideas, tips, and tricks. It's a place where you have a chance to build your community outside of your blog, and it's a place where a new blogger can find an instant following. I love to see the relationships that are forming through discussions like this week's hot topics.
If you're looking for a great place to meet like-minded bloggers, there's a huge list growing on our thread, Welcome to the Forum. In this thread we've invited you to introduce yourselves. Be sure to join the thread and share a link to your blog, visit others, and welcome new SITStahs to the hottest blogging community out there!
After that, head over to one my favorite discussions this week, How often do you pitch for ads or reviews? There's some great advice on how/when to pitch brands. Bloggers are weighing in on what's worked for them in the past, and what hasn't. It's a discussion you do not want to miss!
Do you think that size matters when pitching brands? See what bloggers are saying in response to that question and more on this thread about Finding Brands to Pitch even if you're considered a smaller blog.
Last but not least, I love hearing how others utilize social media to grow their blog. What's your favorite way to share other people's posts? Join the discussion and tell us how you share the love.