This post may contain affiliate links which may give us a commission at no additional cost to you. As an Amazon Associate we earn from qualifying purchases.
Pinterest is one of the biggest traffic drivers in blogging today. What started as a place on social media to collect pretty pictures has become a mix of social media and powerful search engine for both beautiful and useful things. Bloggers, if you aren't on Pinterest, you are missing out on the potential for huge traffic. And this isn't just for food and craft bloggers – if you do it right, Pinterest can be a powerful resource for any blogging niche.
2015 has been the year of Pinterest for us here at The SITS Girls. Yes, we were using it before and getting decent returns in traffic – by just pinning our new posts as they went up and pinning posts from the community. But this year we really focused on testing tools and honing a strategy that is producing amazing results. The kind of results we want to see each one of you receive on your blog.
This summer we are partnering with Blog Clarity to offer an exclusive SITS Girls session of Pinning Perfect, so 2015 can be your year of Pinterest, too!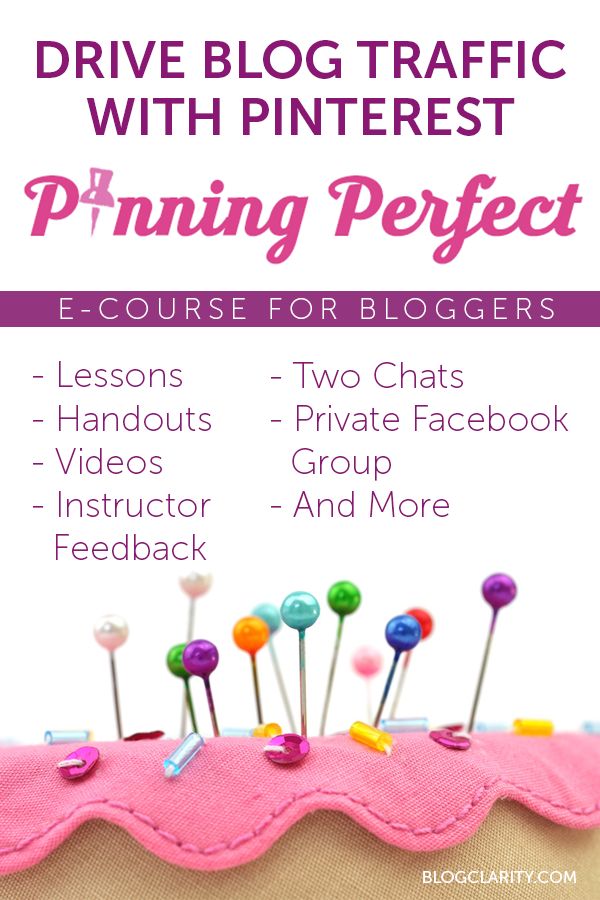 Exclusive SITS Girls Session Of Pinning Perfect July 20-31
Have you seen the buzz about Pinning Perfect? It is a 2-week online class developed by Melissa Culbertson of Blog Clarity and Anna Luther of My Life And Kids. Anna is an absolute pinning rockstar. She receives 90% of her blog traffic from Pinterest. We love Melissa and Anna and are super excited to work with them this summer.
Pinning Perfect is a 2-week online course that includes two live chats and a private Facebook group for members. Four days a week, you'll get an email from Melissa with an intro to a lesson and a link to a password-protected page with the day's assignment. On Wednesdays you'll get reminder emails for the live chats. There are no lessons on the weekends.

In addition, Anna and members of the SITS Girls social media team will remain active in the Facebook group for a full month to answer your questions.
You will have lifetime access to the Pinning Perfect lessons and updates, so you don't have to worry if you get get behind in the course!
What You Will Learn From Pinning Perfect
How to set up your account (and yourself) for Pinterest success
The traffic-building way to organize your boards
The two boards every blogger MUST have
The truth about Collaborative Boards — how they work, how to find them, and do's and don'ts if you are going to use them
Ways to drive followers to your Pinterest boards from your blog
A step-by-step process for pinning your posts (including the trick to pinning your posts frequently without annoying your followers)
Cool tools that will help you win at using Pinterest
How to use and understand Pinterest Analytics
And more!
You will also receive exclusive handouts that offer an inside look at what pinners are searching and pinning, so you can be strategic with your pinning for maximum impact.
Who Needs To Take Pinning Perfect?
Pinning Perfect works for bloggers of ANY niche who want to tap into Pinterest's traffic-driving power.
Beginning Pinners: you'll get off on the right path to setting up your boards strategically and learn the best way to pin your stuff. Plus, you'll learn advanced techniques to pin with purpose.
Experienced Pinners: you'll not only learn some tricks you may have missed, you'll also learn simple tweaks that can make a big difference, as well as strategies to pin your content for maximum impact.
Beginning and experienced pinners – doesn't that mean everyone? Yes! Pinning Perfect is for EVERYONE. Regardless of your Pinterest skills, if you aren't happy with the course, Blog Clarity offers a 30-day money-back guarantee, meaning there is no risk to trying this amazing Pinterest class.
Sign Up For Pinning Perfect Today!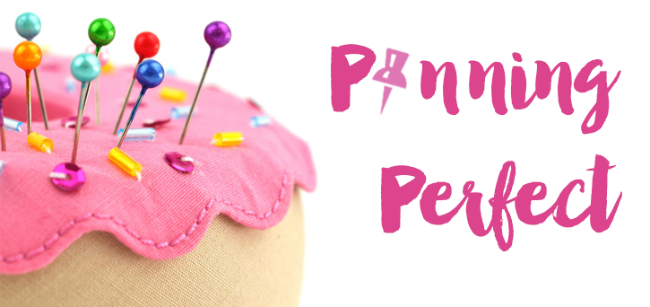 Sign up today for the exclusive SITS Girls Session of Pinning Perfect July 20-31, 2015. This is the only Pinterest class we will be offering this summer. We are super excited to see you rocking Pinterest and growing your blog traffic.