This post may contain affiliate links which may give us a commission at no additional cost to you. As an Amazon Associate we earn from qualifying purchases.
This week has been a toughie, that's for sure. With all of the heartache and tension sweeping our nation, I found solace in reading fellow SITS Girls' posts, ranging from kiddo issues to decadent recipes.
Won't you join me in our weekly Sharefest for some comfort food for the soul?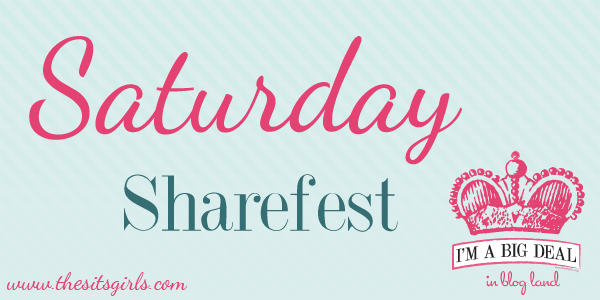 Here are some of my favorites from last week's Saturday Sharefest:
Book Worm Mama isn't about to send her kid off to college without learning the basics of laundry. (I'm sure the other residents of the dorm will thank her.)
I gained about three pounds just reading Pink When's recipe for delicious lemon bars. But since lemons are a fruit, I'm pretty sure it's a healthy weight gain.
And over at BeQuoted, I'm loving this list of 20 skills every woman should master. I've been working on the one about mastering a good cocktail. Almost there- just needs a little more practice. (Maybe even this afternoon.)
Have you been one of our featured bloggers or had your exceptional content pinned to our Pinterest board? Grab one of our nifty Featured buttons here!
How To Play Along with #SITSSharefest
Now it's your turn to play along with our Saturday Sharefest and get some of this awesome love for yourself!
Sharefest Linky
Link up your post using our weekly Linky. This makes it easy for people to find your content AND for you to visit your fellow bloggers. Even a visit to one or two people ahead of you in the Linky can make all the difference in the world!
Sharefest is on Pinterest
We have a Pinterest board on The SITS Girls just for our Sharefest participants. Our community leads will be helping to pin content that really stand out, so be sure that your posts include a pinnable image!
#SITSSharefest Happens Each Week on Twitter
Finally, definitely don't forget our #SITSSharefest Twitter Party happening at 10:00 AM EST / 7:00 AM PST on Saturdays. It's a great way to get one of your posts some extra love on Twitter.
So come play! What was your best post this week?