This post may contain affiliate links which may give us a commission at no additional cost to you. As an Amazon Associate we earn from qualifying purchases.
I hope that it is looking more like Springtime out there.  With May comes thoughts of sun and flowers and renewal.  Everything becoming green and colorful again.  It's a great time of year to find some new blog favorites!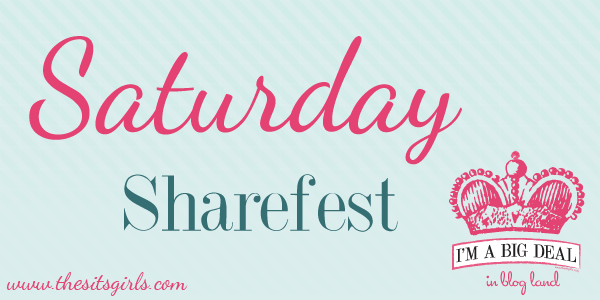 Let's take a look at a few posts from last week's Sharefest.
School of Smock wrote a piece defending parent bloggers who share what others may think is too much.  I am sure many of us fall into the over sharing category at least sometimes.
The Golden Spoons had an opportunity to spend time with a hoard of fifth graders on a field trip and shares some of the things she learned.  It can be eye opening to be in the center of a world of kids.
Freeing Imperfections reminds us that we aren't alone in feeling the need to be perfect and that we need to allow ourselves to be imperfect.
How To Play Along with #SITSSharefest
When it comes to helping bloggers connect and grow their audience, you know we've got your back. Here's how to play along:
Sharefest Linky
Link up your post using our weekly Linky. This makes it easy for people to find your content AND for you to visit your fellow bloggers. Even a visit to one or two people ahead of you in the Linky can make all the difference in the world!
Sharefest is on Pinterest
We have a Pinterest board on The SITS Girls just for our Sharefest participants. Our community leads will be helping to pin content that really stands out, so be sure that your posts include a pinnable image!
#SITSSharefest Happens Each Week on Twitter
Finally, definitely don't forget our #SITSSharefest Twitter Party happening at 10:00 AM EST / 7:00 AM PST on Saturdays. It's a great way to get one of your posts some extra love on Twitter!