This post may contain affiliate links which may give us a commission at no additional cost to you. As an Amazon Associate we earn from qualifying purchases.
It's time for my favorite day of the week here at The SITS Girls! Saturday Sharefest is an opportunity to increase your weekend blog traffic and meet some fabulous new bloggers. It's the day we get back to our bloggy roots and help you build your blog community!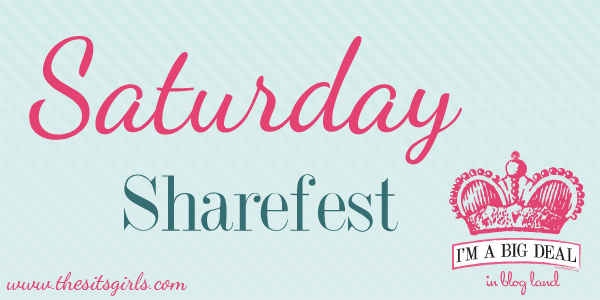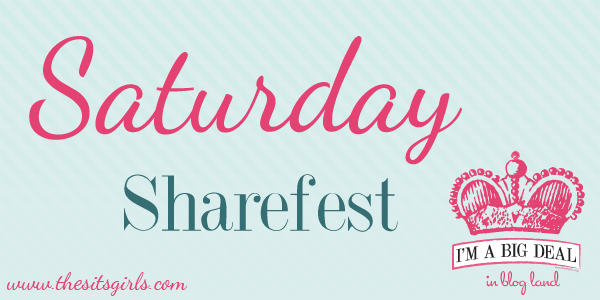 I don't know about you, but I have Spring Fever. I'm ready to lay on the beach, put my feet in the sand, and sleep-in. Anybody? So, in celebration of my fantasy, I'm sharing my favorite sun-inspired posts from the week.
I came across Chelsea's blog, Sunny With a Chance of Sprinkles this week, and if her cheerful blog name wasn't sunny enough, she put a smile on my face with this post about her day-to-day. I loved her writing style and creativity in how she shared a glimpse into her life as a mom raising her sweet little burst of sunshine, Alea Lou.
Tamera Camera shared a lovely post about living in a state of "on" as a parent. Tamera not only captured me with her words, but she also pulled me in with her photography. Just look at how the sun shines through the house in these beautiful photos of her daughter painting a birdhouse. Make a Little Birdhouse in Your Soul is a perfect fit for my spring state of mind.
My round up of favorite spring finds would be incomplete without something sweet to eat! A Day in Candiland shares her recipe for The Best Lemon Bars, and they look sunny and delicious! Now I just need something cute to wear…
Marissa from The Modern Austen is ready for spring too! She shared some adorable outfit ideas for those of us who are in those transition months from winter to spring in So Long, Winter! Her ideas are adorable and light enough to welcome spring, but warm enough to get you through the last bits of cooler weather we still have.
How To Play Along with #SITSSharefest
When it comes to helping bloggers connect and grow their audience, you know we've got your back. Here's how to play along:
Sharefest Linky
Link up your post using our weekly Linky. This makes it easy for people to find your content AND for you to visit your fellow bloggers. Even a visit to one or two people ahead of you in the Linky can make all the difference in the world!
Sharefest is on Pinterest
We have a Pinterest board on The SITS Girls just for our Sharefest participants. Our community leads will be helping to pin content that really stands out, so be sure that your posts include a pinnable image!
#SITSSharefest Happens Each Week on Twitter
Finally, definitely don't forget our #SITSSharefest Twitter Party happening at 10:00 AM EST / 7:00 AM PST on Saturdays. It's a great way to get one of your posts some extra love on Twitter!
 Now it's your turn! What was your favorite post from the week?