This post may contain affiliate links which may give us a commission at no additional cost to you. As an Amazon Associate we earn from qualifying purchases.
How was your week? July is really blazing by isn't it? (And blazing hot in some places!) If you've been busy blogging and have a great post to share, you're in the right place. Let's show each other some comment love!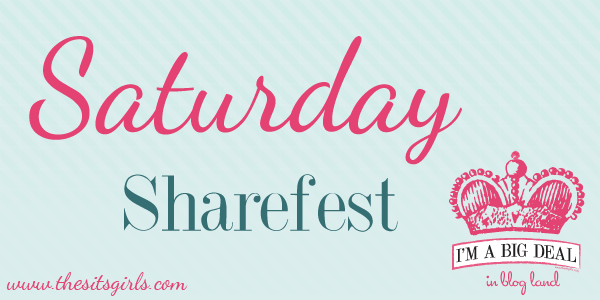 As always, there was a plethora of wonderful posts last week, and here are a few about blogging and social media that I enjoyed.
Our very own SITS Community Lead Tracie, shared a very useful tutorial on how to use overlay in PicMonkey, to make text pop in a photo you're using for a blog post.
Did you know that hashtags on Facebook are now clickable? Michelle of A Dish of Daily Life gives you 5 reasons to use the new Facebook hashtags now.
If you've been wondering whether you should bother with Google Plus, Elizabeth of Pirate Prerogative shares some compelling reasons for loving G+. And I absolutely agree with her!
How To Play Along with #SitsSharefest
When it comes to helping bloggers connect and grow their audience, you know we've got your back. Here's how to play along:
Sharefest Linky
Link up your post using our weekly Linky. This makes it easy for people to find your content AND for you to visit your fellow bloggers. Even a visit to one or two people ahead of you in the Linky can make all the difference in the world!
Sharefest is on Pinterest
We have a Pinterest board on The SITS Girls just for our Sharefest participants. Our community leads will be helping to Pin content that really stand out, so be sure that your posts include a Pinnable image.
Grab a Featured Button
If your post was highlighted as a favorite here, or Pinned on our #Sharefest Board, grab a 'I Was Featured' button!
#SitsSharefest Happens Each Week on Twitter
Finally, definitely don't forget our #SITSSharefest Twitter Party happening at 10:00 AM EST / 7:00 AM PST on Saturdays. It's a great way to get one of your posts some extra love on Twitter.
Enjoy your weekend!