This post may contain affiliate links which may give us a commission at no additional cost to you. As an Amazon Associate we earn from qualifying purchases.
I have cookies on the brain. Can you blame me? We've been receiving some great recipes for The SITS Girls Cookie Recipe E-Book and great response to the Cookie Swap!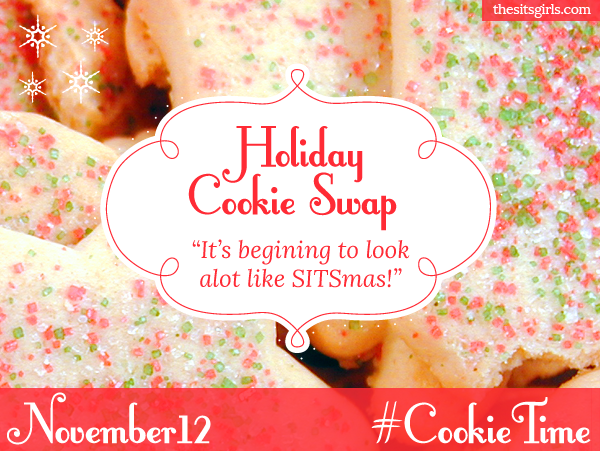 How To Get Your Cookie Post Featured With The SITS Girls
Link Up Here
This week, those of you who have signed up for the Swap will be receiving your baked deliciousness right about now, or at least in time for Thanksgiving. We would absolutely love to see what you baked for your Swap partner, and what you received, so do write a blog post, include some yummy pictures, and link up with us here. This way, we can visit you, drool over your cookies and get some inspiration for our own baking endeavors. The linky will be open until November 29.
Head Over to Pinterest
That's not all! We will also be going all Pinterest on you – we will be Pinning your recipes onto The SITS Girls Cookie Swap Board, so make sure your linked blog post includes a recipe and some beautiful pictures. (Also, are you following The SITS Girls on Pinterest? Please do!)
Join Us on Facebook
If you're a Facebook kinda gal (and I am), do feel free to upload your favorite cookie pictures into our special Cookie Swap album – we and the over 28,000 SITS Facebook fans can't wait to see them.
Tweet the #CookieTime Love
Last but not least, we will be tweeting your linked cookie posts out, with the hashtag #CookieTime, so make sure you follow and who knows, you might find a new cookie recipe to try for the holidays!
So much social media love – this is what The SITS Girls Community is about. We can't wait to see you on Pinterest, Facebook and Twitter.
Happy Thanksgiving! For those who are going out of town, stay safe.