This post may contain affiliate links which may give us a commission at no additional cost to you. As an Amazon Associate we earn from qualifying purchases.
Happy Monday! We have some very exciting news to share with ya'll. Starting this Wednesday we will be hosting a weekly Twitter party, where we will discuss different topics related to blogging.
We hope that everyone can join in and have some fun! The first weekly Twitter party will start Wednesday, November 6 at 10am PST/1pm EST.
Join us on Twitter using the hashtag #SITSBlogging and by following @SITSGirls.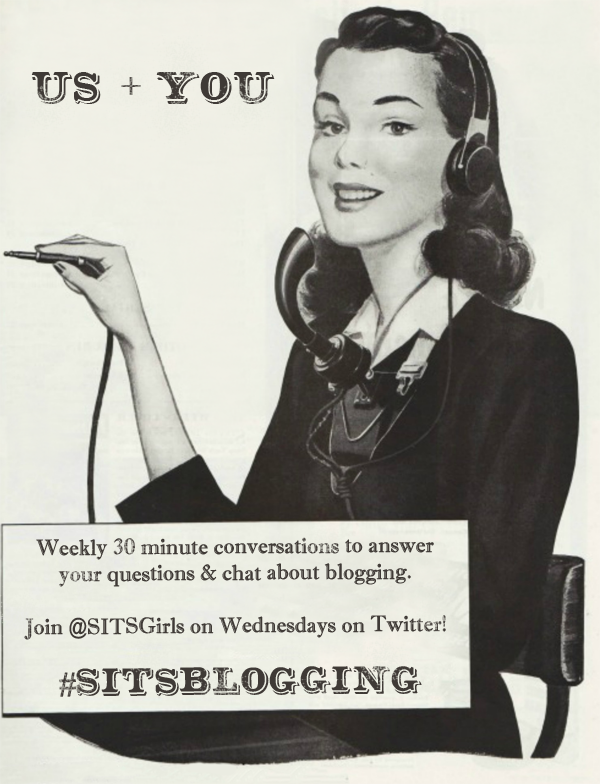 #SITSBlogging Twitter Party!
This week we will be discussing the different ways you can drive traffic to your blog using Pinterest. We all know that Pinterest can be a powerhouse when it comes to bringing in traffic. Knowing what types of images to use, what time of day to pin, how to make your boards visually inviting can make all there difference on Pinterest.
Link up your Twitter handle below! It's a great way to grab a few followers, PLUS we'll be following all of the accounts that link up prior to Wednesday.
You are also welcome to post any questions you have in regards to Pinterest in the comments below and we will discuss at the Twitter party!
Don't forget we will be using the hashtag #SITSBlogging on Wednesday's at 10:00 AM PST / 1:00 PM EST. It's a great way to learn more about blogging, share your knowledge and connect with with new people.
More to Come
Here's a sneak peak at more of the topics we have planned in the coming weeks for our #SITSBlogging chats:
Networking without being online all the time
Building a tribe
Basic photography
Building your blog through blog conferences
Do's and don'ts of web design
Networking offline