This post may contain affiliate links which may give us a commission at no additional cost to you. As an Amazon Associate we earn from qualifying purchases.
Happy Thursday!
We are on our fourth day of the Spring into Social Media event. I hope you've taken away some juicy social media tips. We've covered Twitter, Pinterest, and YouTube so far, and we aren't finished yet! Today we'll be focusing on Facebook.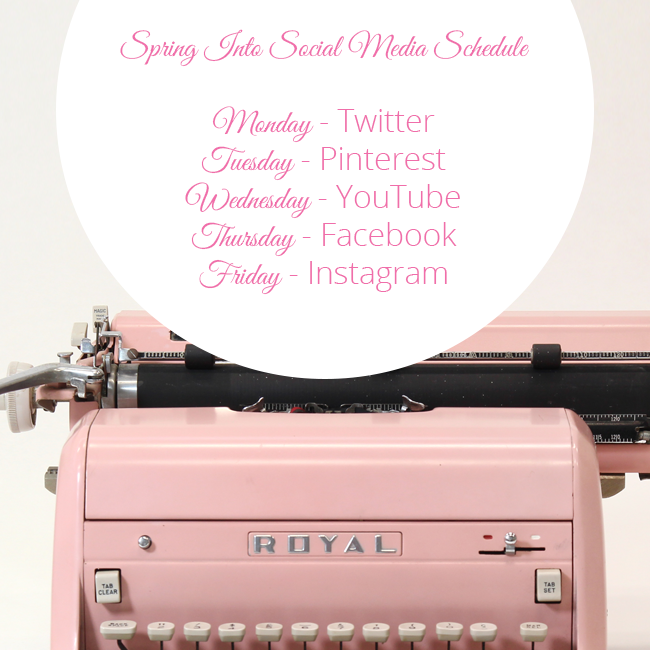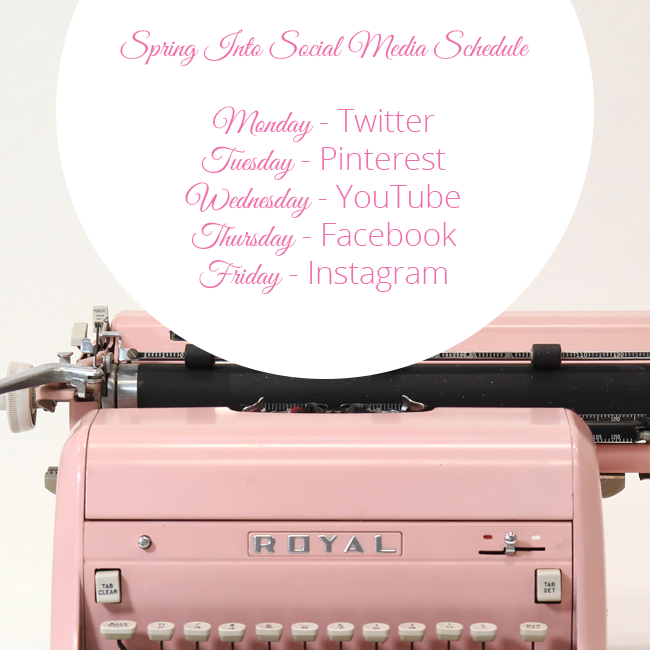 I want to share with you some daily Facebook to-do's to help you make sure you're doing everything you can to maximize your Facebook exposure.
Daily Blogging To-Do's for Facebook
Respond to any messages or comments that transpire from the last time you were on Facebook. If you're doing this daily, it shouldn't be more than 24 hours ago.
Have a new blog post? Post that to your Facebook page.
Recommend at least one page to your followers. If you can collaborate with that page owner, maybe you can cross-promote each other.
Ask your readers a question. I like asking yes/no questions or fill-in-the-blank questions. This is a great way to get engagement on your page.
Share other content with your followers. Whether it's a funny video, a quote or a post from another blog, share it with your followers. Sharing other bloggers' content can help you build connections with your fellow bloggers. Everybody loves for their content to be shared, so spread the love when you find something wonderful!
Facebook Tips
When it comes to the information that you post on your page info section, be as informative as you can. Be sure to list your website, what your site is about, what you have to offer your followers, and how your readers can connect with you.
Like I mentioned in Monday's Twitter post, remember the 80/20 rule when posting on social media sites. Twenty percent of the content you post on Facebook should be your own content and link to your blog. The other eighty percent should be interesting, engaging, and educational content.
Facebook loves video – but it hates YouTube! Have you noticed that videos are getting priority spots in your Facebook newsfeed? Facebook wants to show videos to your followers, but only if those videos have been uploaded directly to Facebook. Try sharing at least one short video on your page every week. A great way to incorporate video into your Facebook strategy is to make a short teaser for your latest blog post – you can introduce your post like this or give a quick version of a craft tutorial like this. Get creative! It only needs to be about 30 seconds long. And don't forget to add your link to the end of the video so people can click over to your post after they watch it.
We'd love to connect with you.
Follow The SITS Girls on Facebook here, and check out all of our posts about Facebook here.
Link Up Your Facebook Page
Link up your Facebook page below and then follow at least three new pages using your personal Facebook account. Share at least one post from one of the blogger pages that you follow today and tag it with #SITSBlogging.