This post may contain affiliate links which may give us a commission at no additional cost to you. As an Amazon Associate we earn from qualifying purchases.
Happy Monday, everyone! I am excited to kick off the Spring into Social Media event. Cristina, Kelly, and I have put together some great social media tips this week for you, and today, I am starting with Twitter.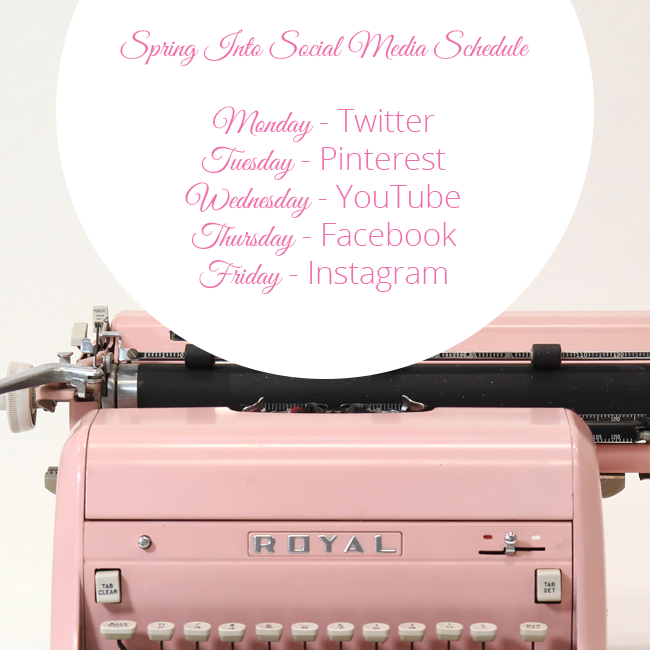 Twitter Tips
Twitter is my favorite social media site. When I first started blogging, there was a time when I had more Twitter followers than I did Facebook fans. Twitter grew the fastest for me out of my social media sites. I didn't do anything fancy or spectacular and I still don't. I simply connect with people. After all, that's what social media sites are about.
1. Make it Captivating
Show your followers and potential followers who you are. Make sure you upload a profile picture of you. People want to see who they are talking to. Also, be sure to add a personalized header image.
When it comes to your bio, you have 160 characters to tell potential followers about yourself. Don't be vague with sayings like "Hello!" or "I love Grey's Anatomy!"
Use those 160 characters. List things about yourself, make people laugh and make people what to know more about you.
2. Get Social
Social Media sites aren't meant to be a one-way conversation. You need to stay engaged with your followers; after all, they represent some of your most interested blog readers. If someone mentions you in a tweet, respond to them. If someone has great content, retweet it. If someone asks a question, comment back.
3. The 80/20 rule
On social media sites, there is this unspoken rule called the 80/20 rule. What this means is that 20% of your content that you post should be of your own content and links to your blog. The other 80% should be content that really caters to your audience: retweets, inspirational quotes, a news article, asking questions, or something funny that your child said.
4. Learn Your Symbols
Hashtags are a way to bring conversations on the same topic together. By using a simple # before a word, can make it easier for users to find messages with a specific theme or content. You can cater your hashtags to what is trending in your area, country or worldwide by using www.hashtags.org. If you do use that method, be sure that your hashtag is relevant to the content in your tweet.
The @ sign is a great way to interact with specific people. If you happen to start a tweet with the @ symbol, it will only show up in your timeline, the person you are @ing's timeline, and the timeline of people who follow both of you. If you want all of your followers to see your tweet, simply start your tweet with other words instead of @ or try using [email protected] instead.
Link up your Twitter Account
Link up your twitter handle below and follow at least five people. Don't just follow and run – get social! Here are some conversation starters for you:
If they're a mom, ask what is the one thing they'd like for Mother's day.
It's spring. Ask what their favorite flower is.
Ask about their blog. How long they've been blogging or their favorite thing about it.
Simple, give them a compliment.
Don't forget to let your new friends know you followed via the #SITSBlogging hashtag.
We'd love to connect with you, too. Follow @SITSGirls here, as well as me here.