This post may contain affiliate links which may give us a commission at no additional cost to you. As an Amazon Associate we earn from qualifying purchases.
Happy Blogtober, SITStahs!
Are you enjoying the October blog challenge as much as I am? I hope so! We've spent the last few days building your blog communities and we want to keep things going strong with our next blog challenge!
This challenge is for anyone who has ever had a memorable Halloween moment! So? That's ALL of you, right?
Today, we're switching things up a little and taking it back to your blogs with Throwback Thursday-Blogtober Style!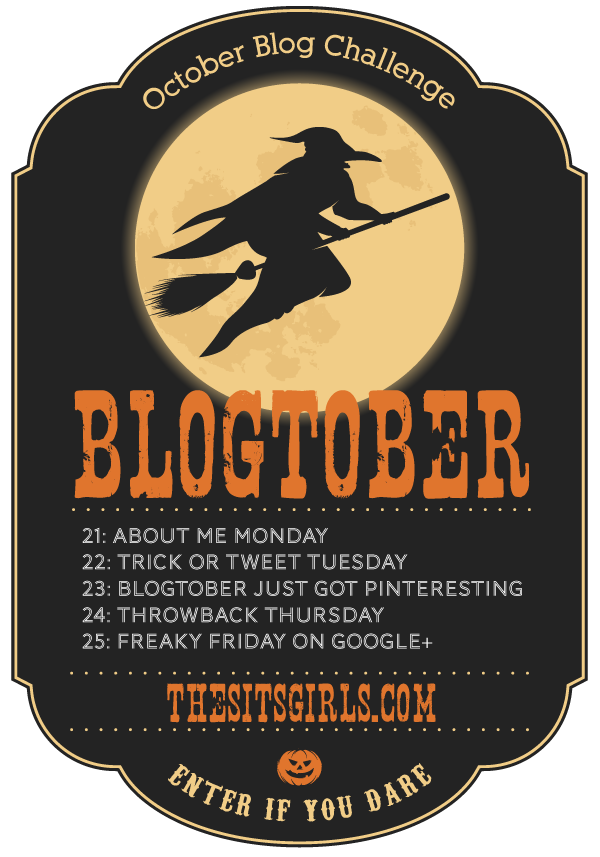 Throwback Thursday-Blogtober Challenge!
Today, October 24: Share a link to a post about a memorable Halloween moment. Before Instagram we had cameras and dare I say, film! Get out those picture boxes and find those embarrassing costumes! Start scanning those photos and get busy sharing your Halloween moments with us.
Link up any post about an old school Halloween memory. And be sure to include pics.
Don't forget to join us tomorrow for our last day of Blgotober!
Freaky Friday on Google+
Friday, October 25: Leave a comment with a link to your Google+ account and let us know which circles you would like to be in, e.g., Craft, Food, etc.
See on you on Google+!!
Are you bummed you're missing out on all the fun?
Don't worry! There's still time to link up your blog and social media at the following pages and join the fun!!