This post may contain affiliate links which may give us a commission at no additional cost to you. As an Amazon Associate we earn from qualifying purchases.
Want to jump on board the Washi tape craze, but not sure how to do it?  Here are 10 totally creative and totally easy ways to use Washi tape!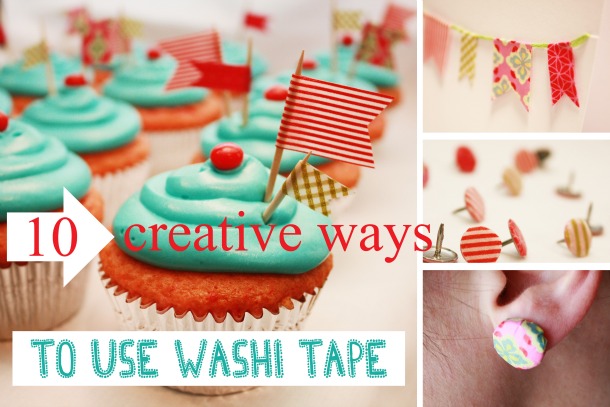 The first time I spotted Washi tape, I knew that it was something that I would love to use but I didn't know quite how.  I'm not much into scrapbooking and paper crafts, but the idea of Washi tape was appealing to me.  After taking the plunge and purchasing a few rolls, they sat unused, in a drawer, for months.  It was only until that I let myself do a little research that I was able to find out that there are so many amazing things to do with Washi tape, I just had to look around a bit, and use a little creativity!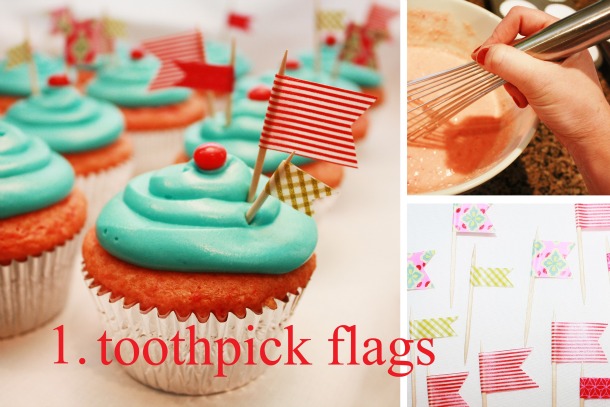 Next time you have some cupcakes to decorate, think about that little extra something the element of Washi tape can bring!  These little flags are mind numbingly easy to make, all it takes is a bit of time, Washi tape, and a box of toothpicks!  Just cut a section of washi tape and affix it to your toothpick by laying it in the middle of your tape and sandwiching the layers together.  Cut a dovetail pattern in the end, and stick in your frosting!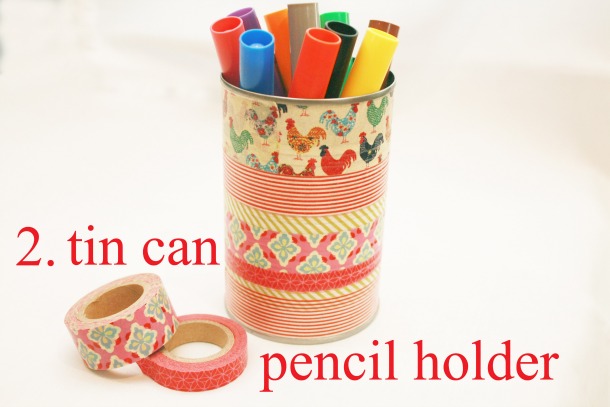 Repurposing an item that was destined to for garbage can is always a victory in my book!  Who doesn't have an empty tin can on hand?  (I do, most nights I make dinner!)  To turn your trash into treasure, use a little Washi tape.  Wrap the can using one pattern, or a bunch.  Add your loose pencils, markers, or crayons.  It's perfect for an art space or homework desk!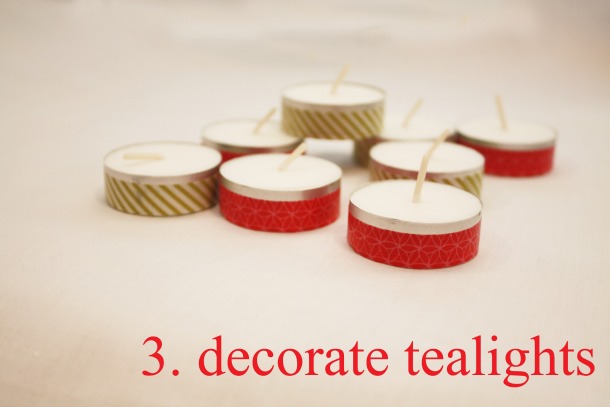 Throwing parties is even more fun when you can customize every last detail!  Designing your own matching tea lights is a snap using Washi tape.  Just take a strip and wrap it around the metal bottom.  You can go a step further and actually wrap taper or pillar candles in Washi as well.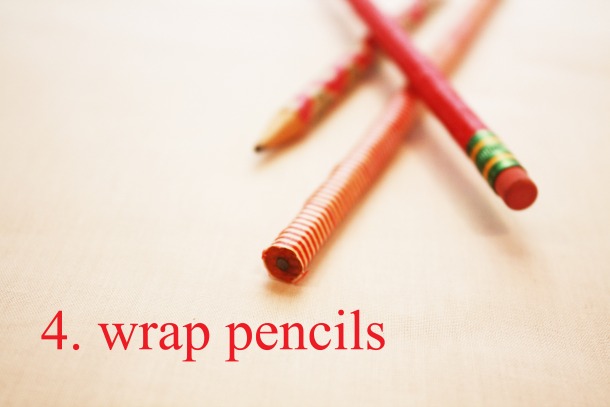 Jazz up those boring orange pencils with a bit of colorful Washi tape!  Any pencil can look special or brand new donning a bright new layer of decoration.  This is the perfect craft project for kids.  Match your pencils to anything your heart desires! The best thing is, the paper quality of Washi tape will shave right off in any pencil sharpener.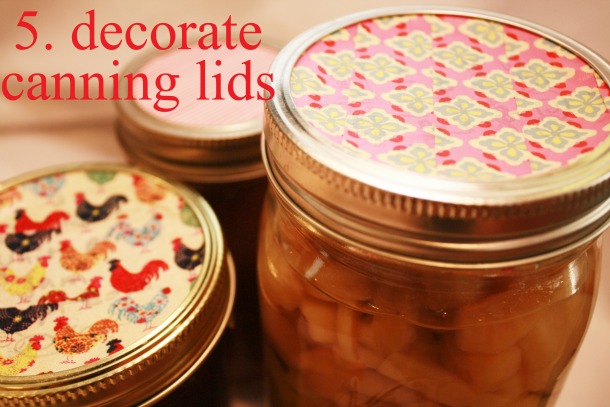 Giving a canned food or treat in a jar is even more appealing with Washi tape!  Just, unscrew the ring, add tape to the top, and screw the ring back on.  Your friends will be amazed by how crafty you are!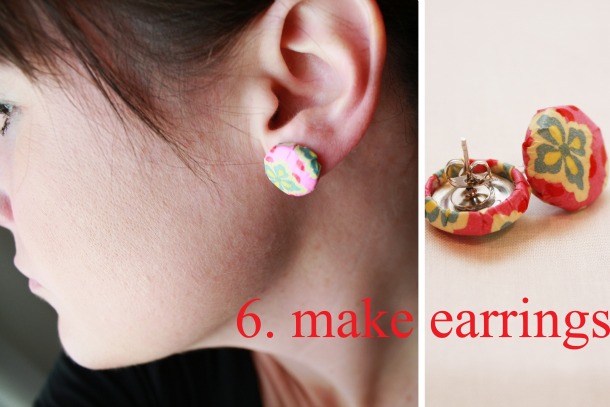 Making button form earrings is easy, as you can check out here.  Instead of using fabric, think about using your favorite pattern of Washi tape!  It's just as easy, but extra spunky! You could design your Washi earrings to match any outfit.  Be creative!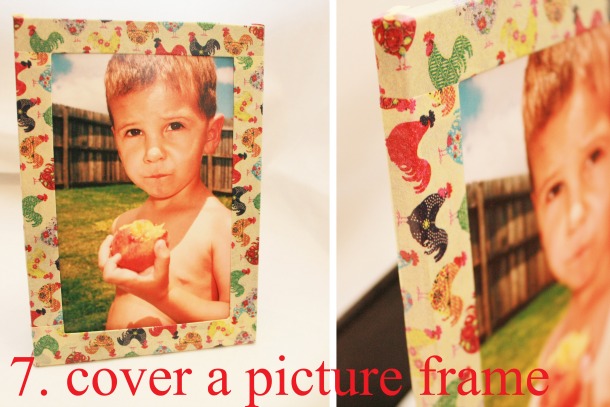 It's so easy to cover an old or boring picture frame with a layer of Washi tape and spice it up!  You could transform frames from thrift stores, ugly and dated frames you have hiding in storage, or even alter ones you have around the house.  Washi tape comes in all patterns and colors, so creating a frame that complements a photo or picture is easier than you think!  Make a whole wall filled with Washi!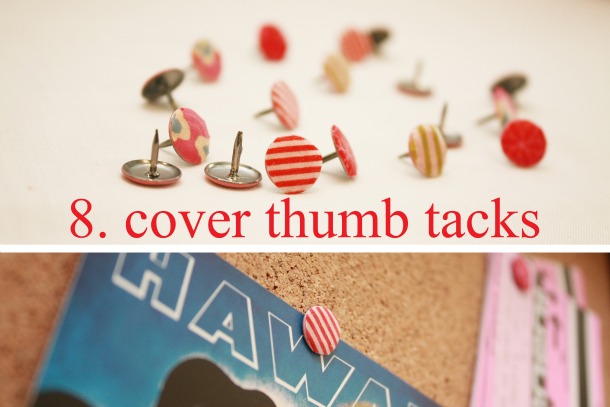 You've covered your pencils, and created a pencil holder; you might as well match your thumb tacks and round out the ensemble!  Covering thumb tacks with Washi is as simple as can be, and only takes a few minutes.  Just stick your tack, flat side down onto the sticky side of the Washi tape.  Use your scissors to cut around the tack, and then press the flat side into your palm to wrap the edges around the flat end.  Use your new Washi covered thumb tacks to display your favorite photos and ephemera.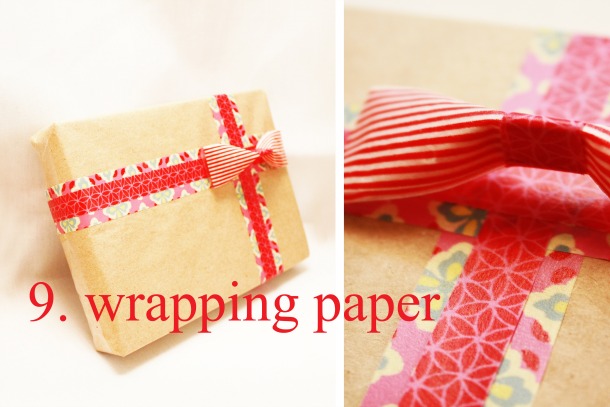 Who needs fancy wrapping paper when you have Washi tape?  Dress up brown butcher paper with a pop of color!  Add a pretty Washi tape bow to a simple brown bag.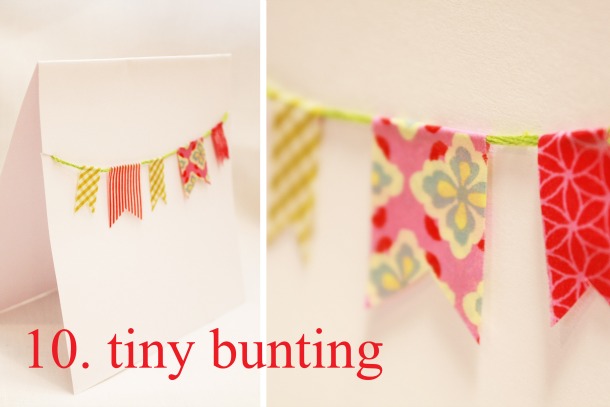 Making a miniature Washi garland is easy and fun!  Cut a piece of twine, thread, or embroidery floss into your desired length.  Cut a section of Washi tape and fold sticky sides together with the string in the middle.  Cut your end in any decorative design.  Hang anywhere you want a pop of color, or use your tiny Washi bunting to decorate a card or gift.  You can make the garland as long or as short as you need!  Isn't it cute?!
If I would have known all of the creative ways that I could use Washi tape, I would have bought some long ago!  Get a few rolls for yourself and experiment!
More DIY Crafts Like This One
Want to find more awesome DIY tutorials like this one? Keep reading we have lots more for you!