This post may contain affiliate links which may give us a commission at no additional cost to you. As an Amazon Associate we earn from qualifying purchases.
Jewelry is my favorite accessory. I always seem to find another amazing piece to add to my growing collection. Jewelry is one of the easiest ways to try trends, change a look, and experiment with style. I love DIY jewelry projects, because they are a terrific creative outlet.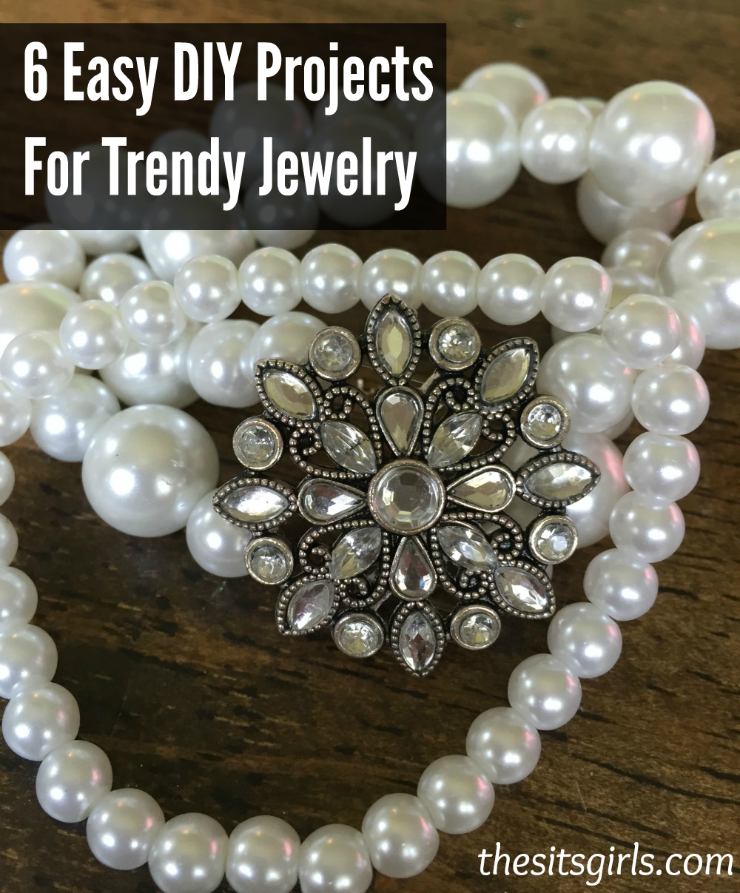 6 Easy DIY Jewelry Projects
Today I am sharing 6 stunning and easy trendy jewelry projects that you can create yourself. Each piece is created using easy-to-find components at your local craft store in the jewelry making section and simple tools (two pairs needle-nose pliers, ruler, chain cutters). Of course, you can always use elements found at vintage shops, bead stores, or old jewelry, too.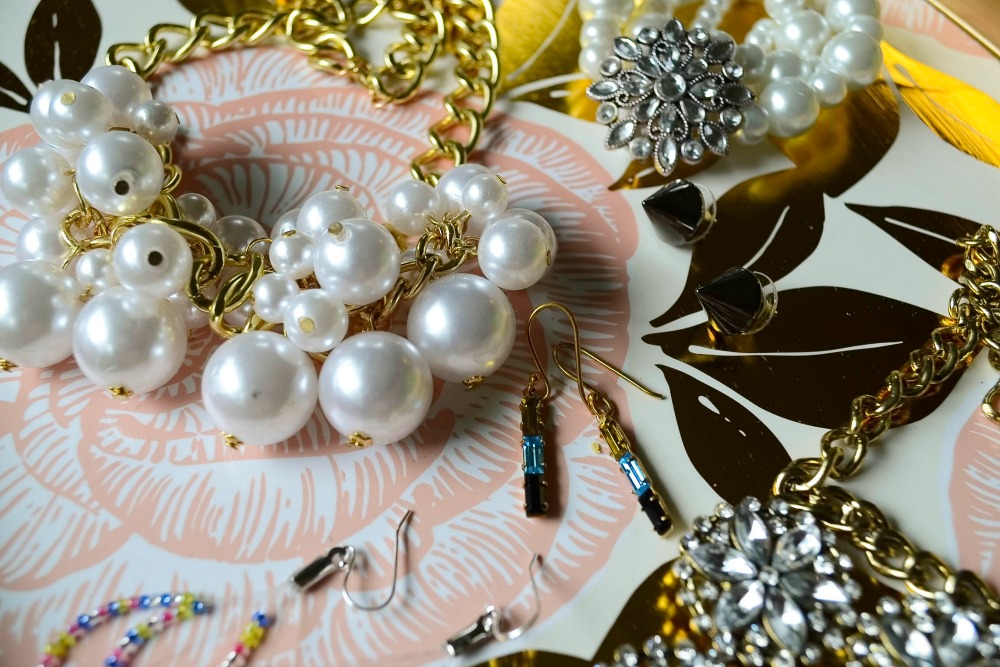 DIY Jewelry Statement Necklaces
Statement necklaces continue as a big trend this year, and why not? They are the perfect accessory to take an outfit to the next level. Here I have two statement necklaces. One features one of June's birthstones, the pearl. This necklace is reminiscent of Holly Golightly in Breakfast at Tiffany's. The other necklace is a large, bronze, rhinestone pendant piece that is wonderful to add sparkle and shine to your outfit.
Pearl Cluster Necklace
Pearl Cluster Necklace Supplies
17″ large link, gold-tone chain
2 units faux pearl clusters
1 gold-tone lobster clasp
8 gold-plate 8mm jump rings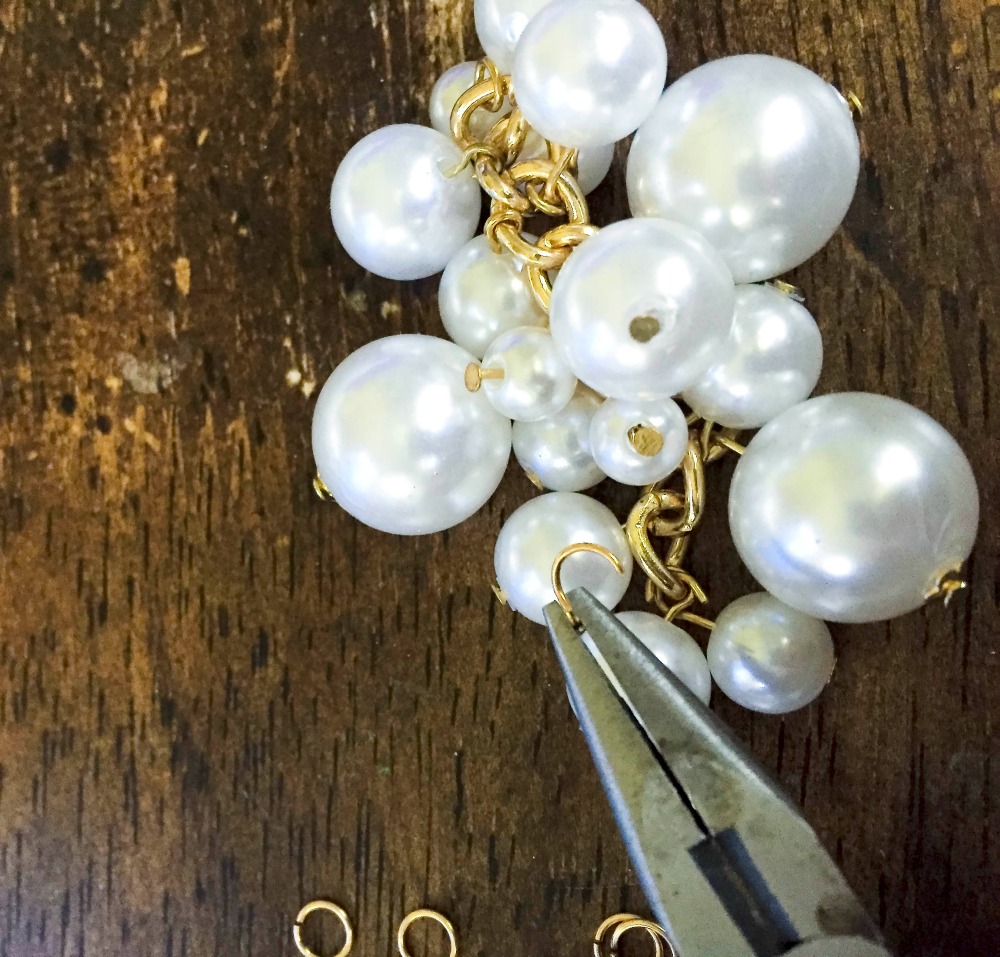 Start attaching the faux pearl clusters to the chain starting at 8 1/2″ (center of the chain). For the right cluster start attaching it on the left using 3 8-mm jump rings spaced evenly (moving left to right).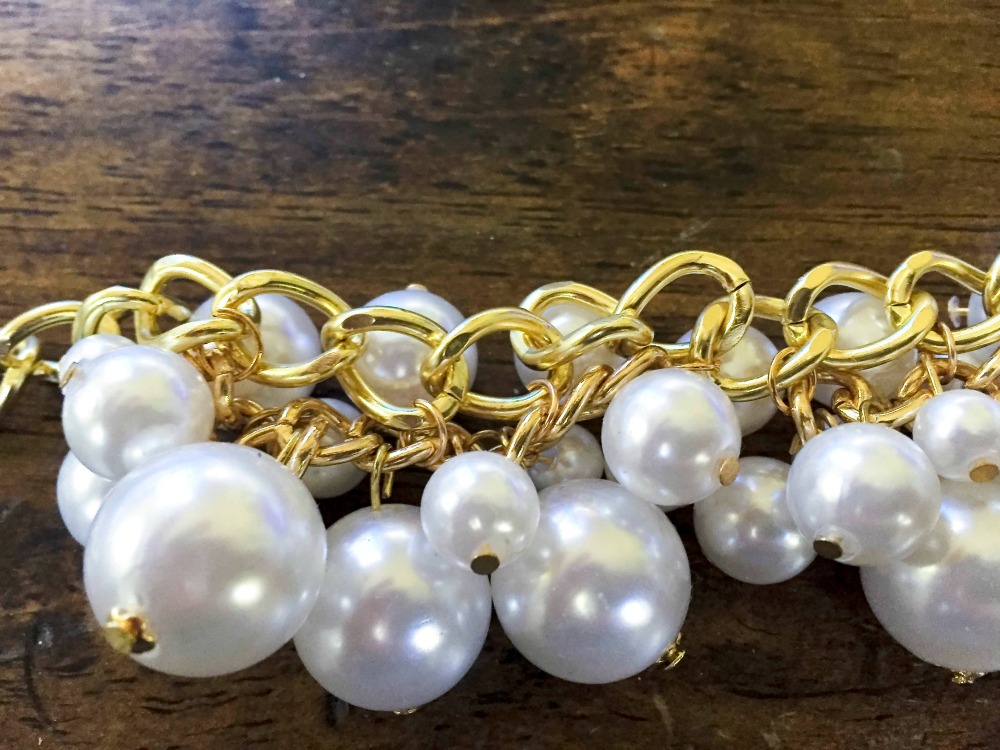 Next attach the left cluster using 3 8-mm jump rings starting at 8 1/2″ on the chain and working left. Attach an 8mm jump ring to each end of the chain and 1 gold-tone lobster clasp to 1 jump ring.
Rhinestone Baroque Statement Necklace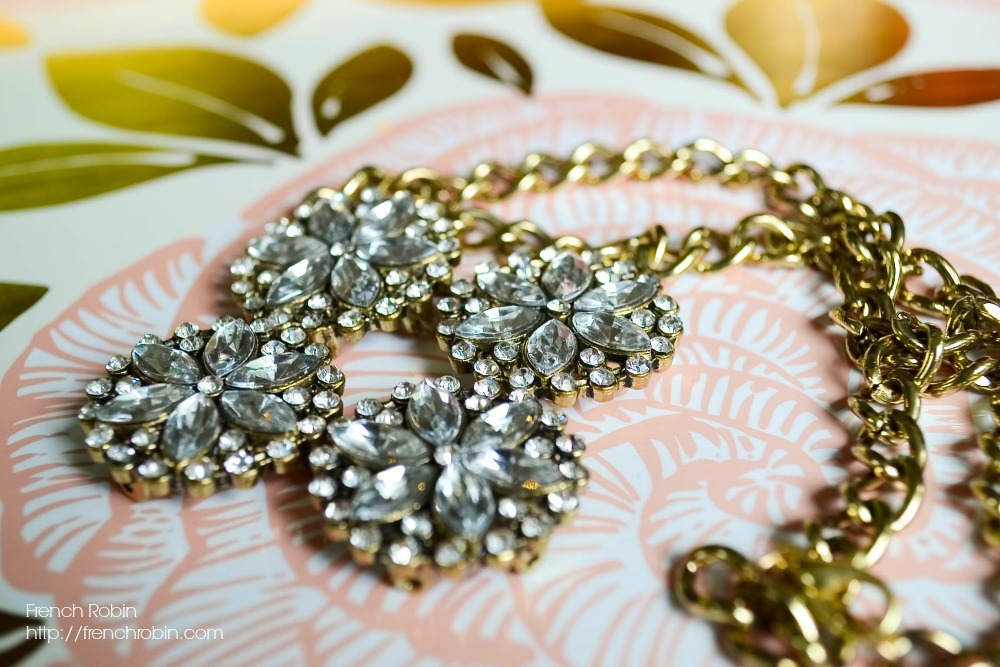 Rhinestone Baroque Statement Necklace Supplies
17″ large link, bronze/gold chain
4 bronze, rhinestone elements with loops on back (usually sold as one unit)
6 bronze-tone 8mm jump rings
2 gold-plate 8mm jump rings
1 gold-tone lobster clasp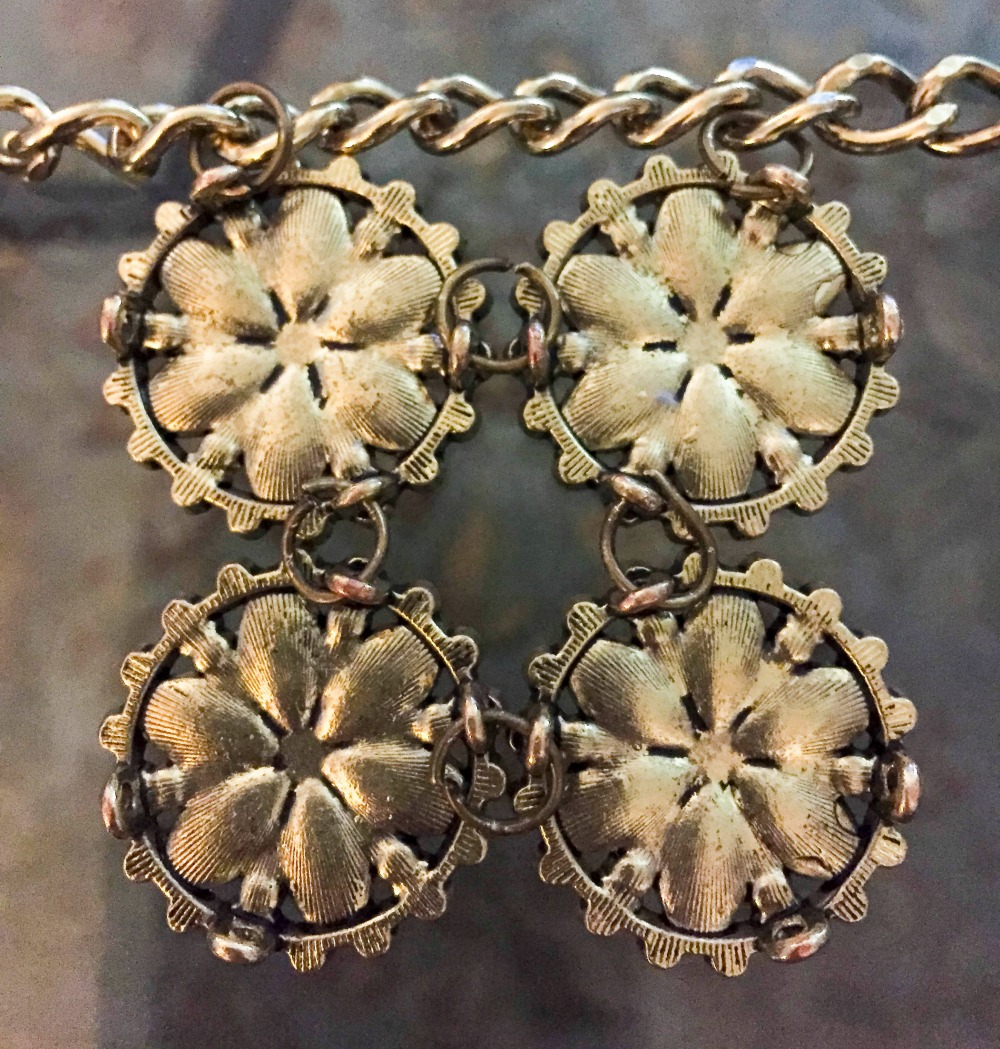 Using 4 bronze jump rings, connect the rhinestone elements into your desired pattern. Find the center of the chain (8 1/2″) and connect the rhinestone pendant using 2 8mm jump rings so that your pendant is centered on the chain. Attach two gold-plate 8mm jump rings to the end of the chain and 1 gold-tone lobster clasp to one jump ring.
DIY Jewelry Chunky Bracelet
This bracelet design is a throwback to Coco Chanel and her stunning pearl pieces. This bracelet is very easy to customize, layer, and wear with any style.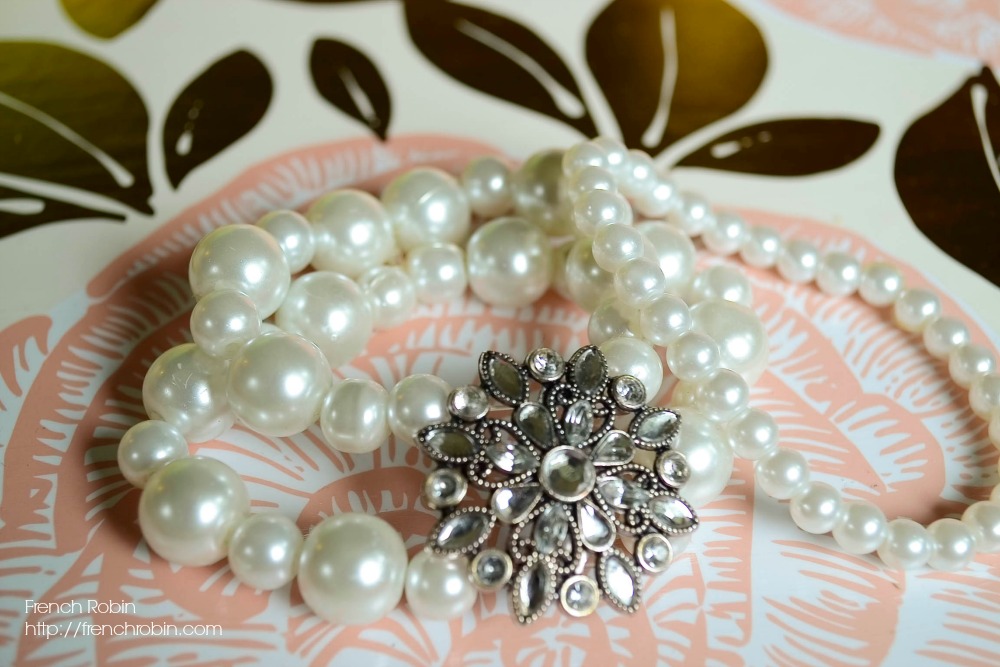 Chunky Bracelet Supplies
Magic Stretch Cord – clear
1 strand 6mm faux pearls – any color
1 strand 8mm faux pearls – coordinating color
1 strand rhinestone element with loops on rear
E6000 glue
Measure your wrist for size and cut magic stretch cord approximately 4″ longer than the size of your wrist. For my piece, I made two strands of pearls. The number of pearl strands will depend upon the loop configuration of your rhinestone element. String the first faux pearl onto the cord. Run the cord through the pearl a second time to prevent it from slipping off the cord and to make the bracelet more secure. Start stringing pearls in your desired pattern. At the mid-point string on the rhinestone pendant. Continue with the pearls, looping the cord through the final pearl a second time.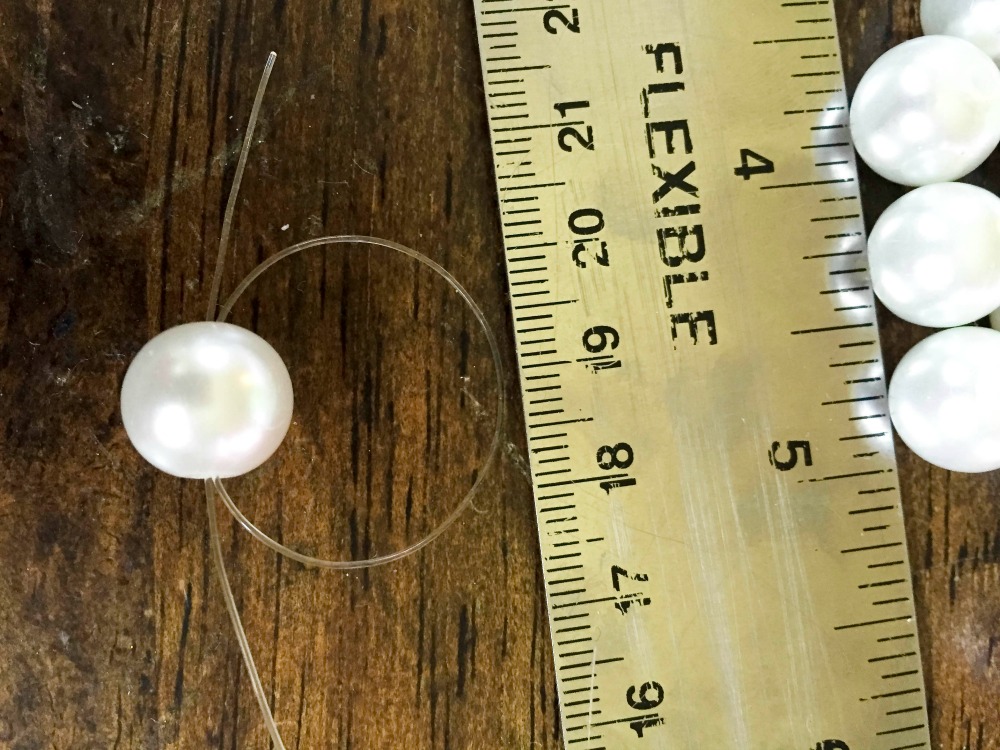 For the second strand (as seen on my bracelet) repeat the same process. When done, tie the ends together on each strand of pearls. Then tie the two connected strands together in the back. Dab a bit of E6000 glue to secure the knots. Cut the excess cord.
I created another bracelet using only 4mm faux pearls to layer with this bracelet and others. Use your imagination, try different beads, pendants, and charms to create a customized piece.
Earrings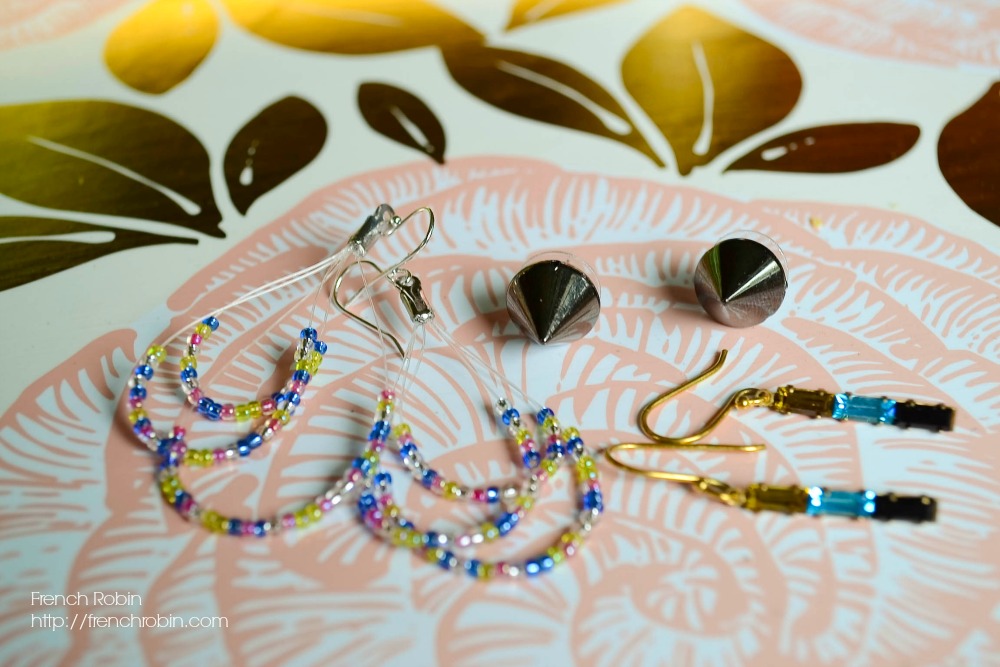 Since having my ears pierced at the age of 9 I have never gone a day without wearing earrings. They are by far my favorite piece of jewelry. I love all types of earrings from traditional to trendy to urban to exotic.
Edgy Spike Studs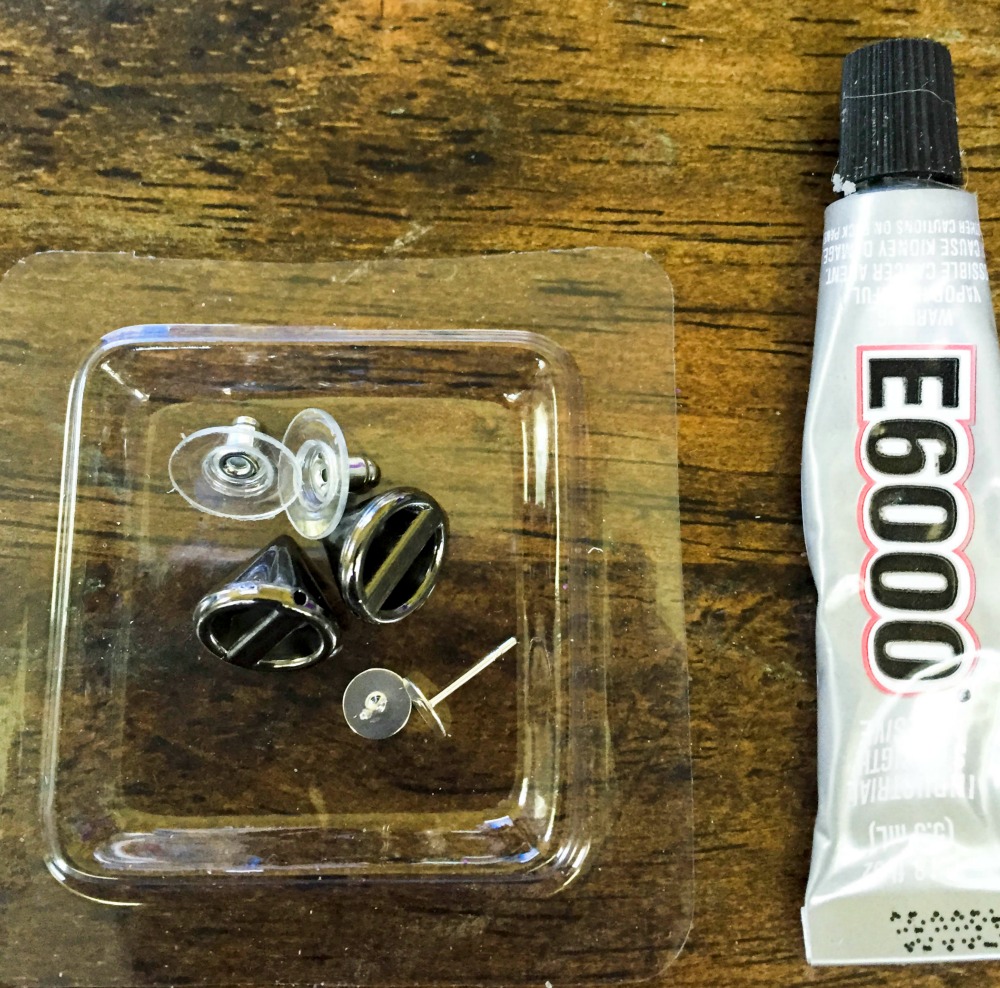 Edgy Spike Studs Supplies
Faux Spikes with a flat back
Silver tone flat-back posts
Silver tone earring backs
E6000 Glue
Place a dab of E6000 glue on a piece of disposable paper. Carefully dip the flat back of the post into the glue and gently press onto the flat back of the faux spike. Allow to dry approximately 24 hours.
Rainbow Hoops
Rainbow Hoop Earring Supplies
Size 11 seed beads (colors of your choice)
1 roll clear monofilament illusion cord (found in the jewelry supply section) — fishing line will work too
2 silver tone cord end caps
2 sterling silver ear wires
E6000 glue
For these earrings, I mixed 4 colors of size 11 seed beads on a small plate. Cut 2 lengths of each size cord – 6″, 5″, 4″. Tape one end of the 6″ cord to the plate to prevent beads from spilling off the end and keep the cord secured. String in random order (or your desired pattern) 30 seed beads. Tape the two ends together to prevent the beads from spilling. Set aside. For the 5″ cord string 28 seed beads and the 4″ cord 20 seed beads, taping the cord ends when done to prevent loss of beads.
When done, gently hold the small, medium, and large loops together. Tape the ends together. Place into the cord end cap and dab with a bit of E6000 glue. Using needle nose pliers carefully but firmly press each side of the cord end onto the illusion cord to secure in place. Cut the excess cord at the top. Attach a silver ear wire to complete the earrings. Allow approximately 24 hours for the glue to dry completely.
Color Rhinestone Dangles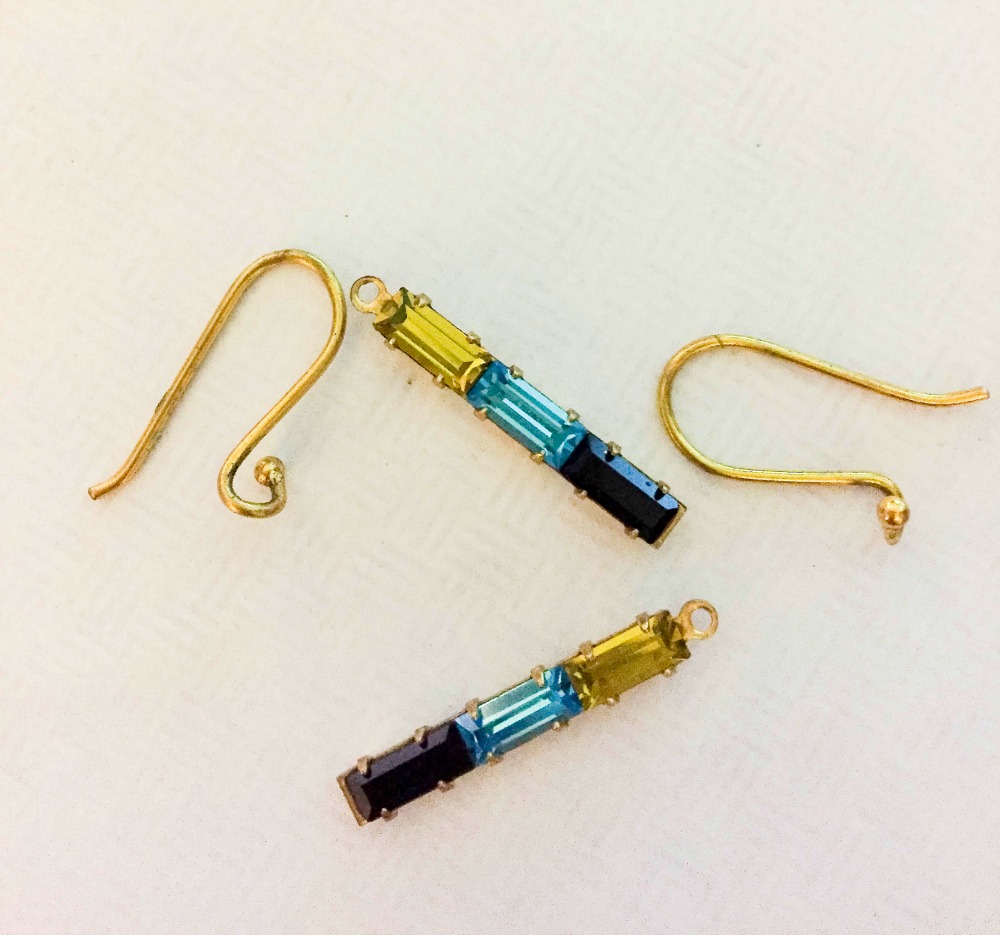 Rainbow Rhinestone Earring Supplies
Baguette color rhinestones in prong setting (I found these on Etsy)
Gold French Earring Hook
Using a pair of needle-nose pliers, gently twist the small loop on the earring wire away from you, to the side, creating an opening. Attach the baguette rhinestone piece to the ear wire. Gently twist the small loop back into place. These earrings will also look fantastic on a length of chain attached to the ear wire.
Cheers!