This post may contain affiliate links which may give us a commission at no additional cost to you. As an Amazon Associate we earn from qualifying purchases.
I've seen these crafty butterfly art collages done on a number of different sites and I just had to try the project with my super crafty girls.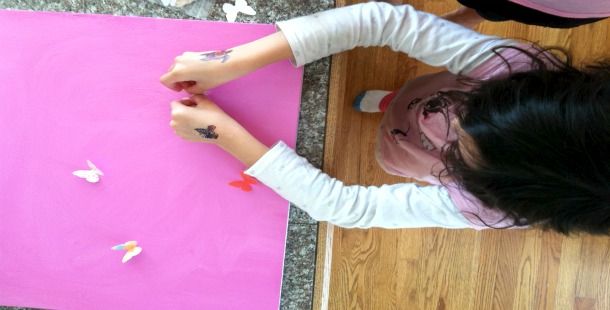 1. Collect your butterfly art materials
What you'll need:
A piece of canvas (any size)
Paint
Paintbrush
Butterfly cutouts
I'm not gonna fool ya…I didn't have any of those items. I'm also not a bargain shopper. I paid full price (those butterfly die cuts are expensive!) and spent about $40 total for each of my daughters. I reminded myself that this was about them getting creative and putting work into something they could be proud of, but I hoped the result was going to be worth hanging on the wall!
2. Paint your butterfly art canvas

The girls loved painting on an actual canvas! They didn't paint the edges of because I thought it might get too messy. In retrospect, the ones that are painted all around sure are pretty.
3. Cut your butterflies.
4. Glue your butterflies.

We got busy gluing them every which way on the canvases. We bent the butterflies slightly in half so that their wings look like they're lifting off the canvas and then dabbed a bit of Elmer's glue on their bodies.
The end product…two beautiful pieces of butterfly art. Two proud daughters. And one messy kitchen.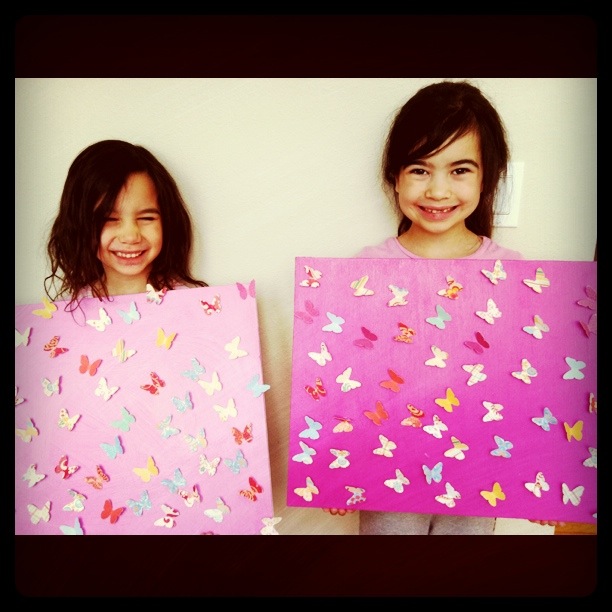 Was it worth the 40 bucks?
Absolutely. (but I bet you could find ways to save on this).
It also made me want to go see if I could find die cuts for a boy…like cars or dinosaurs or bumblebees. I bet my little guy would love to have a turn at this.