This post may contain affiliate links which may give us a commission at no additional cost to you. As an Amazon Associate we earn from qualifying purchases.
Looking for a way to dress up your garden or front porch? Then these flowerpot ideas are just what you need. 
Chalkboard flowerpots are your ticket to a quick and show stopping focal piece that will leave your neighbors in awe of your craftiness!  Read on and find out how simple they really are!
Flowerpot Ideas
It really is true that gardening and warm weather go hand in hand. That's why when inspiration struck on these flowerpot ideas, I couldn't wait to get started.
And who can resist the charm of a simple terra cotta flowerpot?  Making your own chalkboard flowerpots is an easy way to jazz up an outdoor space or sitting area.  Even better, they wipe clean so you can change them up for a holiday or event!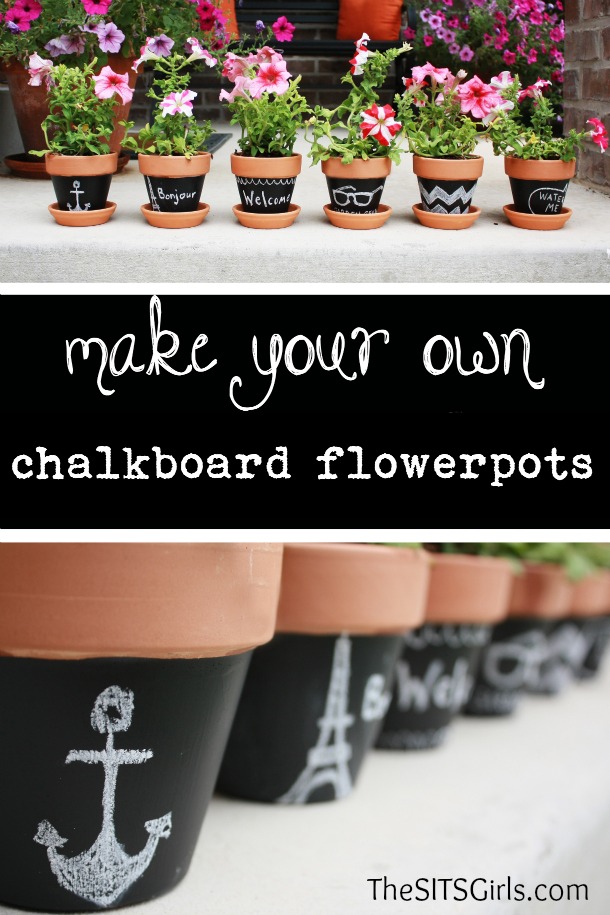 Creating your own chalkboard flowerpots only takes a bit of time and a few supplies that you can find at any craft shop.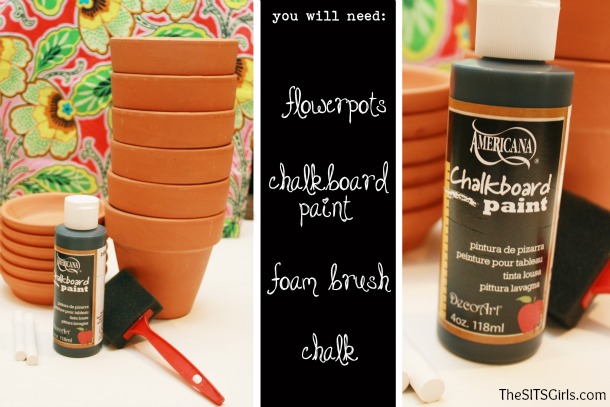 When purchasing your flowerpots, you can choose any size.  Just be aware that the larger the pot, the more paint they will soak up.  I decided on 6 small pots, I also purchased the saucers for the bottom.
To begin, remove all stickers and tags from your pots and give them a good wipe down with a damp cloth.  This will take off any dust or residue and prepare a clean surface for your paint.  You don't want dusty lumps in your paint!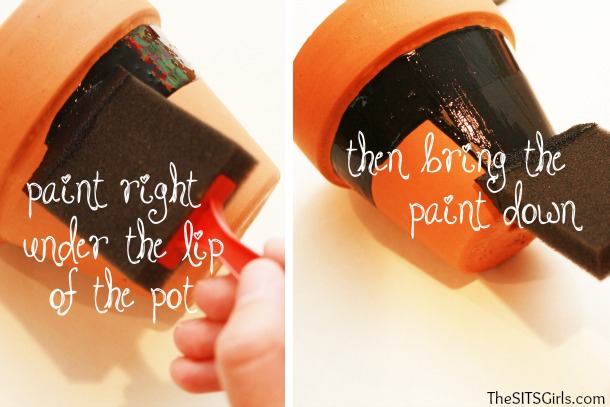 Next, prepare a surface for painting.  Chalkboard paint is hard to remove, even from your hands, so take care when using it!  To begin, dip your brush into the paint and start under the lip of the pot.  Then pull the paint downward in even strokes.  I only needed one coat of chalkboard paint to sufficiently cover my flowerpots, but go with with your gut!  If it looks like your flowerpots require two coats of paint, go for it!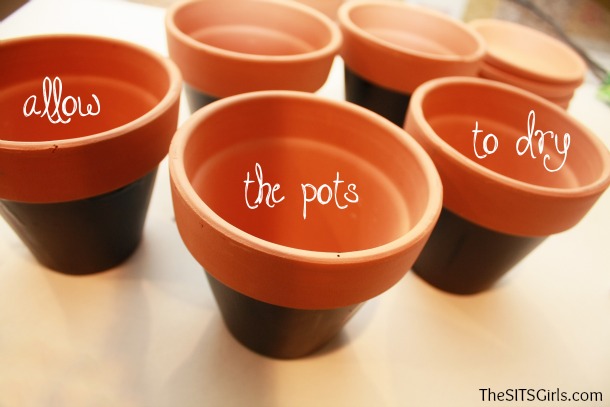 Allow time for your flowerpots to dry before you begin writing on them!  You don't want to damage that fresh coat of paint and start again!  I let mine dry overnight.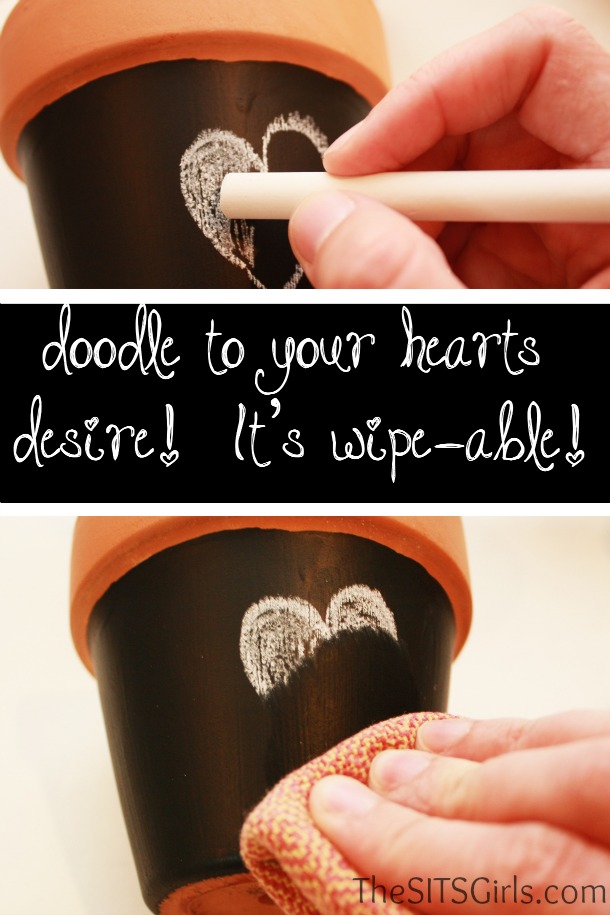 Now, it's time for the fun!  Get out your chalk and doodle!  You can draw a letter on each flowerpot and spell out a meaningful word, you can draw a design, or you could even let your kids scribble on them!  Remember, they are wipe-able!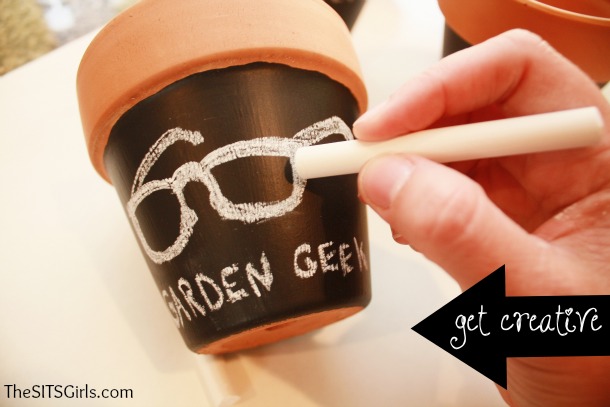 Don't be afraid to just let go a little and try something new!  I don't want to hear that excuse that you can't draw!  Don't worry about it!  It's therapeutic to sit down and draw with chalk, knowing that whatever you create can be wiped clean and fresh again!  Grab that chalk and channel your inner six year old.
My meaningless doodling led me to my horn-rim glasses "garden geek" design and I gave it to a friend who LOVED it!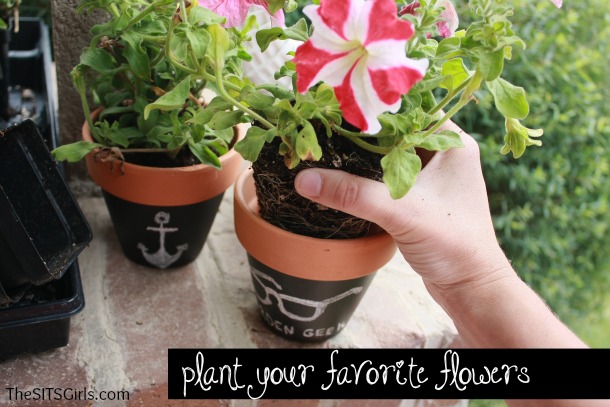 To finish your flowerpots, head to the nearest nursery and pick out some flowers!  Who doesn't like an excuse to buy flowers?!  Then, plant your flowers in each pot.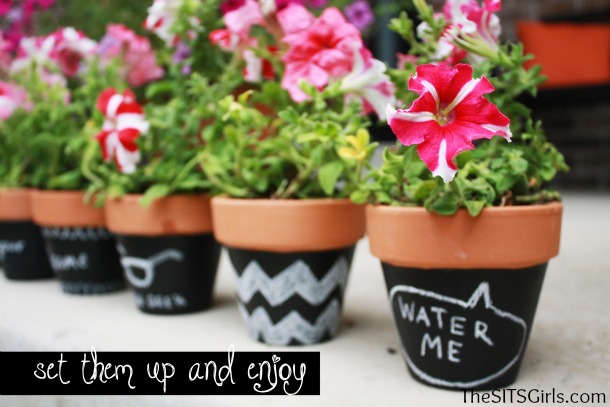 Last, set your pots outside and rake in the complements!  These chalkboard flowerpots are such a great way to set a playful mood in any outdoor space!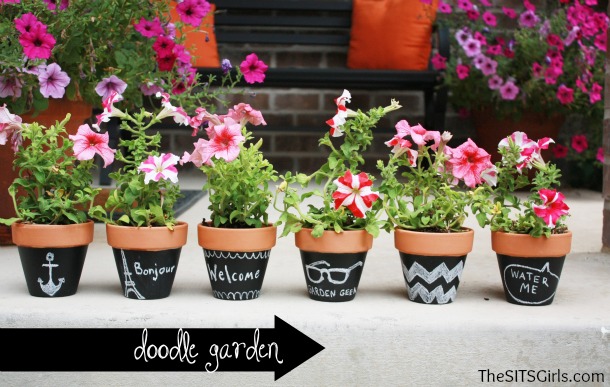 And, chalkboard flowerpots make the perfect gift!  What a perfect way to welcome a new neighbor or let a friend know that you are thinking about her.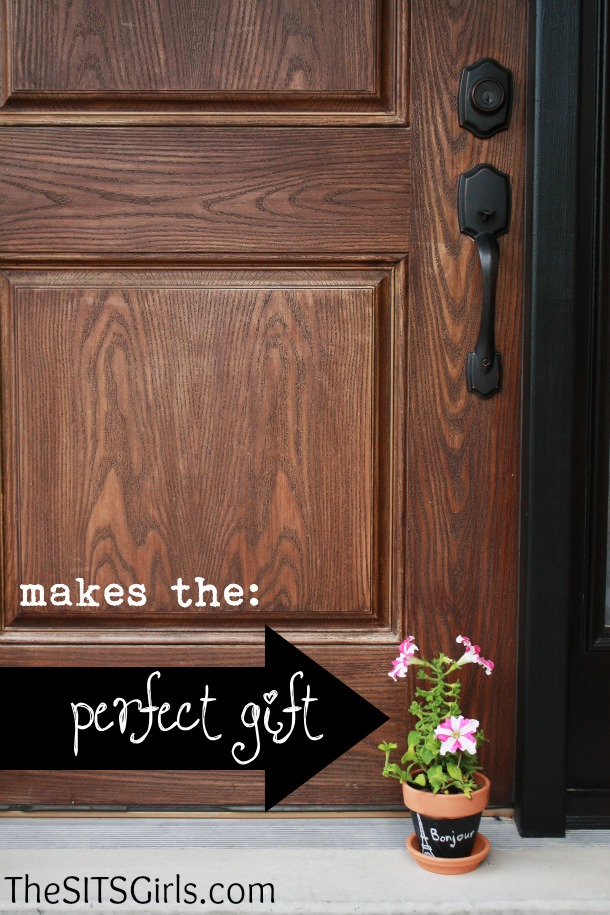 Feeling Crafty? Keep Reading!
If you enjoyed these flowerpot ideas, then we have more for you!