This post may contain affiliate links which may give us a commission at no additional cost to you. As an Amazon Associate we earn from qualifying purchases.
What says Valentines Day fun more than a foolhardy pair of blazing red Valentine chocolate lips? Not much!
Chocolate Lips
I don't like to take Valentine's Day too seriously, a little mockery on the traditional is always where I stake my claim. But, all joking aside—how easy are these flashy chocolate lips kissers to make? Very! Come on, I'll show you!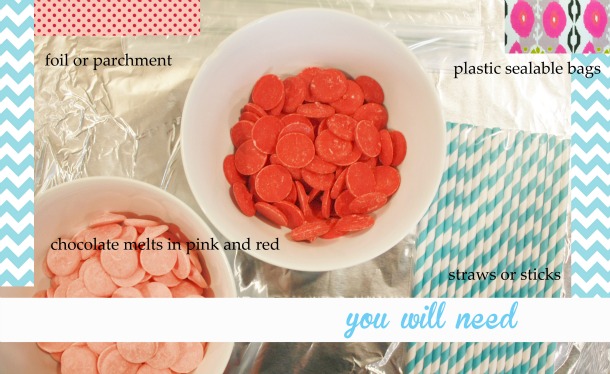 Easy Valentines Day Fun Starts Here
You probably have almost all the supplies to make chocolate Valentine lips right in your very own kitchen! A zip top bag? Check! A foil lined cookie sheet? Check! You will also need some sort of stick (I used sturdy paper straws), chocolate melts, and a knife to spread things out a little bit.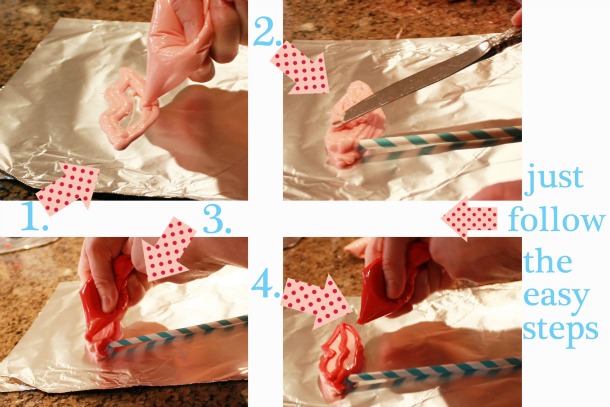 First, prep your cookie sheet by lining it with foil or parchment. Set it aside.
Next, melt your chocolate using the directions on the package. I melted mine in the microwave in 30 second increments with a stir between each. When the chocolate is smooth and the lumps are gone, carefully pour it into a large sized zip top bag. Cut the corner of the bag and test the flow of the chocolate. If the chocolate is not flowing fast enough out of the bag, snip the corner slightly bigger… but, not too much! You want to be able to control your chocolate!
To begin, pick a color (I used pink) and draw an outline of lips on your foil. (You can sketch a pattern right into the foil using your finger nail beforehand if that makes it easier.) Place your stick to the right or the left of the lips and cover with a bit of chocolate. Carefully, fill the outline of the lips in. After you have filled in the outline with chocolate, take your knife and smooth out the lips. If the lips look too thin, you can add another layer of chocolate. Be sure to smooth your Valentine chocolate lips with the knife after the last layer.
Using your contrasting color (I used red) of chocolate, draw an outline around your lips. Do this step carefully to make sure that your chocoloate lips don't come out looking like some plastic surgery gone wrong! (Unless that is the look you are going for!) Let your lips sit and harden. After a few minutes they should be easy to peel from the foil.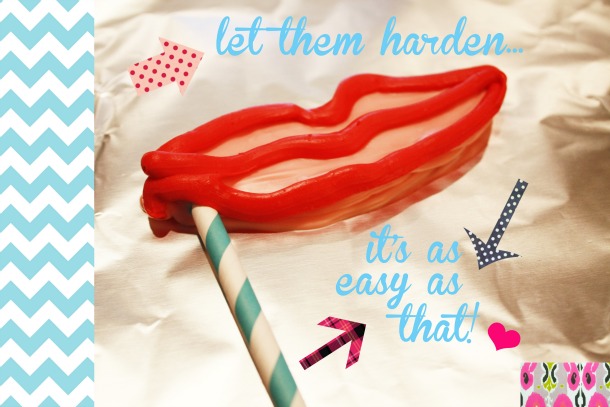 Voila! Wasn't that easy?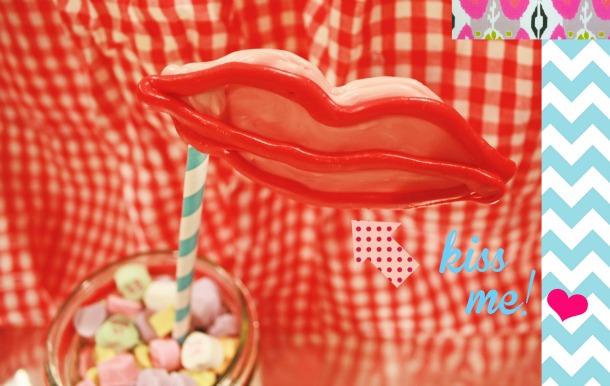 Make your chocolate lips for your friends, your neighbors, your kids! (Or better yet, make them WITH your kids) Let the Valentines Day fun and shenanigans begin!
Other Crafts for Valentine's Day We Recommend: