This post may contain affiliate links which may give us a commission at no additional cost to you. As an Amazon Associate we earn from qualifying purchases.
I love getting holiday cards from family and friends. There is so much anticipation in seeing how people have changed over the year, especially how much the kids have grown! It seems that sometimes a Christmas card is the only way I can get my updates. Life becomes so busy, it is hard to constantly check in and see how everybody is doing. I look forward to sending out my cards and getting many in return. My only dilemma is how do I display them? A Christmas Memory Tree is the perfect way to display all those cute Christmas cards.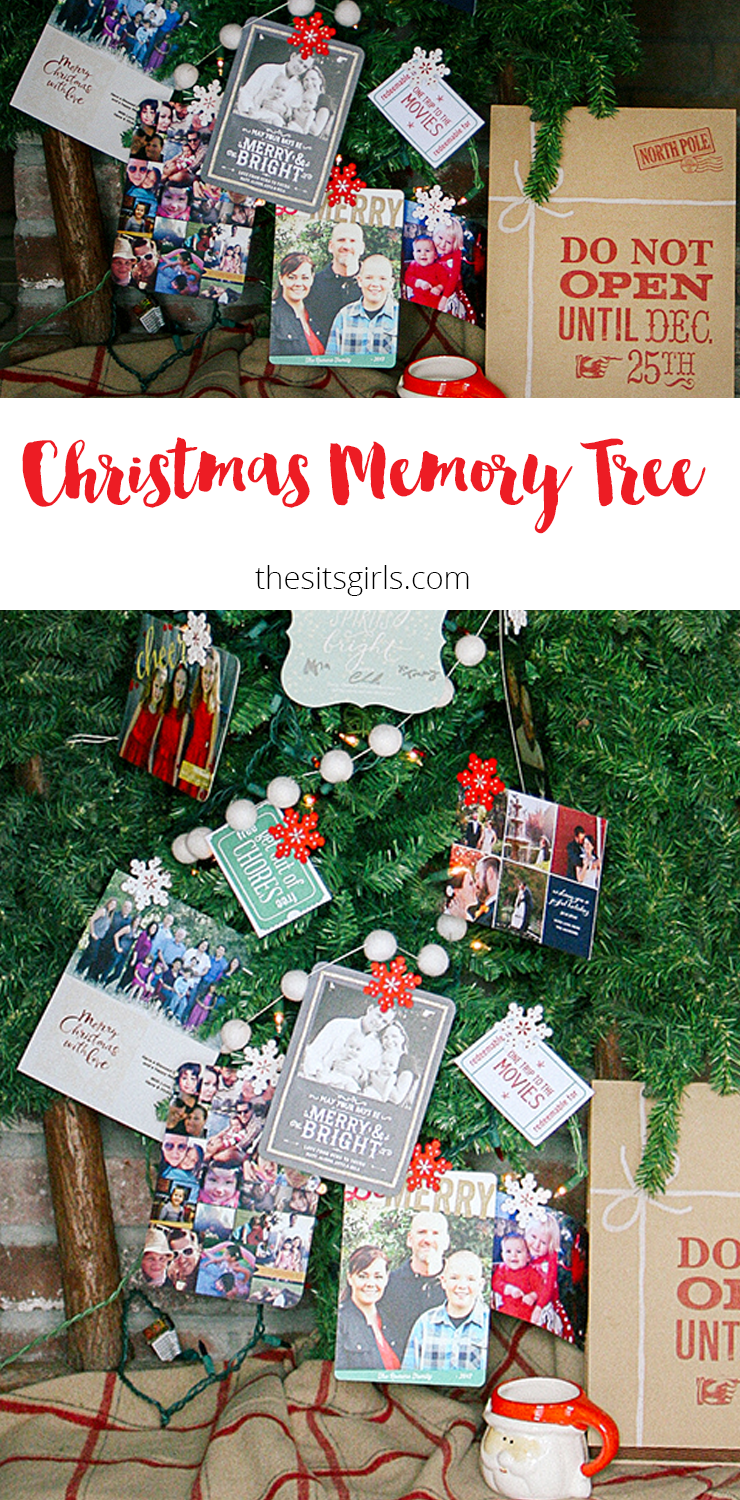 Christmas Memory Tree
A Christmas Memory Tree can be displayed almost anywhere. It is also so simple to make. To achieve this cute look, all you need are some handy clothes pins or other fasteners!
I have to admit, I am not the best at displaying my cards. I try to do make some sort of a pattern on my mantle, but after I have received my 30th card it starts to look like a jumbled mess. These cute little trees are just the thing to add some flair to a fireplace display your cards.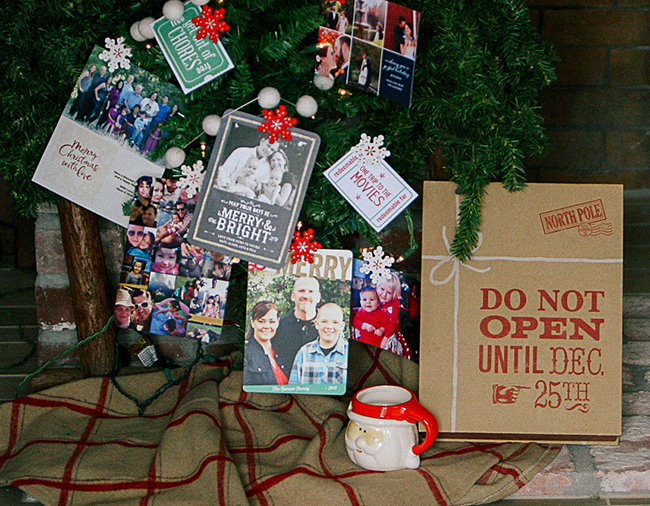 You can use whatever clips you please, but personally, I love something festive. These cute red and white snowflake clips really jazzed up the tree, and made the pictures pop. To assemble your own tree simply gather about 10-12 cards for a 3 foot tree and pin them on to your liking.  You can add more or less depending on how you like the look.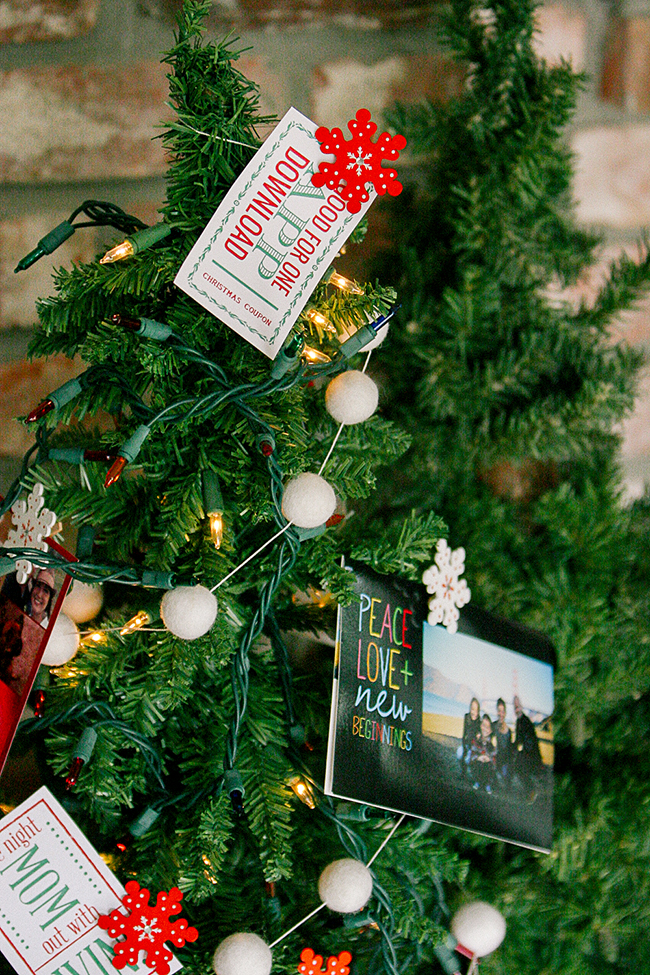 We also added a couple surprises to the tree for our kids! We hung the printable coupons for them to earn as a reward. I love having them on display for the kids to see, so they are reminded that they can earn them for good behavior. If they are lucky, the Elf on the Shelf will deliver some on Christmas morning, too!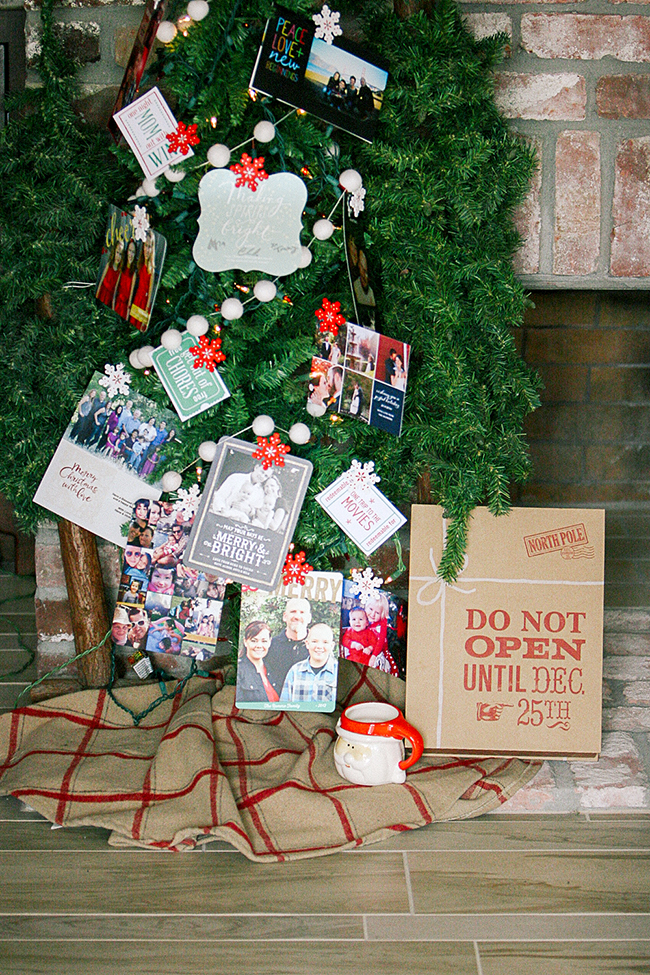 I also added a wool ball garland to our tree. It is a whimsical way to spruce up a tree! The kids love walking by the Christmas Memory Tree and looking at the cards. They like to point out who they know, and ask questions about those they do not! Keep your cards throughout the years, and perhaps you can do multiple trees next year! Since cards are unbreakable it is also a fun project that kids can help do! Let them decorate the mini tree while you tackle the large one!