This post may contain affiliate links which may give us a commission at no additional cost to you. As an Amazon Associate we earn from qualifying purchases.
Now that winter is upon us, it is good to have indoor activities for kids at the ready for days when you cannot go outside.  This crayon DIY is perfect for little hands and leads to hours of creative fun once done.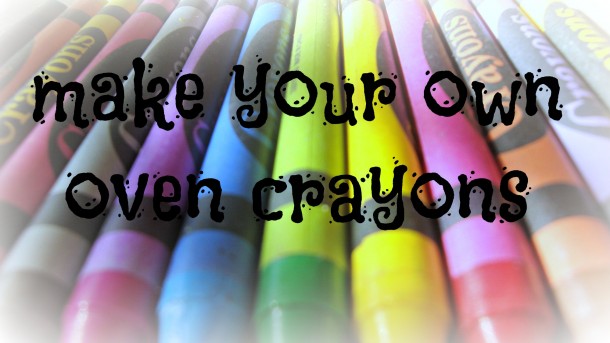 Crayon DIY
I have always wanted to make my own crayons but just never got around to it. In the spirit of the new year, seize the day! Best part is I already had everything at home!
DIY Crayon Supplies
You'll have to gather up just a couple of things. First, you'll need those bits of crayon at the bottom of the crayon container along with any other crayons you want to donate from your stash. I happened to have a bunch of crayons leftover from a family event.
Next, you'll need some molds for your crayons- I've seen people use muffin tins, cookie cutters on a foil-lined cookie sheet, and silicone trays. I used the silicone ice trays from Ikea. Through trial and error, we learned that the simple heart mold was the easiest to work with- I ended up snapping most of the crayon fishtails off trying to get them out of the mold.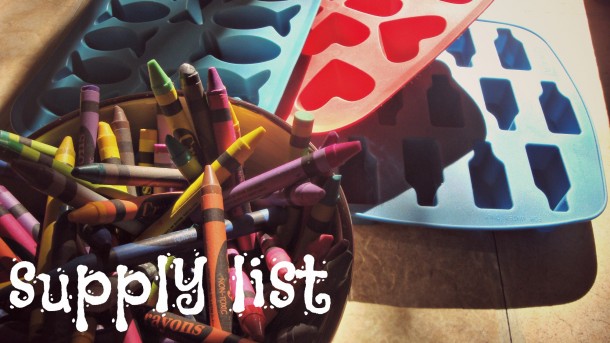 If you use those trays or something comparable, I'd also recommend using a cookie sheet underneath. I didn't and had more than a couple "Oops!" moments when it was time to take them out of the oven.
First thing's first: preheat the oven to 250.
You don't want any paper on your crayons, so if it's there, strip it off. This is a great, time-intensive task for small hands. If you're looking for a quick result, you can use a knife/craft knife and slice the paper the length of the crayon.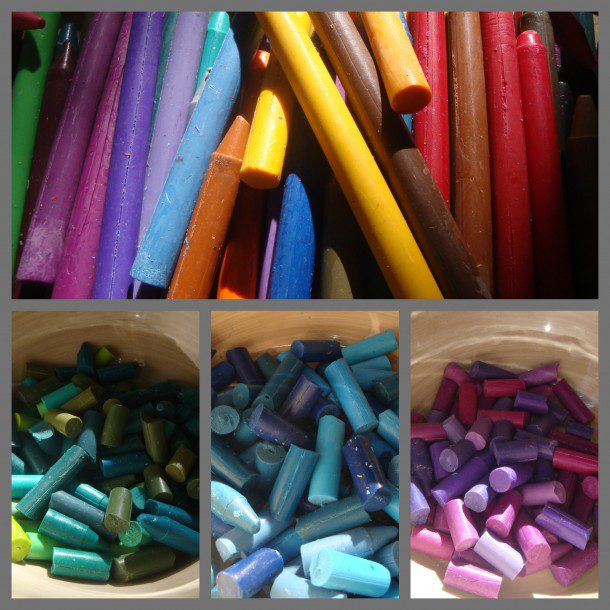 Now it's time to decide what your color combos will be and sort them. We went with color families, but you could try some fun combos: red, white, and blue, chocolate and strawberries, broccoli and cheese or just a random mix. Working from each sorted pile, check for large pieces of crayon. If you have any big pieces, now's the time to snap them down to a smaller size. Small hands can help here, too!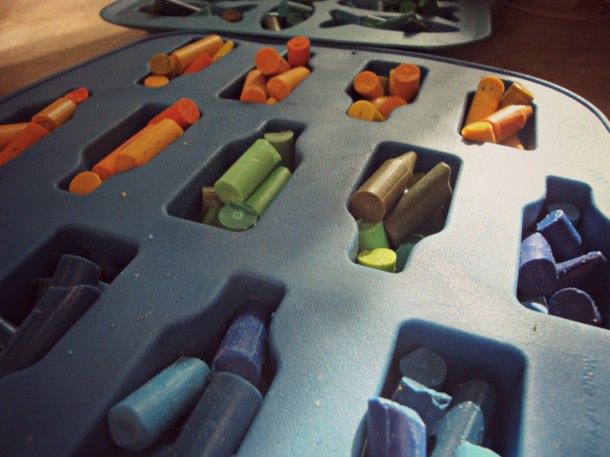 Time to fill the molds! My son helped here, too. You want to fill them up trying to keep any crayon from hanging out over the edge. If you use a muffin tray without papers, make sure you grease the tray well.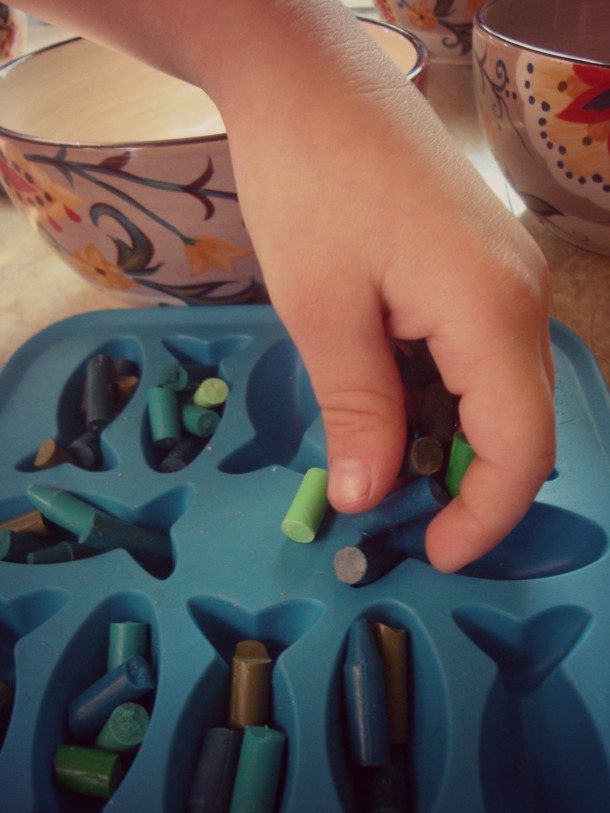 Place them in the oven and don't go far! You want to keep a close watch on the crayons. I'd recommend checking them every 5 minutes or so. Ours took almost 10 minutes. Once the wax is melted, they're done!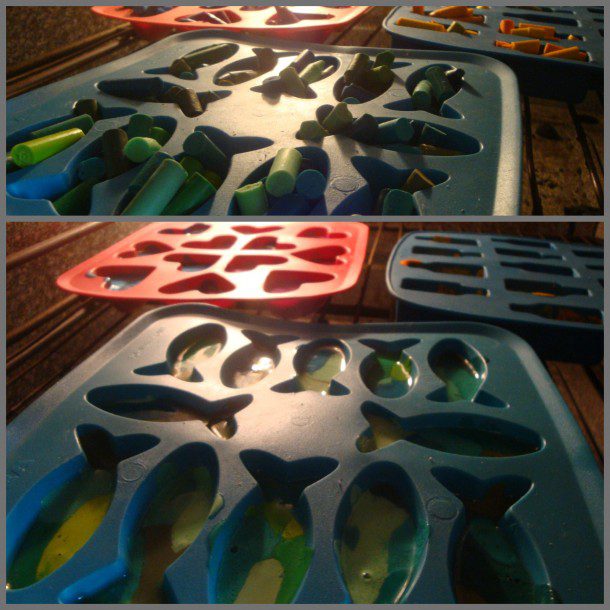 Take them out of the oven and let them cool. It took almost an hour for ours to cool and set. If you impatiently decide that they're cool enough and start to take them out of the molds, you're likely to break the crayon before it's even out and cover your fingers in colored wax. Trust me. I know from experience. You can speed up the cooling process by putting them in the freezer (once the trays have cooled) or outside (as long as it's chilly out there).
Once you're sure they're cool (RIP fishtails), pop them out!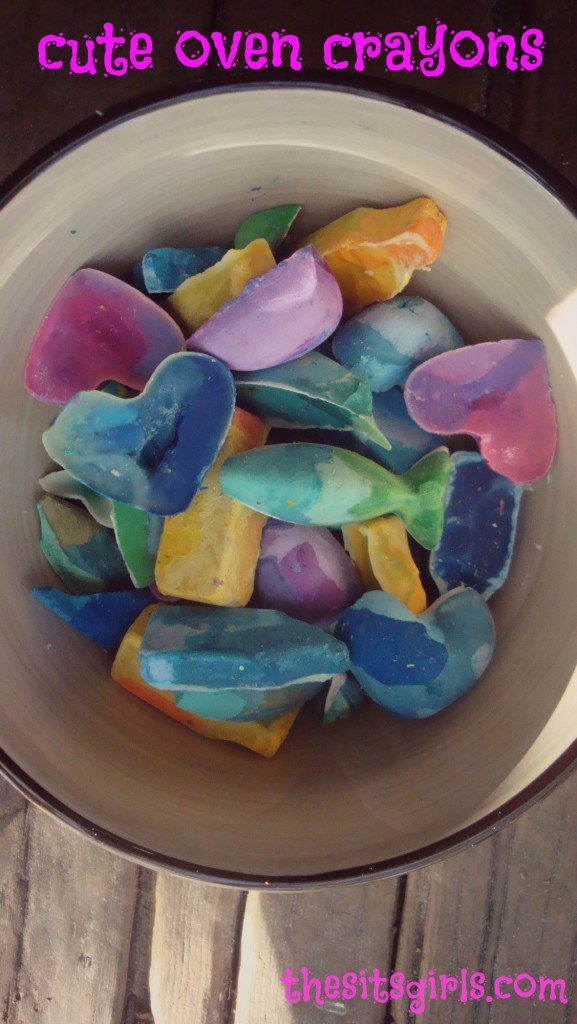 You're ready for coloring or wrapping them up for a friend!
More Indoor Activities for Kids
When the weather turns cold, here are other indoor activities for kids that are just as fun as this crayon DIY: