This post may contain affiliate links which may give us a commission at no additional cost to you. As an Amazon Associate we earn from qualifying purchases.
Summer vacation is in full swing!  We've long since pulled out our flip flops, and filled our days with sleeping in.  But, the thrill of summer can go by the wayside when the long hot days drag into tedious boredom.  We have all hit that wall when our eyes glaze over, and the glance at the calendar reveals another 8 weeks of summer vacation to go!  What can a parent do to keep their children entertained and protect their sanity? How about putting together your very own art camp!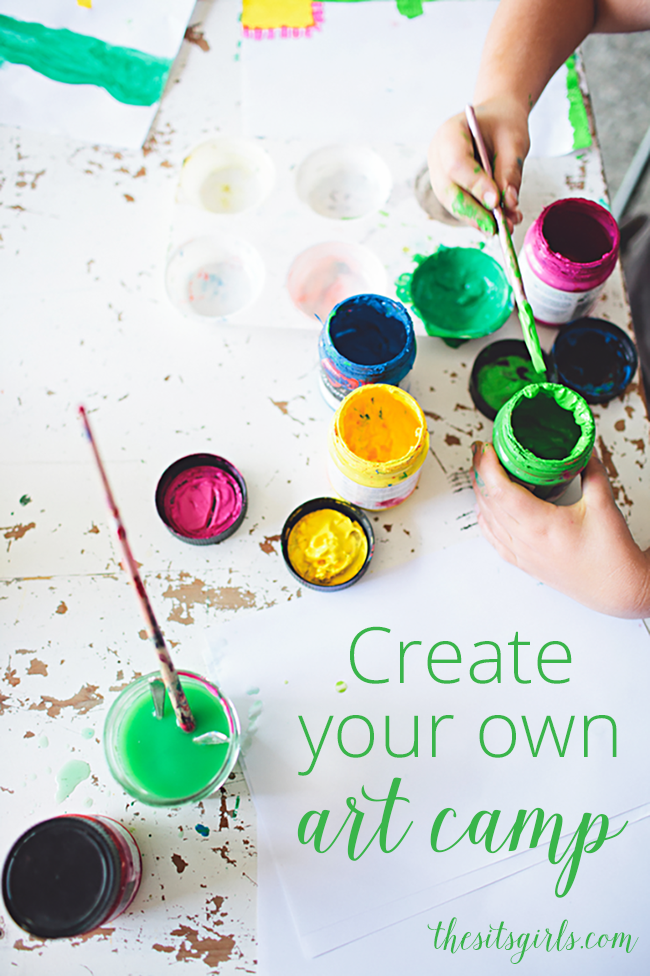 How to Create Your Own Art Camp
Sending your child off to a true blue art camp can be very costly. You can recreate the experience in your own home with just a few simple and easy to find supplies!
Dedicate a whole day to art, or stretch it out—create an art project once a day for a week. Whatever you decide, make it fun!
Here's all the details on our three fun projects to get you started!
Create Eraser Stamps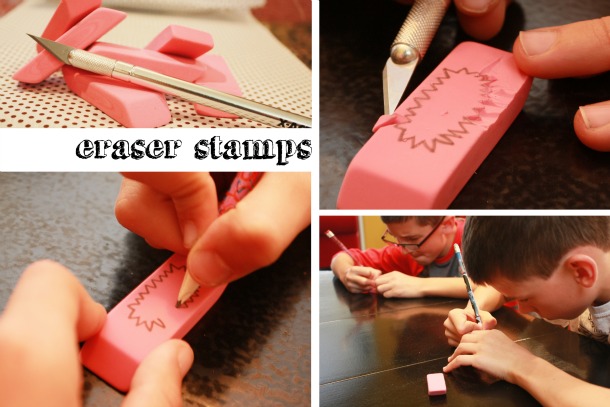 Eraser stamps create the perfect hands on art activity. Not only do you get to work with different colored ink, you get to create a stamp that you can use over and over!
Supplies you will need:
rubber erasers
utility knife
pencil
colored inkpads
Rubber erasers are cheap and easy to find. I found mine at a grocery store for fifteen cents each. I bought extras to use in case of mistakes. Once you have your supplies, it is as easy as 1, 2, 3!
1. Draw your design on one side of your eraser. Make sure to not make it too detailed, as carving an intricate design will be difficult.
2. Use a utility knife (crafting knife) to cut around your design. Take care with this step, if you feel like your child can not handle a knife safely, have an adult cut out the design.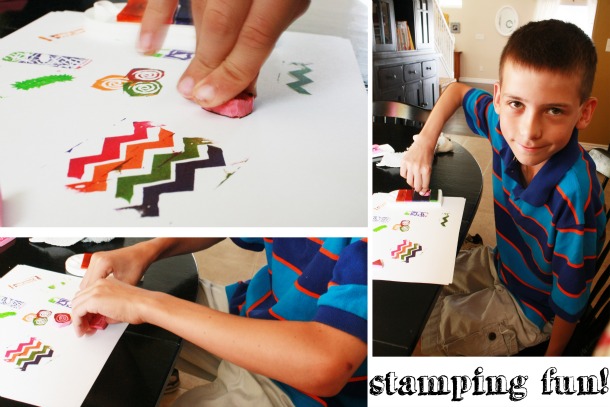 3. Use colored inks and stamp your design onto cards, envelopes, paper, etc!  Your eraser stamp can be used over and over and over again!
Create Wax Paper Stained Glass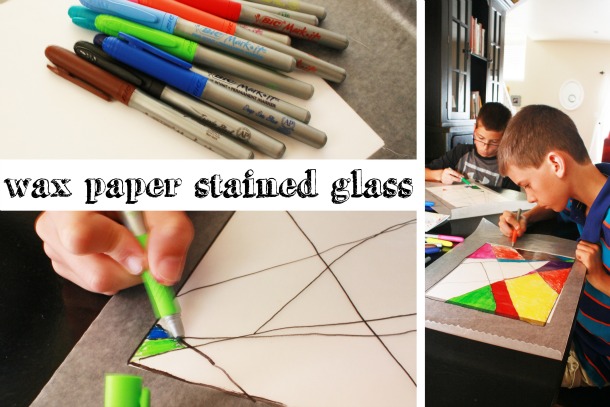 Making a bright and colorful window hanging is as easy as finding wax paper and colored permanent markers!
Supplies you will need:
wax paper
permanent markers
white piece of paper
ruler (optional)
scissors
1. Pull and tear out a piece of wax paper, as long as you like! Place the wax paper on top of a white sheet of paper, so you can clearly see your design as you color.
2. Use your permanent markers to color and create to your hearts content! You can color anything you wish! An underwater scene, a starry night, a bright rainbow, or you can section off your paper into shapes and color each one in.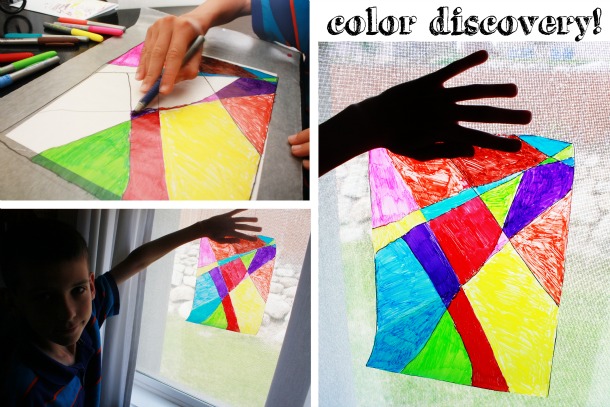 3. Cut your border around your picture and hang it up in a sunny window!
Create Scratch Foam Prints
Scratch foam prints are so incredibly easy to make, and fun to work with! They use the same technique as linoleum printing without the need for fancy tools.  Anyone can make a scratch foam print!  If you can hold a pencil, you can make a successful print!
Supplies you will need:
foam core (I always use the foam trays that my ground beef comes packed in)
dull pencil
foam brush
paint
1. Use your pencil to draw a design onto your foam core board. Make sure you press firmly and make your indentations deep and defined.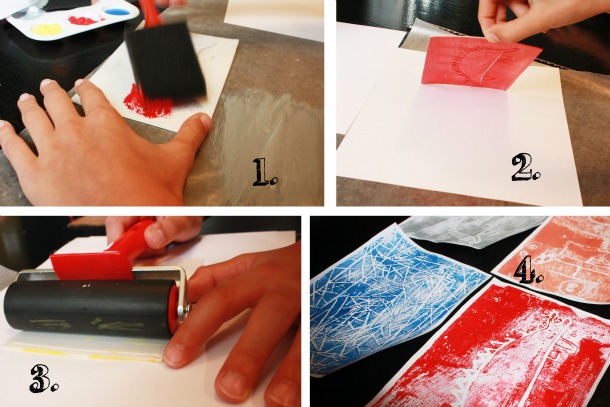 2. Prepare a printing space on a protected surface. Get your paints and paper ready for printing. To print, spread a blob of paint onto a plate or other surface and rub your foam brush into it to get a thin and even coat. Use your brush to apply the paint onto your foam board. Make sure your paint is even and not seeping into your indentations. If the paint seeps into the grooves on your foam board, wash it and start again.
3. Flip your foam board upside down and place it onto a piece of paper. Apply firm pressure to the back of your foam board. You can do this with your hands, a rolling pin, or a printing roller. After you have pressed every inch of your foam board onto your paper, gently lift the corner up and remove the foam. Your print will be underneath! Make lots of prints with lots of colors!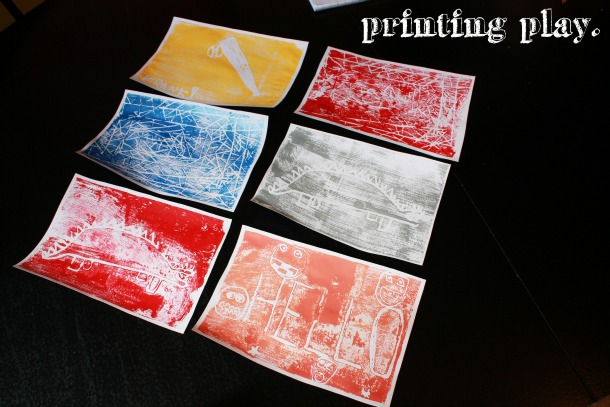 With a bit of imagination, some time, and a few simple supplies, you can create your very own summer vacation art camp, too!  Delve into exploration, create anything your heart desires, and maybe surprise yourself and learn a little something!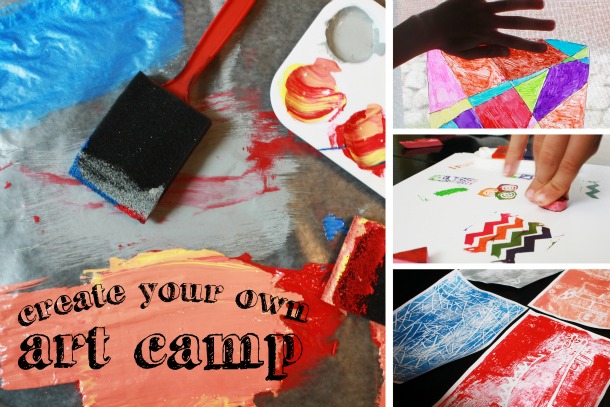 More DIY Projects Like This One
Does this DIY project have you feeling inspired? Keep reading we have more that we know you'll love.