This post may contain affiliate links which may give us a commission at no additional cost to you. As an Amazon Associate we earn from qualifying purchases.
This summer I threw an Olympic party for one of my nieces birthdays.  At that party we played a bunch of games.  One of them was a hurdle race using pool noodles. That was the day my obsession with pool noodles began. Pool noodles are a crafters dream. They are as cheap as a dollar, and can be used in a million different ways! I had so many left over that I knew I had to use them to make something for Halloween! Can you believe the base of this Creepy-Crawly Halloween Wreath is a pool noodle?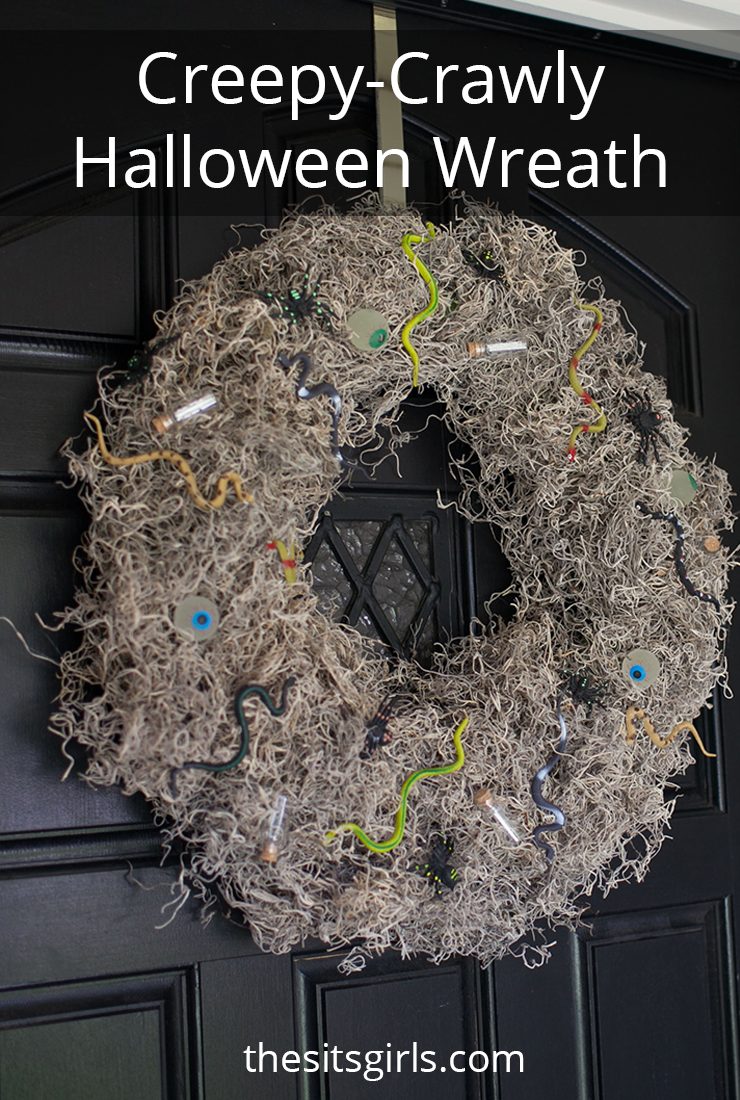 Creepy-Crawly Halloween Wreath
What you need to make this creepy-crawly Halloween wreath (post contains affiliate links):
Pool Noodle
Hot Glue Gun
Duct Tape
Materials Tip: You will have more than enough moss, spiders, bottles, eyeballs, and snakes to make one wreath.  If buying all these, you could make about 3 wreaths! The cost per wreath hits at about $10. It would be fun to invite a couple friends over and have a crafting party where you all make a wreath!
How To Make A Halloween Wreath With A Pool Noodle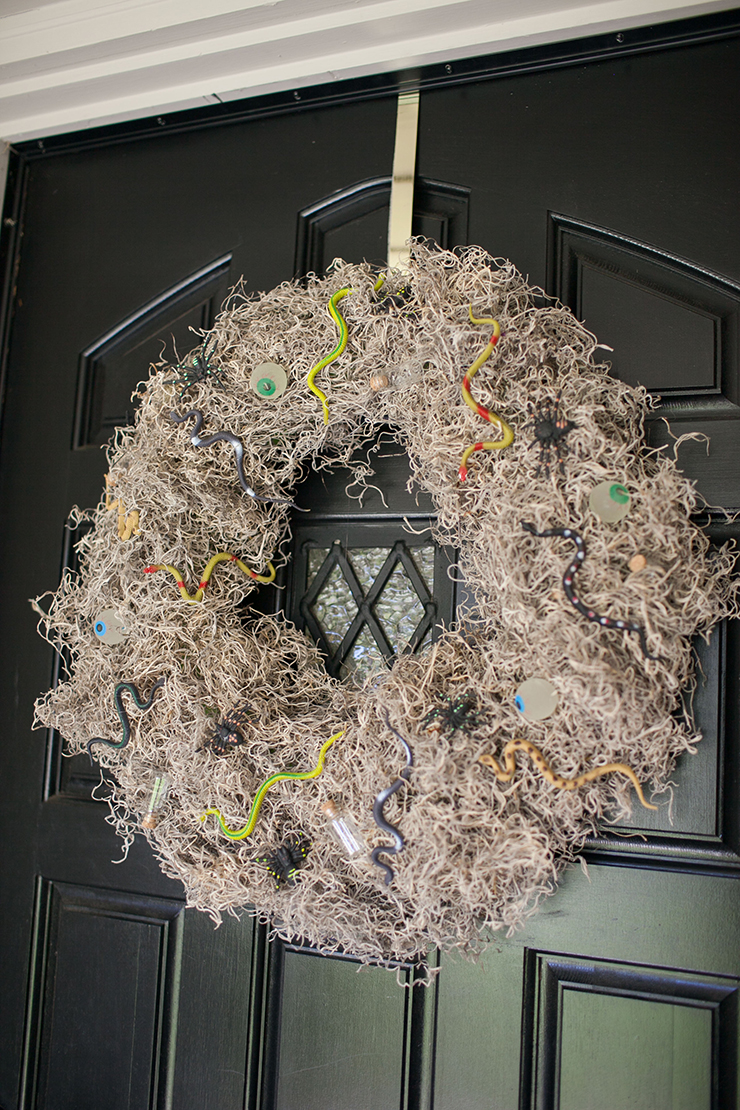 The method for creating a wreath with a pool noodle is as simple as 1,2,3.
Begin by twisting your pool noodle in to a circle. Add a little hot clue to the edges, and then secure with the duct tape. Apply the duct tape generously, you want to make sure it is really tight and sturdy. Do not worry about how it looks, because you will be covering it with moss.
Gluing Tip: Make sure the glue from your hot glue gun is not too hot or else it will eat the foam. It is best to use it on a low temperature.
Work your way around the pool noodle adding hot glue and covering it generously with your Spanish moss.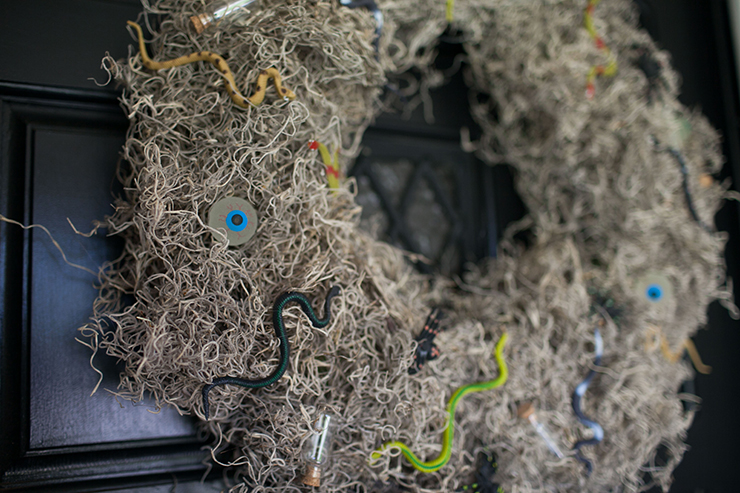 Once your wreath is covered in moss you will begin adding your creepy-crawlies! There is no rhyme or reason, just scatter as you think looks appropriate! I especially love the glow-in-the-dark eyeball bouncy balls!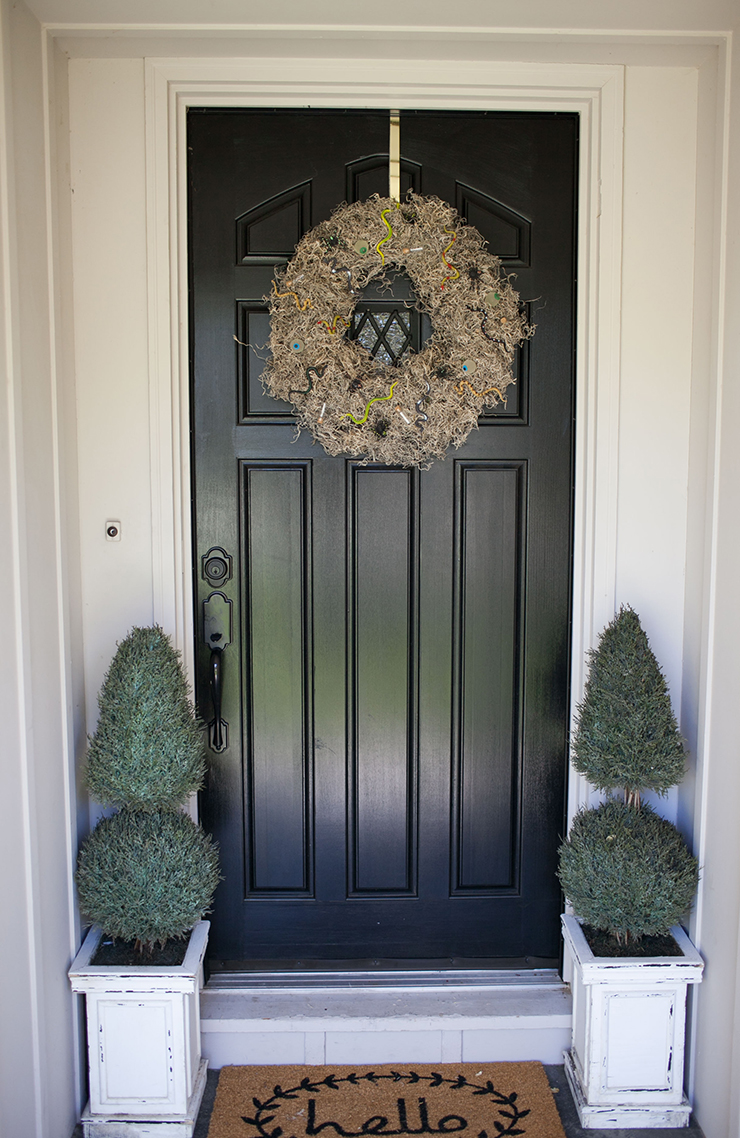 Let the glue dry and then hang your creepy-crawly Halloween wreath on your door!
It is a fun and easy way to get ready for Halloween!